5th October 1963
M. & G.N. Joint Railway Society
The Wandering 1500
| | |
| --- | --- |
| Loco Used | 61572 |
| Stock Used | eight coaches including buffet car |
Route : 1X69 throughout
| | |
| --- | --- |
| Loco | Route |
| 61572 | London Broad Street - Dalston Jn - Canonbury Jn - Finsbury Park - Potters Bar - Hatfield - Hitchin - Bedford Midland |
| 61572 | Bedford Midland - Oakley Jn - Turvey - Olney - Hardingstone Jn - Nothampton Bridge Street - Northampton Castle |
| 61572 | Northampton Castle - Blisworth - Towcester - Byfield - Fenny Compton - Kineton - Ettington - Stratford-upon-Avon Old Town |
| 61572 | Stratford-upon-Avon Old Town - Stratford-on-Avon - Bearley West Jn - Hatton West Jn - Leamington Spa - Birdingbury - Rugby Midland |
Note :
(1) B12/3 61572 had previously been withdrawn in September 1961 and stored at Devons Road shed. Much work had been done to bring the locomotive back to running order and it was reflected in the fact that, of the time lost on the railtour, little was attributable to the performance of the locomotive. The timings allowed for a non-stop run from Rugby to Broad Street but in the event stops were made at Bletchley and Watford Junction.
Sources : David Hills, Chris Harley & Terry Dorrity



Photo Review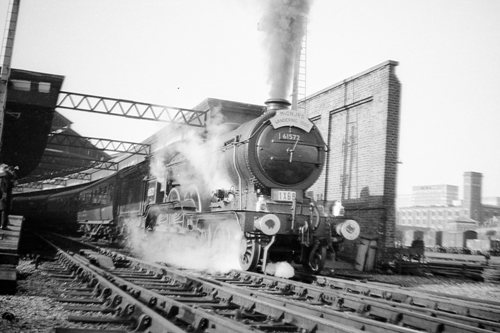 61572 making a spirited departure from London Broad Street station
(photo: Philip Alexander)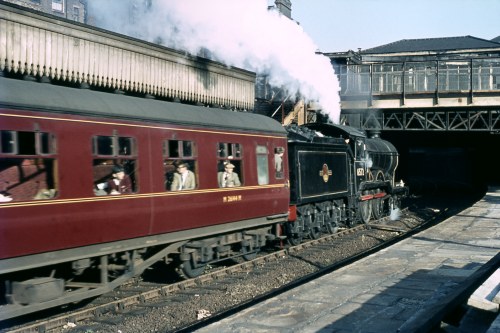 61572 powers through Dalston (photo: The Mike Morant Collection)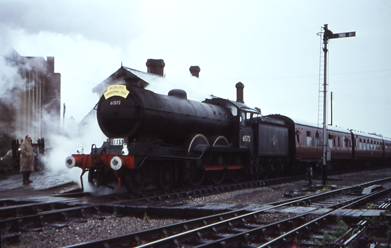 61572 at Stratford-upon-Avon Old Station (SMJ) (photo: Terry Dorrity)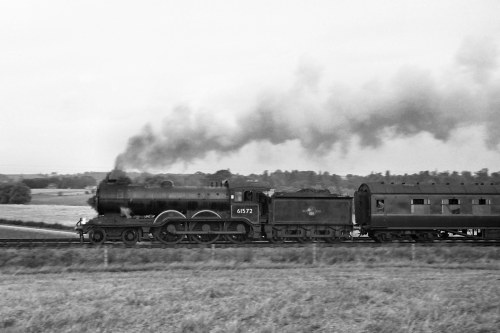 61572 at speed (photo: The Mike Morant Collection)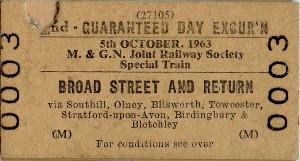 From The John Debens Ticket Collection.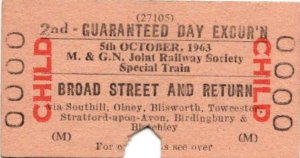 Timings (Booked Only)
(from The Bluebell Railway Museum)
| | | |
| --- | --- | --- |
| Miles | Location | Booked |
| 0 | Broad Street | 09.20d |
| ? | Dalston Jn | 09/26 |
| 5½ | Finsbury Park | 09.35a ~ 09.41d |
| 15¾ | Potters Bar | 10/01 |
| 20¾ | Hatfield | 10/07 |
| 35 | Hitchin | 10.34a ~ 10.36d |
| 39¼ | Henlow Camp | 10/46 |
| 41¾ | Shefford | 10/58 |
| 44 | Southill | 11/06 |
| ? | Bedford No.1 | 11/24 |
| 51¼ | Bedford Midland | 11.28a ~ 11.35d |
| ? | Oakley Jn | 11/40 |
| 57¼ | Turvey | 11/53 |
| 61¾ | Olney | 12/05 |
| ? | Hardingstone Jn | 12/36 |
| 73¾ | Northampton Castle | 12p46a ~ 13p20d |
| 78¼ | Blisworth | 13p35a ~ 13p50d |
| 82½ | Towcester | 14p04a ~ 14p16d |
| ? | Woodford West | 14/47 |
| 84 | Byfield | 14p53a ~ 15p00d |
| 91 | Fenny Compton | 15p22a ~ 15p27d |
| 97¼ | Kineton | 15x47 |
| 101¼ | Ettington | 15p58a ~ 16p02d |
| ? | Clifford Sidings | 16x14 |
| ? | Stratford Old Town | 16.16 ~ 16.21 |
| ? | Stratford (Evesham Road Crossing) | 16/24 |
| 106½ | Stratford-upon-Avon | 16p26a ~ 16p30d |
| ? | Bearley West | 16/37 |
| ? | Hatton West | 16/46 |
| 115¾ | Hatton | 16/48 |
| 122 | Leamington Spa | 16/54 |
| ? | Leamington Spa South | 16p56a ~ 17p03d |
| ? | Leamington (No.1 Exchange Sidings) | 17.05 ~ 17.20 |
| ? | Marton Jn | 17/30 |
| 130 | Birdingbury | 17p40a ~ 17p46d |
| 136¾ | Rugby Midland | 17.58 ~ 16.25 |
| 149¾ | Weedon | 18/42 |
| 156½ | Blisworth | 18/49 |
| 159½ | Roade | 18/52 |
| 172½ | Bletchley | 19/05 |
| 187½ | Tring | 19/23 |
| 201¾ | Watford Junction | 19/43 |
| ? | Willesden No.7 | 18/02 |
| ? | Camden No.2 | 18/12 |
| 221½ | Dalston Jn | 18/24 |
| 223½ | Broad Street | 18.30a |