5th October 1963
Railway Correspondence & Travel Society
The Duchess Commemorative Rail Tour
| | |
| --- | --- |
| Locos Used | 42414 & 46251 'City of Nottingham' |
Route : 1X68 throughout
| | |
| --- | --- |
| Loco(s) | Route |
| 46251 (1) | Crewe - Preston - Carlisle - Strawfrank Jn - Dolphinton Jn - Midcalder - Edinburgh Princes Street |
| 46251 | Edinburgh Princes Street - Dolphinton Jn - Strawfrank Jn - Carlisle - Preston - Crewe |
Notes :
(1) 42414 banked from Tebay to Shap Summit.
(2) With the increasing effects of dieselisation and the slow march north of the WCML electrification this tour represented a last chance perhaps to travel behind what once had been the flagships of the LMS steam fleet - The Duchess Class. The train was composed of eleven LMS coaches. The intended locomotive 46256 'Sir William A Stanier FRS' had been failed the previous week with a defect on the front bogie, 46251 had been re-activated from storage specially for this run and had been cleaned up for the occasion. The outward run required the use of 42414 for banking up Shap, but the enthusiastic Scottish crew that came on at Carlisle ensured that Beattock was taken un-aided, although not in the storming fashion that was expected from the locomotives when they were in front line service, receiving the best maintenance . The return trip provided the more lively running, especially between Beattock & Gretna and Thrimby Grange & Preston.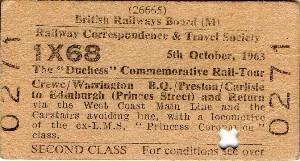 From The John Debens Ticket Collection.
Sources : David Hills (compiled from contemporary reports) & Mel Holley



Timings (Booked Only)
(from Terry Jackson)
| | | |
| --- | --- | --- |
| Location | Booked (out) | Booked (rtn) |
| Crewe | 08.57d | 20.25a |
| Coppenhall Jn | 09/01½ | 20/20½ |
| Winsford Jn | 09/06 | 20/11 |
| Weaver Jn | 09/13 | 20/05 |
| Acton Grange Jn | 09/19 | 19/59 |
| Warrington Bank Quay | 09.22a ~ 09.24d | 19.53a ~ 19.55d |
| Winwick Jn | 09/29 | 19/48 |
| Springs Branch Jn | 09/36 | 19/42 |
| Wigan North Western | 09/38 | 19/40 |
| Standish Jn | 09/43 | 19/36 |
| Euxton Jn | 09/53 | 19/29 |
| Preston | 10.01a ~ 10.03d | 19.20a ~ 19.22d |
| Garstang | 10/13 | 19/05 |
| Lancaster Castle | 10/23 | 18/55 |
| Carnforth | 10/28 | 18/50 |
| Oxenholme | 10/41 | 18/39 |
| Tebay | 10/56 | 18/27 |
| Shap Summit | 11/05 | 18/21 |
| Penrith | 11/17 | 18/03 |
| Plumpton | 11/21 | 17/58 |
| Carlisle Citadel | 11/39 | 17.32a ~ 17.39d |
| Carlisle No.3 | 11/50 | 17/30 |
| Gretna Jn | 11/58 | 17/22 |
| Lockerbie | 12/15 | 17/08 |
| Beattock | 12/27 | 16/56 |
| Beattock Summit | 12/45 | 16/46 |
| Strawfrank Jn | 13*08a ~ 13*10d | 16*21a ~ 16*22d |
| Dolphinton Jn | 13/12 | 16/19 |
| Cobbinshaw | 13/23 | 16/11 |
| Midcalder Jn | 13/31 | 16/02 |
| Merchiston | 13/40 | 15/48 |
| Edinburgh Princes Street | 13.43a | 15.45d |