21st September 1963
The Locomotive Club of Great Britain (North West Branch)
The South Lancashire Limited Rail Tour
| | |
| --- | --- |
| Locos Used | 44501, 47378 (4), 48115 & 48178 |
| Stock Used | advertised for 'open type stock' with a buffet car |
Route : 1T70 throughout
| | |
| --- | --- |
| Loco(s) | Route |
| 48178 (1) | Manchester Liverpool Road Goods Depot - Ordsall Lane - Eccles - Worsley Jn - Ellenbrook - Tyldesley - Chowbent East Jn - Chowbent North Jn - Atherton Bag Lane - Rumworth Goods Jn - Bolton Great Moor Steet |
| 47378 (2) | Bolton Great Moor Street - Plodder Lane for Farnworth - Little Hulton |
| 47378 (2) | Little Hulton - Plodder Lane for Farnworth - Bolton Great Moor Steet |
| 48178 | Bolton Great Moor Street - Atherton - Chowbent West Jn - Hindley Green - Bickershaw East Jn - Bickershaw West Jn - Strangeways East Jn - Hindley South - Lower Ince - Wigan Central |
| 48178 | Wigan Central - Lower Ince - Hindley South - Strangeways East Jn - Bickershaw West Jn - Bickershaw South Jn - Bickershaw Colliery (Through Line) - Plank Lane - Pennington - Kenyon Jn - Parkside East Jn - Bamfurlong Sidings (Through Line) - Amberswood West Jn - Amberswood East Jn - De Trafford Jn - Whelley - Haigh Jn - Adlington |
| 48178 | Adlington - Horwich West Jn - Horwich Works |
| 44501 | Horwich Works - Horwich South Jn - Hilton House - Aspull Jn - Crow Nest Jn - Hindley - De Trafford Jn |
| 44501 | De Trafford Jn - Amberswood East Jn - Hindley South - Bickershaw & Abram - West Leigh & Bedford - Lowton St Mary's |
| 44501 | Lowton St Mary's - Haydock Park - Ashton-in-Makerfield - Haydock - St Helens Central |
| 44501 | St Helens Central - (reverse of outward route) - Lowton St Mary's - Culcheth - Glazebrook Moss - Glazebrook West Jn - Urmston - Manchester Central |
Notes :
(1) Banked by 48115 from Atherton Bag Lane.
(2) 47378 stalled on the hill and so 48178 banked.
(3) Train passed through 'Plank Lane Flash' with water lapping at the rails. It is believed this was the last train to pass on that line.
(4) Loco identity given as 47376 in the LCGB 'The First Hundred' brochure, however this is assumed to be in error as that loco had been scrapped prior to this date.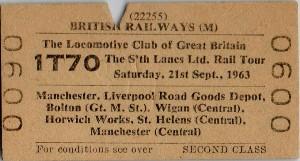 From The John Debens Ticket Collection.
Sources : John Hayes & John Debens



Timings (Booked Only)
(from Brian Read/Edwin Wilmshurst)
| | | |
| --- | --- | --- |
| M.C | Location | Advertised |
| 0.00 | Manchester Liverpool Road Goods Depot | 09.30d |
| 0.30 | Ordsall Lane No.2 | 09/33 |
| 3.63 | Eccles Jn | 09/40 |
| 9.60 | Tyldesley | 09/51 |
| 11.30 | How Bridge East Jn | 09/56 |
| 11.55 | Atherton Jn | 09/58 |
| 17.19 | Bolton Great Moor Street | 10.10a ~ 10.20d |
| 17.51 | Fletcher Street Jn | 10/22 |
| 19.77 | Little Hulton Jn | 10.32a ~ 10.50d |
| 22.23 | Fletcher Street Jn | 11/00 |
| 22.55 | Bolton Great Moor Street | 11.02a ~ 11.10d |
| 28.19 | Atherton Jn | 11/23 |
| 28.45 | How Bridge West Jn | 11/29 |
| 30.61 | Bickershaw Jn | 11/34 |
| 31.37 | Hindley South | 11/40 |
| 33.61 | Wigan Central | 11.46a ~ 12.05d |
| 36.05 | Hindley South | 12/10 |
| 36.61 | Bickershaw Jn | 12/14 |
| 40.27 | Pennington South Jn | 12/24 |
| 41.63 | Kenyon Jn | 12/28 |
| 43.75 | Parkside Jn | 12/33 |
| 44.31 | Lowton Jn | 12/38 |
| 44.58 | Golborne Jn | 12/43 |
| 48.04 | Bamfurlong Jn | 12/48 |
| 49.20 | Amberswood Jn West | 12/51 |
| 49.56 | Amberswood Jn East | 12/52 |
| 50.31 | De Trafford Jn | 12/53 |
| 52.77 | Whelley Jn | 13/02 |
| 53.48 | Haigh Jn | 13/04 |
| 56.52 | Adlington Jn | 13.10a ~ 13.30d |
| 58.68 | Blackrod Jn | 13/34 |
| 60.09 | Horwich | 13.38a ~ 14.45d |
| 61.30 | Horwich Fork Jn | 14/50 |
| 63.50 | Hindley & B.B. Jn | 14/54 |
| 64.51 | Crow Nest Jn | 14/56 |
| 65.11 | Hindley North | ??.??a ~ 14.59d |
| 65.41 | Hindley North No.2 | 15/01 |
| 65.61 | De Trafford Jn | 15.04a ~ 15.14d |
| 66.36 | Amberswood Jn East | 15/18 |
| 66.78 | Hindley South | 15/21 |
| 70.73 | Lowton St Mary's | 15.28a ~ 15.40d |
| 79.10 | St Helens Central | 16.28a ~ 16.59d |
| 87.27 | Lowton St Mary's | 17/40 |
| 93.14 | Glazebrook East Jn | 17/55 |
| 100.78 | Throstle Nest East Jn | 18/14 |
| 102.23 | Manchester Central | 18.18a |