31st August 1963
Stephenson Locomotive Society
Edinburgh, Leith & Granton Rail Tour
| | |
| --- | --- |
| Loco(s) Used | at least 64624 |
| Stock Used | 4x mark 1 corridor coaches |
Route :
Reporting code 123 (throughout?)
| | |
| --- | --- |
| Loco(s) | Booked Route |
| 64624? | (13.45d) Edinburgh Waverley - Abbeyhill - Easter Road - Trinity Jn (2) |
| 64624? | Trinity Jn - Scotland Street |
| 64624? | Scotland Street - Trinity Jn - Granton - Crew Jn |
| 64624? | Crew Jn - Granton Road - Newhaven Jn - Leith Walk - Seafield (South Leath) Jn - ?Leith (East)? (3) |
| 64624? | ?Leith (East)? - Seafield (South Leath) Jn - Portobello West Jn - Monktonhall Jn - Smeaton - Ormiston - Pencaitland (4) |
| 64624? | Pencaitland - Ormiston - Smeaton - Monktonhall Jn - Millerhill ?Yard Jn? (?or did the train use the direct curve to Millerhill?) |
| 64624? | Millerhill ?Yard Jn? - Millerhill - Glenesk Jn - Hardengreen Jn - Esk Valley Jn - Polton |
| 64624? | Polton - Esk Valley Jn - Hardengreen Jn - Glenesk Jn - Millerhill Yard Jn - Portobello West Jn - Piershill Jn - Lochend Jn - Lochend North Jn - Leith Central |
| 64624? | Leith Central - Lochend North Jn - London Road Jn - Abbeyhill Jn - Edinburgh Waverley (19.45a) |
Notes :
(1) Route confirmation required. Photographed hauled by 64624 at Scotland Street, Granton, Crew Jn and Leith Walk. Pre-tour advertising described the routing as: leave Edinbugh Waverley at 1-45pm for Trinity Jn and Scotland Street, thence the Granton Harbour connection and the Newhaven to Leith (East) branch of the Caledonian Railway which was never completed for passenger services. Returning via the Granton and Easter Road line (closed to passengers in 1925) to Portobello the route will then be by way of Monktonhall Jn and Smeaton to reach the surviving portion, to Saltoun, of the Gifford & Garvald Light Railway. From Monktonhall Jn the new spur to Millerhill yard will be used and the Polton freight branch, threatened with early closure, will be traversed. Back at Portobello the former Leith (Central) terminus will be visited and the tour will end at Waverley about 7-45pm. it is hoped to obtain permission for those so interested to walk through the original Edinburgh, Leith & Granton Railway tunnel from Waverley to Scotland Street, abandoned in 1868, and join the tour train there.
(2) Although suggested as reversing at Trinity Jn, photographic evidence would suggest the reversal was slightly further on, at Trinity station?
(3) Route description talks about traversing the Caledonian Branch to Leith (East) - Leith Docks? - however photographic evidence exists of the train said to be at Leith South - was this a revised routing?
(4) Although advertised to traverse the line to Saltoun, photographic evidence suggests the train reversed at Pencaitland...or did the loco run-round at Pencaitland then propel to Saltoun?
Sources : Bob Mitchell, Andrew Fairholm & Ian Clark (SLS)



Photo Review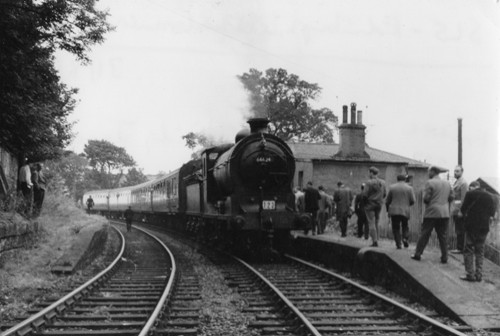 64624 at Trinity (photo: The John Debens Collection)
[location offered as Trinity Junction, but no station was located there?]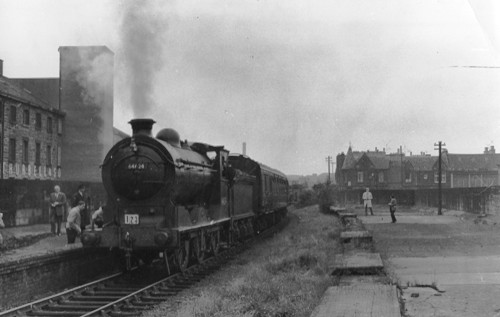 64624 at Leith Walk (photo: The John Debens Collection)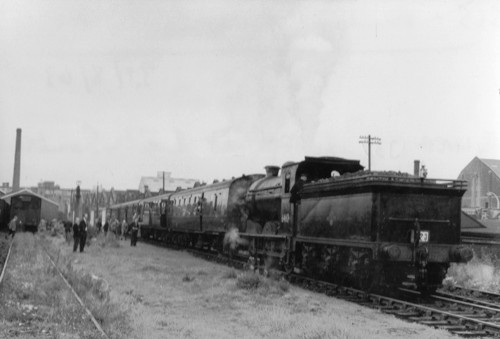 64624 ?at the CR terminus at Leith? (photo: The John Debens Collection)
[location originally offered as Leith South, but suspected not]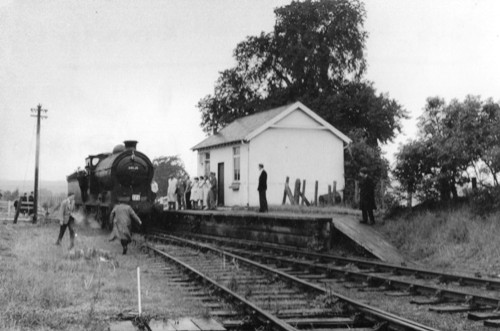 64624 at Pencaitland (photo: The John Debens Collection)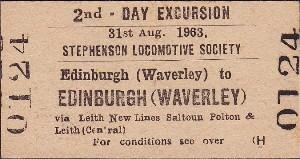 From Bob Mitchell's ticket collection.