7th July 1963
Gloucester Railway Society
(Tour to Nailsworth and Stroud)
| | |
| --- | --- |
| Loco Used | 47308 |
| Stock Used | 3 coaches |
Route : 2Z10 throughout
| | |
| --- | --- |
| Loco | Route |
| 47308 | Gloucester Eastgate - Barton Street Jn - Tuffley Jn - Standish Jn - Stonehouse Jn (1) - Nailsworth |
| 47308 | Nailsworth - Dudbridge |
| 47308 | Dudbridge - Stroud (Midland) |
| 47308 | Stroud (Midland) - Dudbridge - Stonehouse Jn (1) - Standish Jn - Tuffley Jn - Barton Street Jn - Gloucester Eastgate |
| 47308 | Gloucester Eastgate - Barton Street Jn - Tuffley Jn - High Orchard Yard |
| 47308 | High Orchard Yard - Tuffley Jn - Barton Street Jn - Gloucester Eastgate |
| 47308 | Gloucester Eastgate - Barton Street Jn - Tuffley Jn - Hempsted Sidings |
| 47308 | Hempsted Sidings - Tuffley Jn - Barton Street Jn - Gloucester Eastgate |
Notes :
(1) Timing sheet refers to 'shunt to branch line' at Stonehouse Bristol Road on the outward and 'shunt to main line' on the return. Further details required.
(2) Route confirmation required - above is from booked timings. 47308 seen running round the train at the closed station of Nailsworth and also the train was photographed at Dunbridge (on the Nailsworth to Stonehouse branch) and approaching Stroud (Wallgate) station.

From Bob Mitchell's ticket collection.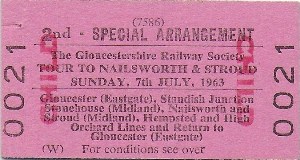 Sources : Bob Taylor, John Stretton, Bob Mitchell & John Debens



Timings (Booked Only)
(from John Debens)
| | | |
| --- | --- | --- |
| Location | Booked (with itinerary) | Booked (separate sheet) |
| Gloucester Eastgate | 13.25d | 13.15d |
| Standish Jn | 13/36 | 13/26 |
| Stonehouse Bristol Road | 13.40 ~ 13.50 | 13.30 ~ 13.40 |
| Dudbridge | 14/15 | 14/05 |
| Nailsworth | 14.40 ~ 14.50 | 14.30 ~ 14.40 |
| Dudbridge | 15.15 ~ 15.25 | 15.05 ~ 15.15 |
| Stroud Wallbridge | 15.40 ~ 15.40 | 15.20 ~ 15.30 |
| Dudbridge | 15/45 | 15/35 |
| Stonehouse Bristol Road | 16/10 | 16.00 ~ 16.10 |
| Standish Jn | 16/14 | 16/14 |
| Gloucester Eastgate | 16.25 ~ 16.35 | 16.25 ~ 16.35 |
| High Orchard Yard | 16.40 ~ 16.50 | 16.40 ~ 16.50 |
| Gloucester Eastgate | 16.55 ~ 17.05 | 16.55 ~ 17.05 |
| Tuffley Jn | 17/10 | 17/10 |
| Hempsted Sidings | 17.20 ~ 17.30 | 17.20 ~ 17.30 |
| Gloucester Eastgate | 17.45a | 17.45a |