22nd June 1963
Stephenson Locomotive Society (Midland Area)
Birmingham & South Staffordshire Rail Tour
| | |
| --- | --- |
| Locos Used | 49361 |
| Stock Used | LMS corridor stock |
Route : (2)
| | |
| --- | --- |
| Loco | Route |
| 49361 | Birmingham New Street - Selly Oak - (via Lifford Curve) - Camp Hill - Bordesley Jn - Saltley - Castle Bromwich - Aldridge - Lichfield Road Jn - Walsall |
| 49361 | Walsall - Bescot - Perry Bar North Jn - Soho East Jn - Soho Soap Works Jn - Galton Jn - Dudley Port HL - Sedgeley Jn - Dudley |
| 49361 | Dudley - Bilston West - Priestfield - Wolverhampton LL - Oxley South |
| 49361 | Oxley South - Wolverhampton LL - Heath Town Jn - Willenhall Stafford Street - Ryecroft Jn - Walsall - Pleck Jn - Darlaston Jn - Darlaston - Wednesbury - Bescot Curve Jn - Pleck Jn - Walsall - Ryecroft Jn - Norton Jn - Norton Crossing Jn - Littleworth Jn - East Cannock Jn - Hednesford - Rugeley TV |
| 49361 | Rugeley TV - Armitage - Lichfield TV LL No.1 Jn - Trent Valley Jn |
| 49361 | Trent Valley Jn - Lichfield TV HL - Lichfield City - Sutton Coldfield - Aston - Windsor Street Goods |
Note :
(1) The train was composed of eight coaches using one of the last LNWR 0-8-0's in service.
(2) Originally uploaded as 1X06 throughout, photographic evidence suggests the headcode was in fact 1T06.
Sources : David Hills, Peter Darke & Ian Clark (SLS)



Photo Review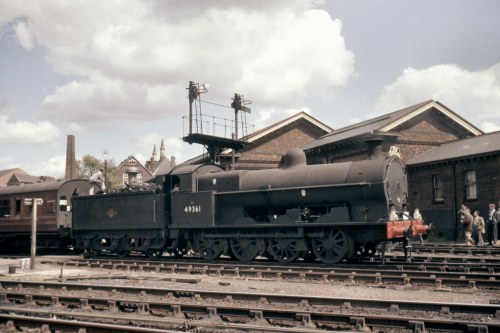 49361 and train at Walsall (photo: The Mike Morant Collection)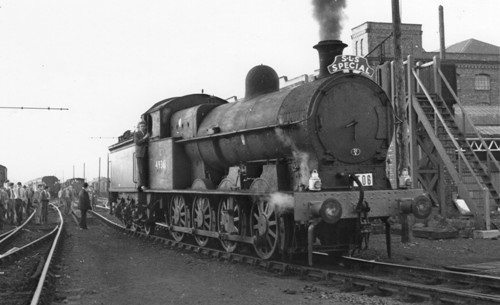 49361 is seen here running round in Windsor Street Goods Yard
(photo: The John Debens Collection)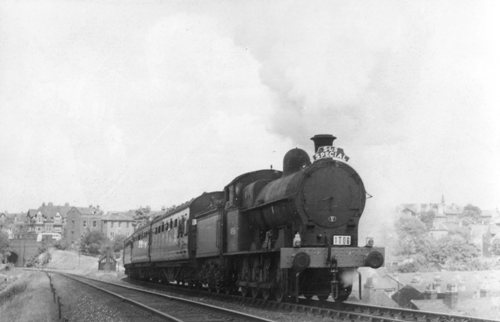 49361 passing Soho Road Jn (photo: P. Wilson/The John Debens Collection)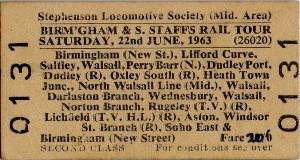 From The John Debens Ticket Collection.


Timings (Booked & Actual)
(from Robert Darlaston courtesy of Ian Clark (SLS)
| | | |
| --- | --- | --- |
| Location | Booked | Actual |
| Birmingham New Street | 13.30d | 13.35 |
| Lifford Station Jn | 13/45 | 13/54 |
| Camp Hill | 13/52 | ? |
| Saltley | 13/57 | ? |
| Castle Bromwich | 14/04 | 14/11 |
| Lichfield Road Jn | 14/29 | ? |
| Walsall | 14.34 ~ 14.44 | ??.?? ~ 14.48 |
| Pleck Jn | 14/47 | ? |
| Bescot | 14/50 | ? |
| Perry Barr North Jn | 15/01 | ? |
| Soho East Jn | 15/09 | ? |
| Soho Soap Works Jn | 15/12 | ? |
| Dudley Port HL | 15.25 ~ 15.33 | 15.31 ~ 15.32 |
| Sedgley Jn | 15/36 | ? |
| Dudley | 15.40 ~ 15.55 | 15.40 ~ 15.55 |
| Wolverhampton LL | 16/44 | 17/04 |
| Heath Town Jn | 16.48 ~ 16.50 | ? |
| Willenhall | 17/14 | ? |
| Ryecroft Jn | 17/21 | ? |
| Walsall | 17/24 | 17.40 ~ 17.47 |
| Pleck Jn | 17/27 | ? |
| Darlaston Jn | 17.32 ~ 17.42 | ??.?? ~ 18.02 |
| Walsall | 18w07 ~ 18w12 | 18.21 ~ 18.25 |
| Norton Jn | 18/23 | ? |
| East Cannock Jn | 18/54 | ? |
| Hednesford | 18/57 | 19/05 |
| Rugeley TV | 19.14 ~ 19.34 | 19.22 ~ ??.?? |
| Lichfield TV LL Jn | 19/51 | ? |
| Lichfield TV HL Jn | 19.59 ~ 20.11 | 20.02 ~ 20.13 |
| Aston | 20.51 ~ 20.52 | ? |
| Windsor Street | 21.00 ~ 21.15 | ??.?? ~ 21.23 |
| Perry Barr Station Jn | 21/28 | ? |
| Soho East Jn | 21/39 | ? |
| Birmingham New Street | 21.52a | ? |