9th June 1963
Home Counties Railway Society
Doncaster Special
| | |
| --- | --- |
| Loco Used | 46245 'City of London' |
| Stock Used | 12 coaches |
Route :
| | |
| --- | --- |
| Loco | Route |
| 46245 | London Kings Cross - (via ECML) - Doncaster |
| 46245 | Doncaster - (via ECML) - London Kings Cross |
Notes :
(1) David Whittaker comments: A number of claims of a very high maximum speed on the descent from Stoke Summit towards Peterborough have been made for this run, some of them in the popular railway press. Figures of 119, 112 and 108 mph have been mentioned. Tellingly, however, there have not been properly detailed logs produced, with passing times, mileages and average speeds to support such claims, though a Duchess is obviously capable of high speeds over such a favourable stretch of track. The 112 and 108 mph figures were apparently recorded over one quarter mile with a wristwatch! Enough said.
(2) Formed in 1955 and originally known as the 'Middlesex Loco Spotters Club', their name was changed in the late 1950's to the 'Home Counties Railway Club' then in January 1963 it changed again, to the 'Home Counties Railway Society'.
Sources : Terry Dorrity, David Whittaker & Ron Walker



Photo Review

Two shots of 46245 on Doncaster shed (photos: The Alan Sainty Collection)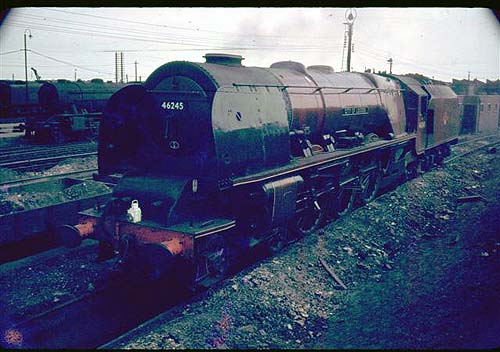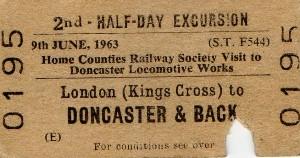 From The John Debens Ticket Collection.


Timings (Booked Only)
(from Ron Walker)
| | | | |
| --- | --- | --- | --- |
| Miles | Location | Booked (out) | Booked (rtn) |
| 0 | Kings Cross | 9.20d | 19.51a |
| 12¾ | Potters Bar | 09/41 | 19/26 |
| 17¼ | Hatfield | 09/47 | 19/21 |
| 32 | Hitchin | 10/01 | 19/07 |
| 43 | Sandy | 10/23 | 18/43 |
| 58¾ | Huntingdon North | 10/50 | 18/18 |
| 76¼ | Peterborough North | 11/06 | 18/00 |
| 80 | Werrington Troughs | 11/11 | 17/56 |
| 98½ | Essendine | 11/20 | 17/48 |
| 100 | Stoke | 11/33 | 17/38 |
| 105¼ | Grantham | 11/38 | 17/32 |
| 109¼ | Barkston South Jn | 11/42 | 17/28 |
| 120 | Newark Northgate | 11/53 | 17/15 |
| 138½ | Retford | 12/13 | 16/55 |
| 156 | Doncaster | 12.35a | 16.32d |