26th May 1963
London Transport
Metropolitan Centenary Rail Tour
| | |
| --- | --- |
| Locos Used | LT 5 'John Hampden' & 45709 |
| Stock Used | six 'steam stock' carriages |
Route :
Reporting Code : SSG (both ways between Amersham & Aylesbury)
| | |
| --- | --- |
| Loco | Route |
| 5 | Baker Street - Wembley Park - Harrow-on-the-Hill - Rickmansworth - Amersham |
| 45709 | Amersham - Aylesbury Town |
| 45709 | Aylesbury Town - Amersham |
| 5 | Amersham - Rickmansworth - Croxley - Watford |
| 5 | Watford - Croxley - Harrow-on-the-Hill - Wembley Park - Baker Street |
Source : David Pearson



Tour Comments
(from David Pearson)
In connection with the centenary of the opening of the first section of the Metropolitan Railway, between Bishops Road and Farringdon Street, an exhibition of rolling stock was held on the 25th and 26th May 1963 at Neasden Depot. Among items on display were a number of Metropolitan Railway origin including Beyer Peacock built 4-4-0T engine No.23 dating from 1885, other ex Metropolitan Railway steam loco's, Bo-Bo electric loco's Nos.1, 5 & 12 built by Metropolitan Vickers in 1922 and six ex Metropolitan Railway "Steam Stock" carriages, known in Metropolitan Railway days as "Dreadnoughts" which had been used on the Liverpool Street/Baker Street - Aylesbury and through Chesham trains. These were hauled by the electric loco's between London and Harrow-on-the-Hill until 1925, and Rickmansworth thence to 1961, with steam engines in charge on the country sections. The electric loco's and "Steam Stock" carriages were withdrawn in September 1961 following electrification the previous year beyond Rickmansworth to Amersham and Chesham. The section beyond Amersham to Aylesbury was left entirely to BR services to and from Marylebone.
Three electric locomotives, Nos. 1, 5 & 12 had been retained for hauling works trains but the six passenger coaches were stored specifically to take part in the centenary celebrations.
Therefore, on Sunday 26th May 1963 electric loco No. 5 and the six 'Steam Stock' carriages were absent from the exhibition as they were used for a sell-out rail tour which ran from Baker Street to Aylesbury and back. No. 5 hauled the train to the new limit of electrification at Amersham, where it was replaced for the onward journey to Aylesbury by ex LMS 'Jubilee' class 4-6-0 No. 45709. Many were surprised at the choice of a main line tender locomotive for this duty which had always been the preserve of tank engines. BR actually had great difficulty in locating a suitable loco for this turn, and had until the previous evening been expecting to terminate the train at Amersham and transfer the passengers into a DMU! On the return journey, with electric loco No. 5 in charge again, the train was routed via the 'North Curve' to Watford, where it ran round for the last leg of the tour to Baker Street.


Photo Review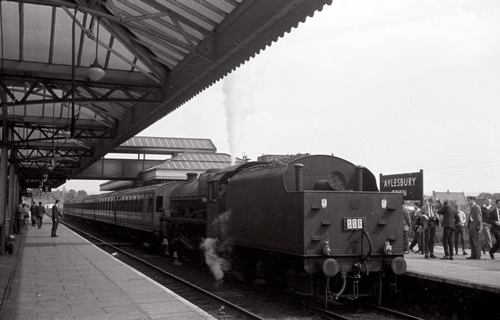 45709 on arrival at Aylesbury Town (photo: David Pearson)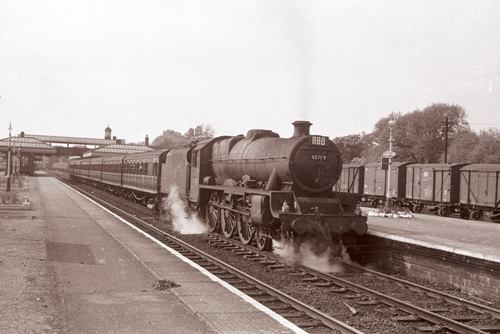 45709, ready to leave Aylesbury for Amersham (photo: David Pearson)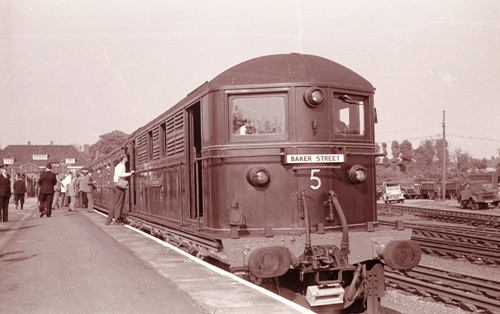 5 sits at Watford, ready to leave with the last leg (photo: David Pearson)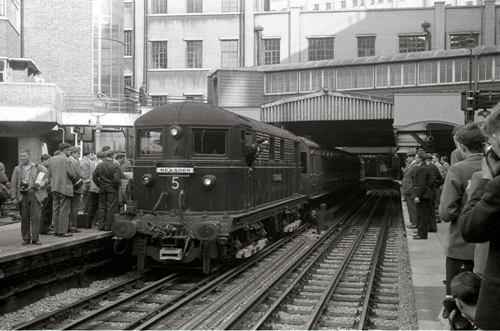 Tour over, 5 waits to leave with the stock (photo: David Pearson)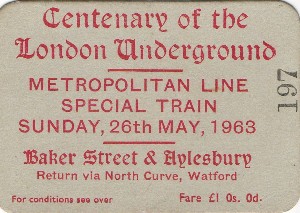 Front and back of a tour ticket
From The John Debens Ticket Collection.