6th April 1963
Stephenson Locomotive Society / Manchester Locomotive Society
Carlisle Rail Tour
| | |
| --- | --- |
| Loco Used | 256 'Glen Douglas' |
Route : 1X85 throughout
Loco
Route
256

Carlisle Citadel – Petteril Bridge J

n

256
Petteril Bridge Jn – Upperby Bridge Jn (No.13)
256

Upperby Bridge Jn (No.13) – Currock J

n

256
Currock Jn – Canal Jn – Kingmoor Jn – Kingmoor New Yard
256

Kingmoor New Yard – Stainton J

n

256
Stainton Jn – Longtown – Langholm
256
Langholm – Longtown – Floriston – Caldew Jn – Rome Street Jn – Petteril Bridge Jn –

Carlisle Citadel
Notes :
(1) Ron Herbert comments: in Carlisle Yard a 350 hp shunter demonstrated humping - it was arranged to show how the retarders operated, part of the railtour!
Source : Peter Robinson



Photo Review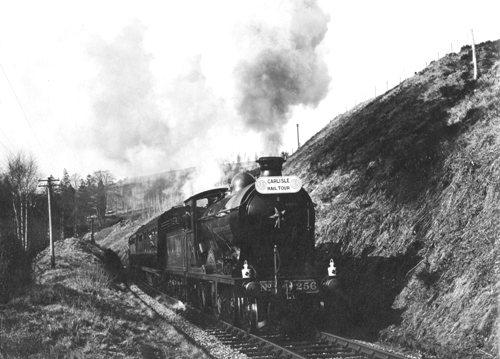 256 on the run to Langholm (photo: A.R. Thompson/The John Debens Collection)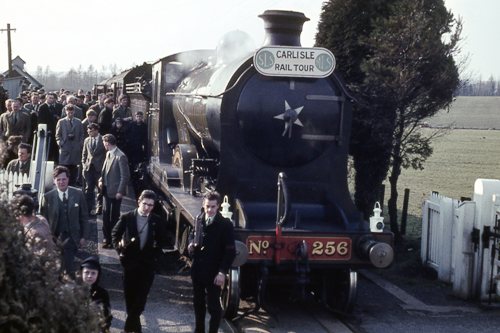 256, paused at Canonbie (photo: Ron Herbert)
As an aside to the railtour itself however these four photos taken by Ron Herbertshow the somewhat interesting hump shunting demonstration that was laid on for tour participants in Carlisle yard;
From The John Debens Ticket Collection.


Timings (Booked Only)
(from Stuart Sellar courtesy of Ian Clark (SLS))
| | |
| --- | --- |
| Location | Booked |
| Carlisle Citadel | 13.05d |
| Petteril Bridge Jn | 13.10 ~ 13.20 |
| Carlisle No.13 | 13.30 ~ 13.45 |
| Carlisle No.8 | 13.57 ~ 14.08 |
| Rome Street Jn | 14/12 |
| Canal Jn | 14/22 |
| Kingmoor New Yard | 14.32a ~ 15.15d [Down Reception] |
| Stainton Crossing | 15.20 ~ 15.30 |
| Longtown | 15/50 |
| Riddings Junction | 16/00 |
| Langholm | 16.20a ~ 16.35d |
| Gilnockie | 16.45a ~ 16.55d |
| Canonbie | 17.00a ~ 17.10d |
| Riddings Junction | 17/15 |
| Longtown | 17/23 |
| Floriston | 17/40 |
| New Yard Flyover Bridge | 17.45 ~ 17.50 |
| Kingmoor Box | 17/58 |
| Carlisle No.3 | 18/01 |
| Rome Street Jn | 18/05 |
| Petteril Bridge Jn | 18.10 ~ 18.20 |
| Carlisle Citadel | 18.24a |