16th February 1963
British Rail
Demonstration Run of 25,000 Volt A.C. Main Line Electric Train
| | |
| --- | --- |
| EMU's Used | 603, ??? & 627 [later designated class 309] |
Route : 1A37 (?throughout?)
| | |
| --- | --- |
| EMU Used | Route |
| as listed (2) | London Liverpool Street - (via GEML) - Colchester - Wivenhoe - Thorpe-le-Soken - Clacton-on-Sea |
| as listed | Clacton-on-Sea - (reverse of outward route) - London Liverpool Street |
Notes:
(1) An identical run was made on 23rd February. The 16th February trip (at least) was formed of 2x 4-car sets (one with buffet) and 1x 2-car set.
(2) From other photographic evidence it is believed set 603 led the formation from London Liverpool Street to Clacton, but confirmation of this is required.
Sources : David Pearson & Colin Baxter



Photo Review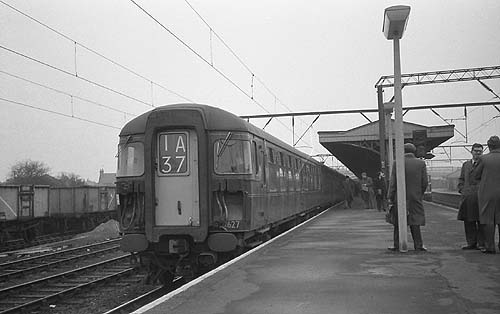 The train at Clacton, set 627 leading (photo: David Pearson)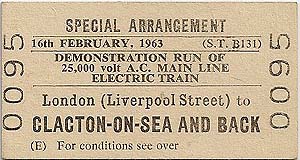 David Pearson's ticket.


Timings (Booked Only)
(from David Pearson)
| | | |
| --- | --- | --- |
| Location | Booked (out) | Booked (rtn) |
| Liverpool Street | 10.50d [P12] | 14.30 [P12] |
| Stratford | 10/56½ | 14/23½ |
| Chadwell Heath | 11/03 | 14/17 |
| Shenfield | 11/12 | 14.05½ ~ 14.07½ |
| Chelmsford | 11/20 | 13/57½ |
| Witham | 11/27½ | 13/50 |
| Colchester | 11/39 | 13/40 |
| Wivenhoe | 11/45 | 13/33½ |
| Thorpe-le-Soken | 11/54 | 13/24½ |
| Clacton | 12.00½a | 13.18d |