10th February 1963
Home Counties Railway Society
Crewe Special
| | |
| --- | --- |
| Locos Used | D3095, 45340, 61409 & 34094 'Mortehoe' |
| DMU Used | ???? |
Route :
Traction
Route
34094

London Marylebone - High Wycombe - Leamington Spa - Wolverhampton

D3095

push/pull train back at Wolverhampton

34094

Wolverhampton - Wellington - Crewe

45340
Crewe - Crewe Works
61409 + 34094
Crewe - Kidsgrove Central - Stoke-on-Trent - Uttoxeter - Egginton Jn - Derby Friargate - Ilkeston North - Awsworth Jn - Basford North - Bagthorpe Jn - Nottingham Victoria
34094
Nottingham Victoria - (via GCML) -

Aylesbury

DMU (service train)

Aylesbury -

London Marylebone
Notes:
(1) For visits to Crewe works & sheds. It is reported over there were over 1,000 applications received for the 600 seats available. Subsequent HCRS tour itineraries gave the running date for this tour as 5th February but several sources have confirmed that was in error and the running date was definitely 10th February.
(2) Chris Weavers comments: I remember it being a long snowy trip. 'Mortehoe' had to set back several times coming out of Wolverhampton (I believe). Don't know now what the engine was out of Crewe, but we did terminate at Aylesbury as Mortehoe ran out of either coal or water (confirmed by Ron Walker - it ran out of coal). The tour passengers all piled into a DMU for London.
(3) Dick Franklin adds: On the front of the timing sheet for this trip the following is written 'The engine for today is 34094 Mortehoe...will haul the train in both directions but it will be taken off at Crewe station and a smaller locomotive will take the train into the works. On part of the return journey the train may be double headed. On arrival in the works at Crewe we would like all passengers to stay on the train until a Society official collects you. This is because the train has to be split into six parties of approximately 100 to go round the works and sheds. Crosville double-decker buses will take each party of 100 to the South shed. All parties will finish at the North shed where they will go over the footbridge and on to the train standing in the platform'. A subsequent tour itinerary stated that an ER class B1 was used between Crewe and Nottingham and John Dunford confirms 'from Crewe Station we certainly had 61409 on the head end'.
(4) John Dunford remembers: The train was hauled into Crewe Works by another engine, sadly I did not record the number. Presumably I was too interested in the feast of locomotives that were on display. Interestingly, on the route in there were many spotters hiding in scrubs on the North Side of the line, presumably hoping to make an illegal entry to the works. Of interest was that there were many Westerns (class 52) under construction at the works that day. I do not remember snow till arrival at Aylesbury after many delays. here we all decamped to a DMU for a very late arrival at Marylebone. My father had been waiting to collect me with his mate. They reckoned that they had counted how many bricks had been used in the construction of both the Hotel and Station such was the delay. On returning to Marylebone we were passed by 34094 at high speed. I was told (later as I eventually worked for BR at Euston) that the SR Train Crew had gone out to Aylesbury to collect their stead. The problems had been ALL DAY that of LMR men not understanding how to fire a Spam can. I suspect that Ron Walkers comment of running out of coal would refer to the LMR Drivers view that there was not enough coal to get them home to Marylebone and for the SR Crew to get it back to SR.
(5) Formed in 1955 and originally known as the 'Middlesex Loco Spotters Club', their name was changed in the late 1950's to the 'Home Counties Railway Club' then in January 1963 it changed again, to the 'Home Counties Railway Society'.
Sources : Nick Roberts, David Cull, Ron Walker, John Debens, Chris Weavers, John Dunford & Ian Bull



Photo Review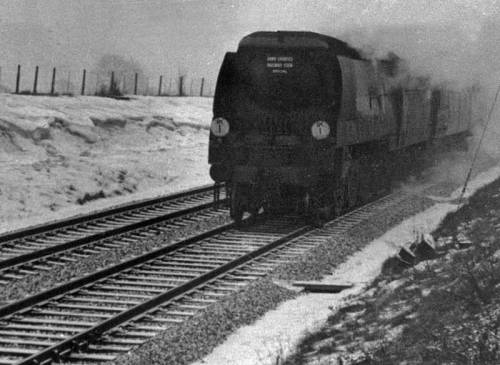 Brian Burrows believes this is a photo of the tour - seen near Leamington Spa.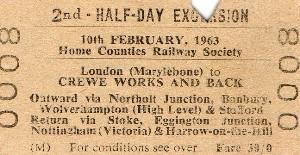 From The John Debens Ticket Collection.


Timings (Booked Only)
(from Dick Franklin & Ron Walker)
Miles
Location
Booked (actual)
0
Marylebone
09.00d
5
Neasden South Jn
09/11
6½
Wembley Hill
[SL]
8
Sudbury & H. Road
[PL]
8¾
Sudbury Hill
[PL]
11½
Northolt Jn East
09/25
13½
West Ruislip
09c28 ~ 09c29
27¾
High Wycombe
09/46
36
Princes Risborough
09/59
45¼
Ashenden Jn
10/10
58½
Ardley
10/25
88½
Leamington Spa
11/07 [TL]
124¼
Wolverhampton LL
12.03 ~ 12.08
143¾
Wellington
12/36
160½
Market Drayton
12/59
171¼
Nantwich
13/14
175¾
Crewe Station
13.22 ~ 13.32
176¼
0
Crewe Works
13.40a ~ 15.10d
0¾
Crewe Station
15.22a ~ 16.55d
9
Kidsgrove Central
17/15
15¾
Stoke-on-Trent
17.25 ~ 17.30
32¾
Uttoxeter
17/58
40¾
Tutbury
18/10
43
Egginton Jn
18/14
50¾
Derby Friargate
18/27
59¾
Ilkeston North
18/42
61¾
Awsworth Jn
18/46
66¼
Basford North
18/53
67
Bagthorpe Jn
18/56
69
Nottingham Victoria
19w01 ~ 19w06
82½
Loughborough Central
19/23
92
Leicester Central
19/34
105
Lutterworth
19/51
115¾
Rugby Central
19/57
125¾
Woodford Halse
20w18 ~ 20w20
127½
Culworth Jn
20/23
148
Grendon Underwood
20/48
157
Aylesbury Town
20/59
185½
Harrow-on-the-Hill
21/38
189½
Neasden South Jn
21/42
194½
Marylebone
21.50a (00.40)