27th January 1963
24th March 1963
Derbyshire Railway Society
Clan - King - Hall Rail Tour
| | |
| --- | --- |
| Locos Used | at least 7929 'Wyke Hall', 47482 & 72008 'Clan Macleod' |
| Stock Used | ????? |
Route : 1X47 (throughout?)
| | |
| --- | --- |
| Loco(s) | Route |
| 72008 | Leeds City - Rotherham - Sheffield - Derby - Bordesley Jn - Tyseley |
| 7929 + 72008 | Tyseley - Oxley (2) - ?Wellington - Market Drayton - Nantwich? - Crewe |
| 47482 | Crewe - Crewe Works |
| ????? | Crewe Works - Crewe |
| 72008 | Crewe - ??? Derby - Sheffield - ??? - Leeds City |
Notes :
(1) Postponed from January 27th 1963 due to severe weather conditions. Richard Billinge comments: From my understanding this was because of the very harsh winter that year with long periods of temperatures below freezing which resulted in many diesel engine freezing while stabled and bursting cylinder blocks. The steam heating boilers of diesel locos also failed. The resultant effect was that BR decided to concentrate on proper trains (I remember seeing one train coming into Derby with an Ivatt 2-6-0 coupled between the 'Peak' and the train to provide heating). Trains which could be described as 'frivolous' e.g. Crankexes were consequently postponed until weather and loco availability improved. Nick Lawrence, who travelled on the tour throughout, comments: by the time the tour ran there were no Kings left in service, hence their non-appearance on the tour – the return leg was supposed to bring a King to Leeds, and many disappointed spotters had gathered at Leeds City to witness the (very late) arrival – I remember them 'booing' the arrival of the Clan!
(2) For visits to shed, Stafford Road & Works.
(3) 72008 photographed at Bromford Bridge carrying headcode 1X47 - was this used throughout?
Sources : Stuart Gamble, Nick Lawrence, Steve Armitage, John Burns & Richard Billinge



Photo Review
(all photos from Nick Lawrence)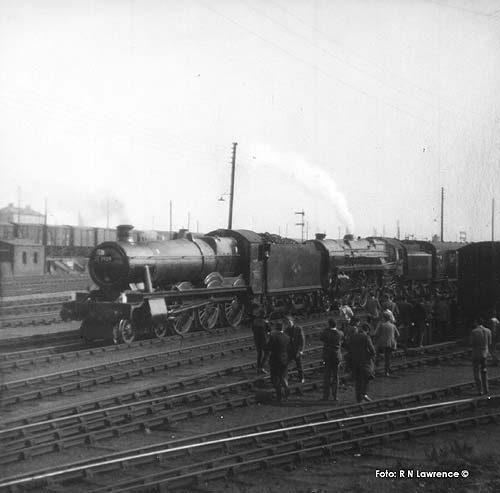 Two photos of the train at Oxley.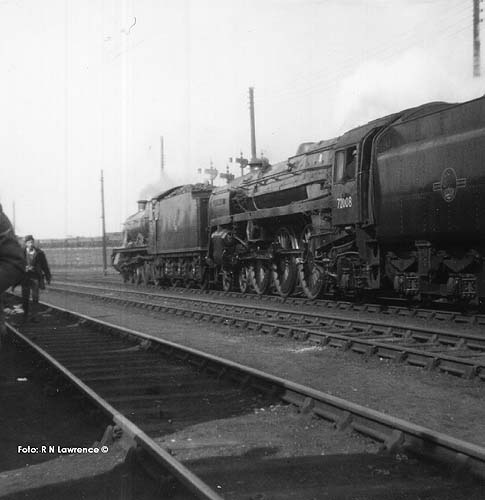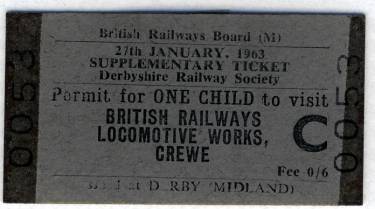 From Stuart Gambles ticket collection - still dated for the
original proposed running date of 27th January.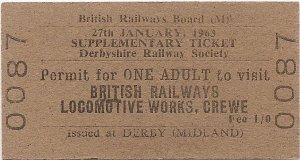 From The John Debens Ticket Collection.