24th March 1963
Derbyshire Railway Society
Clan - King - Hall Rail Tour
| | |
| --- | --- |
| Locos Used | 7929 'Wyke Hall', 47??? & 72008 'Clan Macleod' |
| Stock Used | ????? |
Route : 1X47 (throughout?)
| | |
| --- | --- |
| Loco(s) | Route |
| 72008 | Leeds City - Rotherham - Sheffield - Derby - Bordesley Jn - Tyseley |
| 7929 + 72008 | Tyseley - Oxley (2) |
| ?7929 +? 72008 | Oxley - ?Wellington - Market Drayton - Nantwich? - Crewe |
| 47??? | Crewe - Crewe Works |
| ??? | Crewe Works - Crewe |
| 72008 | Crewe - ??? - Leeds City |
Notes :
(1) Postponed from January 27th 1963 for reason(s) unknown. Nick Lawrence, who travelled on the tour throughout, comments: by the time the tour ran there were no Kings left in service, hence their non-appearance on the tour – the return leg was supposed to bring a King to Leeds, and many disappointed spotters had gathered at Leeds City to witness the (very late) arrival – I remember them "booing" the arrival of the Clan!
(2) For visits to shed, Stafford Road & Works.
(3) 72008 photographed at Bromford Bridge carrying headcode 1X47 - was this used throughout?
Sources : Stuart Gamble, Nick Lawrence & Steve Armitage



Photo Review
(all photos from Nick Lawrence)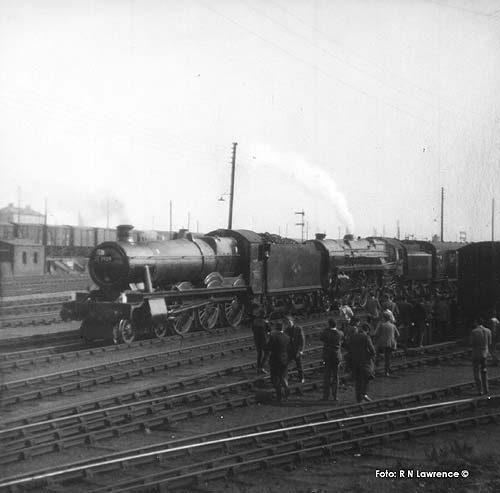 Two photos of the train at Oxley.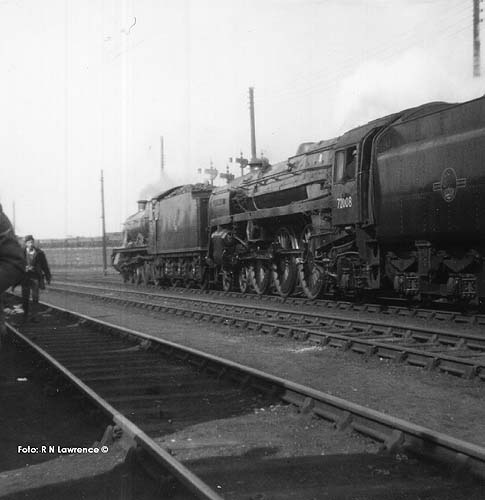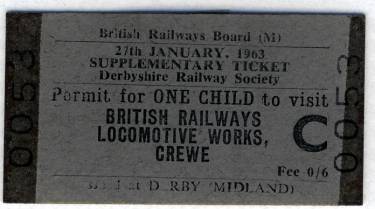 From Stuart Gambles ticket collection - still dated for the
original proposed running date of 27th January.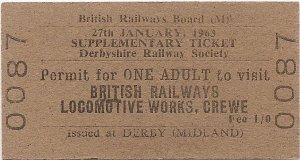 From The John Debens Ticket Collection.