17th November 1962
The Locomotive Club of Great Britain
The King Commemorative Rail Tour
| | |
| --- | --- |
| Locos Used | 2210, 6018 & 6631 |
Route : 1Z28 throughout
Loco
Route
6018
London

Paddington - Park Royal - High Wycombe - Princes Risborough - Aynho Jn - Banbury - Leamington Spa - Hatton - Tyseley - Birmingham Snow Hill - Hockley - Wolverhampton Low Level

6631
Wolverhampton Low Level - Oxley Branch Jn - Wombourn - Brettell Lane - Stourbridge Junction
6631

Stourbridge Junction - Brettell Lane - Dudley - Dudley Port High Level - Spon Lane - Soho - Soho Road - Perry Barr - Stechford - Berkswell - Kenilworth Jn - Kenilworth - Leamington Spa Exchange

Sidings - Leamington Spa

2210
Leamington Spa - Fenny Compton - Towcester - Blisworth - Roade - Denbigh North Jn - (via Bletchley Flyover) - Claydon LNE Jn - Calvert - Grendon Underwood Jn - Akeman Street - Ashendon Jn - Princes Risborough - Northolt East Jn - Wembley Hill - Neasden South Jn - London Marylebone
Notes :
(1) Bill Armstrong comments: 'the motive power on the Leamington-Marylebone leg was shown in the itinerary as an ex-LMS 2P 4-4-0 but participants were advised that the survivors were not in a good enough condition to have been used. I regret that I cannot now recall whether this was on the day of the tour or when tickets were sent out; I think that the former is more likely'.
(2) David Pearson comments: I was looking forward to the photo stop on the SMJ at Blakesley, but it was too dark and the result was blurred.
Sources : Terry Jackson, Mike Morant & David Pearson



Photo Review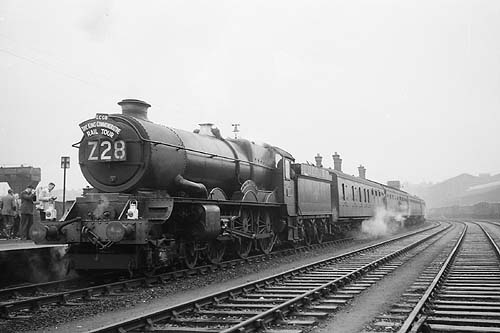 6018 on the train at Hockley (photo: David Pearson)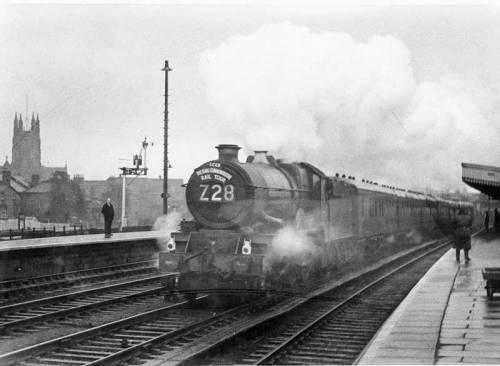 Two of Brian Burrows photographs show 6018 & 2210 at Leamington Spa.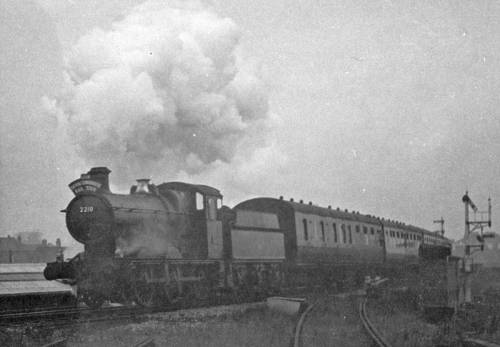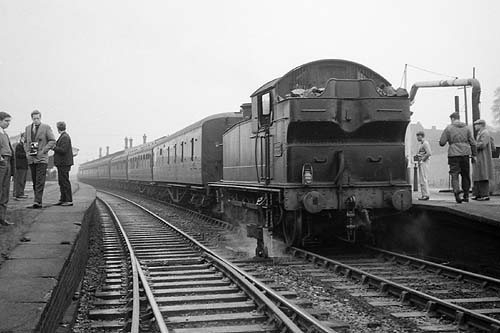 6631 at Stourbridge Junction (photo: David Pearson)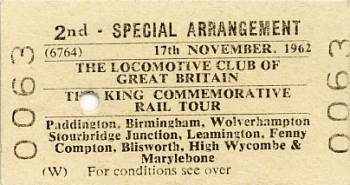 Timings (Booked Only)
(from Terry Jackson)
| | | |
| --- | --- | --- |
| M.C | Location | Booked |
| 0.00 | Paddington | 08.50d |
| 3.22 | Old Oak Common West Jn | 08/57 |
| 7.64 | Greenford | 09/02½ |
| 10.05 | Northolt East Jn | 09/05 |
| 26.44 | High Wycombe | 09/24 |
| 34.54 | Princes Risborough | 09/35 |
| 44.04 | Ashendon Jn | 09/44 |
| 57.16 | Ardley | 09/59 |
| 62.33 | Aynho Jn | 10/04 |
| 67.38 | Banbury | 10/09 |
| 87.28 | Leamington Spa | 10/28 |
| 93.36 | Hatton | 10/36 |
| 100.16 | Knowle & Dorridge | 10/43½ |
| 107.27 | Tyseley | 10/50 |
| 110.53 | Birmingham Snow Hill | 10.55a ~ 11.08d |
| 111.44 | Hockley | 11p11a ~ 11p20d |
| 113.69 | Handsworth Jn | 11/26 |
| 123.03 | Wolverhampton Low Level | 11.41a ~ 11.50d |
| 124.63 | Oxley Middle Jn | 11/56 |
| 125.44 | Oxley Branch Jn | 11/58 |
| 130.65 | Warnbairn | 12/09 |
| 134.42 | Baggeridge Jn | 12/17 |
| 137.21 | Kingswinford South Jn | 12/22 |
| 139.44 | Stourbridge Jn | 12p30a ~ 12p42d |
| 145.44 | Dudley | 12.58a ~ 13.06d |
| 146.34 | Sedgeley Jn | 13/11 |
| 146.77 | Dudley Port (High Level) | 13/17 |
| 151.65 | Soho Soap Works Jn | 13/30 |
| 152.02 | Soho East Jn | 13/32 |
| 154.36 | Perry Barr Station Jn | 13/38 |
| 156.02 | Aston | 13/43 |
| 159.18 | Stechford | 13/50 |
| 168.66 | Berkswell | 14/04 |
| 173.23 | Kenilworth Jn | 14/13 |
| 178.03 | Leamington Milverton | 14/20 |
| 178.06 | Leamington Exchange Sidings | 14.24a ~ 14.34d |
| 179.05 | Leamington South | 14/35 |
| 190.13 | Fenny Compton | 14.51a ~ 14.58d |
| 198.17 | Woodford West Jn | 15/15 |
| 204.19 | Blakesley | 15p27a ~ 15p32d |
| 208.37 | Towcester | 15/41 |
| 212.53 | Blisworth | 15/48 |
| 215.48 | Roade | 16/02 |
| 227.47 | Denbigh Hall | 16/19 |
| 228.67 | Bletchley | 16/24 |
| 236.02 | Winslow | 16w34a ~ 16w40d |
| 241.48 | Claydon LNE Jn | 16/54 |
| 242.28 | Calvert | 16/57 |
| 244.24 | Grendon Underwood Jn | 17/01 |
| 250.21 | Ashenden Jn | 17/10 |
| 259.67 | Princes Risborough | 17/25 |
| 267.61 | High Wycombe | 17/39 |
| 284.20 | Northolt Jn East | 18/04 |
| 290.44 | Neasden South Jn | 18/16½ |
| 295.57 | Marylebone | 18.25a |