20th October 1962
Scottish Locomotive Preservation Fund
The Covenanter
| | |
| --- | --- |
| Loco Used | 57581 |
| Stock Used | included a Buffet Car |
Route :
| | |
| --- | --- |
| Loco | Route |
| 57581 | Glasgow St Enoch - Bellgrove - Cowlairs - Lenzie Jn - Garnqueen South Jn - Sunnyside Jn - Whifflet East Jn - Whifflet South Jn - Mossend - Holytown - Law Jn - Lanark (station avoiding line) - Muirkirk - Mauchline - Annbank - Falkland Jn - Ayr Goods |
| 57581 | Ayr Goods - Falkland Jn - Troon Old Station - Lochside - Kilmacolm - Greenock Princes Pier |
| 57581 | Greenock Princes Pier - Kilmacolm - Paisley Gilmour Street - Glasgow St Enoch |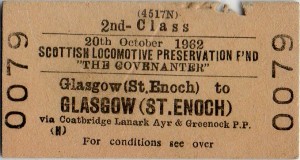 From The John Debens Ticket Collection.
Sources : John Debens, Andrew Fairholm, Ian Henderson & Robert Errington



Tour Review
(by Robert Errington)
We left St Enoch Station in Glasgow at 10.35 am and after a 15 minute wait at St Johns for water we got moving passing Bellgrove at 10.56 am and Cowlairs Box slowly at 11.08 am and proceeding to Lenzie Junction at 11.17am where we branched on to what is knwon as the Garngaber Loop on the Monkland and Kirkintilloch Ralway a Mineral Railway with no ballast and very overgrown. Garngaber Junction was reached at 11.18 am . Progress was made through Bridgend at 11.23 am and Chryston at 11.25 am . Bedlay Colliery was passed at 11.32 which was now 17 minutes late of booked time , Garnqueen South two minutes later and Gartsherrie East three minutes after that.
Having moved on to the Main Line we arrived outside Coatbridge ( Sunnyside) at 11.44 am and then branched off on a Goods Line down to the closed in 1951, Coatbridge Central . Further on we stopped at the closed Whifflet East at 11.50 for six minutes where photographs were taken of our Caledonian "812" class 0-6-0 No 57581, a Polmadie based locomotive, by the many enthusiasts on the trip . With Whifflet Lower just next door to the East and the Upper above, it is a wonder why the East Island Platform was ever built ?
Leaving Whifflet South Junction at 11.58 ( just one minute late of booked time) we went down past Mossend ( 12.03 ) using the spur to Fullwood Junction and Holytown with arrival at 12.06 which was right on time. At Law Junction we stopped at 12.19 until 12.27 for more photographs and then climbed steadily up the Clyde Valley to Craigenhill summit on the Main Line taking the branch to Lanark passing the terminus branch to take the Racecourse line where we made another stop for photographs at 12.51 for six minutes. Still exactly on booked time the old engine pulled us along to Douglas West via Ponfeigh at 1.07 pm, Happenden ( 1.14 pm) and arrival at 1.24 pm, now seven minutes behind booked time.
The next part of the journey found us travelling through Inches at 1.30 pm and into Muirkirk at 1.40 pm where we stopped and I was able to buy a ticket for a souvenir and visit the sub shed of 67B Hurlford.
Leaving Muirkirk at 1.47 pm we passed Cronberry at 2.00 pm, Auckinleck at 2.08 pm wher we joined the Main Line and Mauchline seven minutes later before another photo opportunity at Tarbolton arrival at 2.22pm. It was only a four minute stop for the " look about at this 1943 closed station " , meaning we were now just five minutes down . From Tarbolton we proceeded via Annbank at 2.30, Newton Junction at 2.39 and another stop at Falkland Junction at 2.41 pm for five minutes where we changed ends and moved on into the Ayr Goods branch at 2.58 pm . A longer than usual 14 minute stop to change ends again was, in fact, managed faster than expected meaning we picked up a lot of time and left at 3.12pm just two minutes off booked. This, being the very first line from Glasgow also enabled us to have a look around.
We now moved on to Troon where we stopped at the old grass ridden Goods platform on the direct line and then passed through Irvine a 3.43 pm, Kilwinning 3.47 pm and a water stop at Dalry at 3.53 for seven minutes. Lochside was reached at 4.10 pm and Johnstone High 11 minutes later to Carr Junction at 4.24 pm onto the Kilmacolm and Greenock Line . Kilmacolm was passed at 4.37 pm and the piece of line that last saw passenger traffic in 1959 though liner traffic still ran, saw us arriving at Greenock Lynedoch at 4.50 pm, six minutes behind booked time. Departing from Lynedoch five minutes later we moved on to Greenock Princes Pier arriving at 5.01 pm .
The wait at Princes Pier meant that a number of enthusiasts were able to sign the Signalmans book and some souvenirs were collected but not by me. The shed had been closed in 1959. As we did not leave until 5.31 pm the rest of the journey was going to end up behind booked time and we went back though Kilmacolm at 5.52pm, Elderslie at 6.05 pm and Paisley Gilmour Street at 6.09 ( 5.38 booked) with Shields Road being passed at 6.21 pm and eventual arrival back in St Enoch at 6.25pm , exactly thirty minutes behind scheduled time
Robert Errington



Timings (Booked & Actual)
(from Alisdair Macdonald & Robert Errington)
| | | |
| --- | --- | --- |
| Location | Booked | Actual |
| Glasgow St Enoch | 10.35d | 10.35 |
| St Johns | 10.39a ~ 10.41d | ??.?? ~ ??.?? [15mins wait] |
| Bellgrove | 10/44 | 10/56 |
| Cowlairs SB | 10/56 | 11/08 |
| Lenzie Jn | 11/02 | 11/17 |
| Carngaber Jn | 11/03 | 11/18 |
| Bridgend | 11/07 | 11/23 |
| Chryston | 11/09 | 11/25 |
| Bedlay Colliery | 11/13 | 11/32 |
| Garnqueen South | 11/19 | 11/34 |
| Gartsherrie East | 11/22 | 11/37 |
| Gunnie | 11/25 | ? |
| Sunnyside Jn | 11/30 | ? |
| Coatbridge Central | 11.35a ~ 11.40d | ? |
| Whifflet East | 11.45a ~ 11.50d | 11.50 ~ 11.56 |
| Whifflet South Jn | 11.55 ~ 11.57 | ??.?? ~ 11.58 |
| Mossend | 12/03 | 12/03 |
| Holytown | 12/06 | 12.06 ~ ??.?? |
| Law Jn | 12w19 ~ 12w28 | 12.19 ~ 12.27 |
| Lanark Jn | 12/44 | ? |
| Lanark Race Course | 12.52a ~ 12.57d | 12.51 ~ 12.57 |
| Ponfeigh | 13/05 | 13/07 |
| Happendon | 13/11 | 13/14 |
| Douglas West | 13/17 | 13.24 ~ ??.?? |
| Inches | 13/22 | 13/30 |
| Muirkirk | 13.31a ~ 13.42d | 13.40 ~ 13.47 |
| Cronberry | 13/55 | 14/00 |
| Auchinleck | 14/03 | 14/08 |
| Mauchline | 14/10 | 14/15 |
| Tarbolton | 14.18a ~ 14.21d | 14.22 ~ 14.26 |
| Annbank | 14/26 | 14/30 |
| Newton Jn | 14/35 | 14/39 |
| Falkland Jn | 14.37 ~ 14.45 | 14.41 ~ 14.46 |
| Ayr Goods | 14.50a ~ 15.10d | 14.58 ~ 15.12 |
| Falkland Jn | 15/15 | ? |
| Troon (old station) | 15.24a ~ 15.30d | ? |
| Irvine | 15/38 | 15/43 |
| Kilwinning | 15/43 | 15/47 |
| Dalry | 15w48 ~ 15w55 | 15.53 ~ 16.00 |
| Lochside | 16.05 ~ 16.08 | 16/10 |
| Johnstone High | 16/15 | 16/21 |
| Cart Jn | 16/17 | 16/24 |
| Kilmacolm | 16/29 | 16/37 |
| Greenock Lynedoch | 16.44a ~ 16.48d | 16.50 ~ 16.55 |
| Greenock Princes Pier | 16.52a ~ 17.05d | 17.01 ~ 17.31 |
| Kilmacolm | 17/22 | 17/52 |
| Elderslie | 17/34 | 18/05 |
| Paisley Gilmour Street | 17.38a ~ 17.41d | 18.09 ~ ??.?? |
| Shields Jn | 17/49 | 18/21 |
| Glasgow St Enoch | 17.55a | 18.25 |