13th October 1962
Stephenson Locomotive Society (N.W. Area) / Manchester Locomotive Society /
Kings College Railway Society (Newcastle)
The Durham Rail Tour
| | |
| --- | --- |
| Locos Used | 61418 & 67636 |
| Stock Used | booked for 3x TSO & 2x BSO |
Route : 1Z02 throughout
| | |
| --- | --- |
| Loco | Route |
| 67636 | Durham - Relly Mill Jn - Dearness Valley Jn - Brancepeth - Willington - Bowden Close Jn - Howden - Bishop Auckland North Jn - Bishop Auckland East Jn - Fielden Bridge Jn - West Auckland - West Auckland Colliery |
| 61418 | West Auckland Colliery - West Auckland - Fielden Bridge Jn - Tunnel Branch Jn - (via Shildon Tunnel) - Shildon - Simpasture Jn - Stillington North Jn - Stillington - Redmarshall - Redmarshall West Jn - Redmarshall East Jn - Norton West Jn - Norton East Jn - Norton - Billingham - Haverton Hill - Port Clarence |
| 61418 | Port Clarence - Haverton Hill - Haverton Hill South Jn - Billingham Beck Jn - North Shore Jn - Stockton |
| 61418 | Stockton - North Shore Jn - Norton South Jn - Norton East Jn - Billingham - Greatham - Seaton Carew - West Hartlepool - Hart Jn - Castle Eden - Wellfield - Thornley - Haswell - Murton - Penshaw Jn - Sunderland - Pelaw - High Level Bridge - Newcastle Central - Forth Jn - Scotswood Jn - Scotswood Bridge Jn - Blaydon Main Jn - Whickham Jn - Dunston-upon-Tyne - Low Fell - Ouston Jn - South Pelaw Jn - Beamish - Annfield Plain Jn - Annfield Plain - Carr House - Consett East Jn - Consett North Jn - Consett |
| 61418 | Consett - Consett North Jn - Lanchester - Bearpark - Baxter Wood No.1 Jn - Relly Mill Jn - Durham - (1) - Newcastle Central |
Notes :
(1) Due to the failure of a down express (and late running), on arrival back to Durham the train was extended to Newcastle Central (probably the ECS was bound for there anyway).
(2) Roy Lambeth comments: We arrived a little late at Newcastle and 61418 went to Gateshead for servicing so we left even later. We arrived at Consett in total darkness having stalled on the 1 in 36 somewhere near Annfield Plain due to a shortage of steam. I remember the storming start on the bank and the burning cinders high into the dark sky. Arrival at Durham was some 3hours late if my memory is correct, hence the extension to Newcastle.
Sources : David Whittaker, Roy Lambeth, Peter Darke & John Debens



Photo Review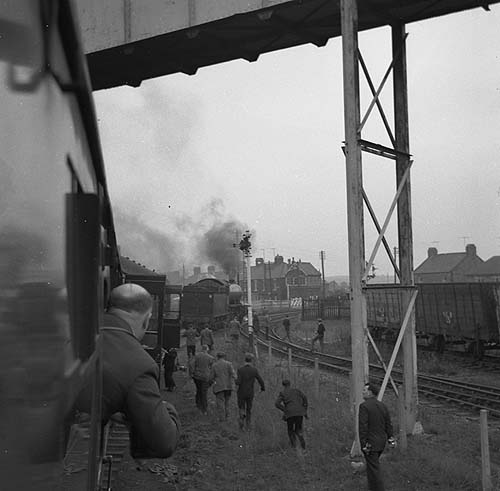 61418 backing onto the train at West Auckland Colliery with West Auckland
Level Crossing Signal Box in the background (photo: Roy Lambeth)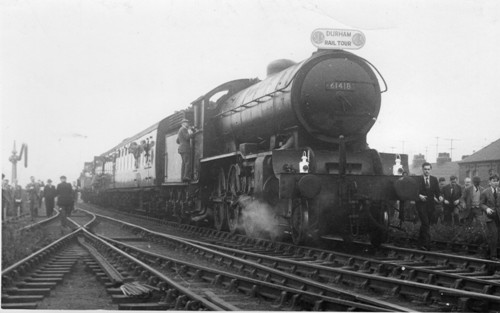 61418 reversing at Port Clarence (photo: The John Debens Collection)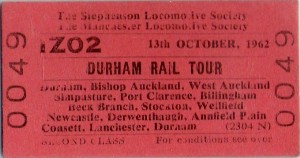 From The John Debens Ticket Collection.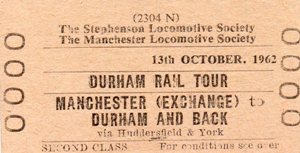 Timings (Booked & Actual)
(from David Whittaker & John Debens)
| | | |
| --- | --- | --- |
| Location | Booked | Actual |
| Durham | 13.05d | ? |
| Willington | 13/22 | ? |
| Bishop Auckland | 13/30 | ? |
| West Auckland | 13L36 ~ 13L46 | ? |
| Shildon North | 13/54 | ? |
| Shildon South | 13/57 | ? |
| Simpasture | 14/02 | ? |
| Stillington North | 14/17 | ? |
| Norton West | 14/28 | ? |
| Norton East | 14/32 | ? |
| Billingham | 14/35 | ? |
| Port Clarence | 14.50 ~ 15.15 | ? |
| Stockton | 15.30 ~ 15.42 | ? |
| West Hartlepool | 16/00 | ? |
| Wellfield | 16/19 | ? |
| Haswell | 16/28 | ? |
| Ryhope | 16/45 | ? |
| Sunderland | 16/51 | ? |
| Pelaw | 17/07 | ? |
| Gateshead E. | 17/14 | ? |
| Newcastle | 17w17 ~ 17w25 | ? |
| Elswick | 17/29 | ? |
| Scotswood Bridge | 17/33 | ? |
| Blaydon Main | 17/37 | ? |
| Derwenthaugh | 17/41 | ? |
| Norwood | 17/47 | ? |
| Low Fell | 17/53 | ? |
| Birtley | 17/59 | ? |
| Anfield Plain | 18/20 | ? |
| Consett North | 18.35 ~ 18.43 | ? |
| Consett South | 18/46 | ? |
| Knitsley | 18/50 | ? |
| Durham | 19.10a | (19.30 ~ ??.??) |
| Newcastle | - | ??.??a |