6th October 1962
???
(Kelvedon to Tiptree)
Route :
| | |
| --- | --- |
| Traction | Route |
| ??? | Kelvedon - Tiptree (and return?) |
Notes :
(1) It is suspected this excess fare ticket might be for a brake van/cab ride and may have been in some way connected with the R.C.T.S. half-day railtour that ran the same day (the Kelvedon to Tiptree line by this time had closed to remaining freight traffic a week before, on 28th September 1962) - maybe undertaken by a passenger who was also on the R.C.T.S. trip? Other Internet sources state the final movement on the branch was 28th September 1962 but the excess ticket seems to suggest otherwise?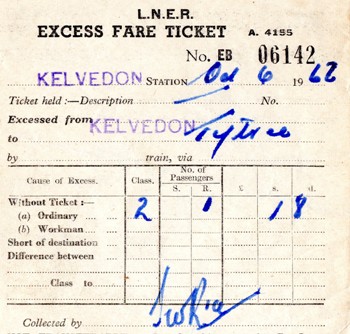 From The John Debens Ticket Collection.