22nd September 1962
R.C.T.S. (Lancashire & N.W. Branch)
The Mid Lancs Railtour
| | |
| --- | --- |
| Locos Used | 42844, 49451 & 78036 |
| Stock Used | 5x LMS corridor coaches |
Route : 1X23 throughout
| | |
| --- | --- |
| Loco | Route |
| 49451 (2) | Preston West Lancs Goods (Fishergate Hill) - Penwortham Jn |
| 49451 | Penwortham Jn - Whitehouse West Jn - Whitehouse South Jn - Todd Lane Junction - Lostock Hall Jn - Farington Curve Jn - Preston EL - Deepdale Jn - Grimsargh - Longridge (3) |
| 49451 | Longridge - Grimsargh - Deepdale Jn - Preston EL |
| 42844 | Preston EL - Todd Lane Junction - Bamber Bridge - Cherry Tree - Blackburn - Great Harwood - Padiham - Rose Grove - Burnley Central - Colne - Barnoldswick Jn - Earby |
| 78036 | Earby - Barnoldswick Jn - Barnoldswick |
| 78036 | Barnoldswick - Barnoldswick Jn - Earby - Elslack - Skipton North Jn (4) |
| 42844 | Skipton North Jn - Grassington |
| 42844 | Grassington - Skipton - Elslack - Earby - Barnoldswick Jn - Colne - Burnley Central - Rose Grove - Accrington - Blackburn - Cherry Tree - Chorley |
| 42844 | Chorley - Farington Jn - Lostock Hall Jn - Todd Lane Junction - Whitehouse South Jn - Preston EL |
Notes :
(1) Originally uploaded as 23rd September in error.
(2) Loco propelling.
(3) Reversed at point 'beyond level crossing'.
(4) Loco change point originally uploaded as Earby but a timing sheet seen by Webmaster had a hand-written note stating the loco change was made at Skipton North Jn.
Sources : Bevan Price, Gary Thornton, Alan Castle, Peter Darke, Ron Herbert & John Debens



Photo Review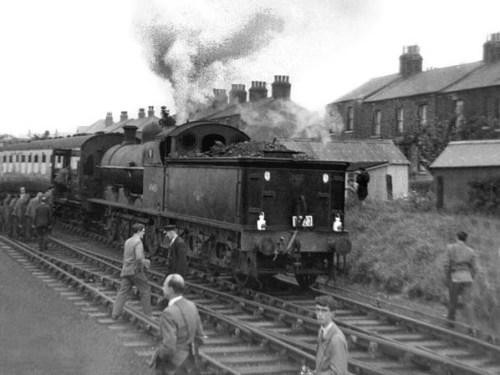 A shot of the tour (photo: Andrew C. Ovenall via Alan Castle/Nick Catford)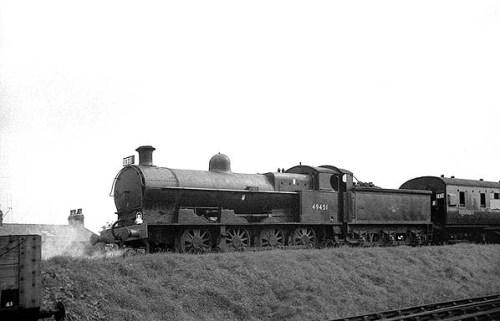 Another shot of the tour (photo: Bevan Price)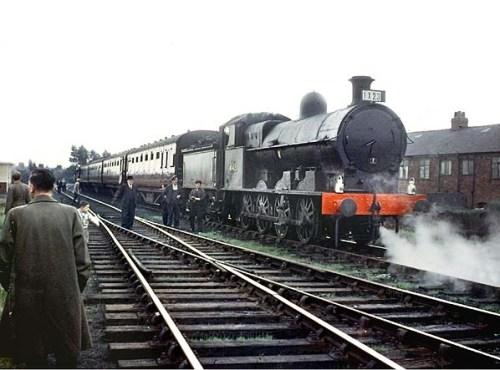 A colour shot of the tour (photo: the Nick Catford collection)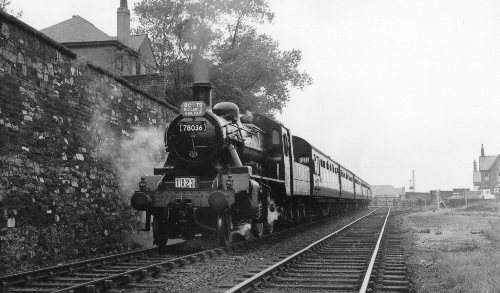 78036 is seen here leaving Barnoldswick (photo: John Debens)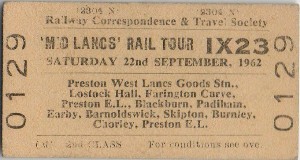 From The John Debens Ticket Collection.


Timings (Booked & Actual)
(from John Debens)
M.C
Location
Booked
Actual
0.00
Preston (West Lancs Goods)
13.10d
13.14
0.65
Penwortham Jn
13.20 ~ 13.25
13.25 (a/d or both?)

Train worked 'wrong line' as far as Whitehouse West Jn

2.58
Todd Lane Jn
13/36
13/38
4.68
Farington Curve Jn
13/48
13/45
6.33
Preston NU
13/52
13/52
6.66
Preston No.5 SB
13/853
?
13.66
Longridge
14.27 ~ 14.47
14.18 ~ 14.42
20.66
Preston No.5
15/19
15/05
21.19
Preston EL
15L21 ~ 15L28
15.09 ~ 15.30
32.23
Blackburn
15.51 ~ 15.53
15.50 ~ 15.53
33.29
Great Harwood Jn
15/56
15/56
40.67
Padiham
16/07
16p06 ~ 16p12
42.40
Rose Grove West Jn
16/12
16/16
43.26
Gannow Jn
16.15 ~ 16.23
16.20 ~ 16.22
49.62
Colne
16/40
16/42
54.59
Earby
16L50 ~ 17L03
16.52 ~ 17.01
57.27
Barnoldswick
17.03 ~ 17.13
17.09 ~ 17.20
59.75
Earby
17/20
17/27
66.14
Skipton
17L29 ~ 17L41
17.32 ~ 17.43
76.66
Grassington
18.10 ~ 18.25
18.12 ~ 18.31
87.38
Skipton
18.55 ~ 19.10
18.58 ~ 19.11
98.54
Colne
19/28
19/31
105.56
Rose Grove
19/42
19/45
110.23
Accrington
19/53
19/52
115.42
Blackburn
20/05
20/05
117.36
Cherry Tree Jn
20/10
20/09
125.21
Chorley
20.26 ~ 20.36
20.33 ~ 20.42
128.08
Euxton Jn
20/42
20/48
130.76
Farington Jn
20/48
20.52 ~ 20.57
132.39
Todd Lane Jn
20/55
21/03
134.34
Preston EL
21.00a
21.07