22nd September 1962
Ian Allan
The Western Sunset
| | |
| --- | --- |
| Locos Used | 4992 'Crosby Hall' (3), 34050 'Royal Observer Corps', 53808, 5154 & 7335 |
Route : 1X05 throughout
| | |
| --- | --- |
| Loco(s) | Route |
| 34050 | London Paddington - Ealing Broadway - Slough - Reading General - Newbury - Westbury - (via Frome avoiding line) - Castle Cary - Yeovil Pen Mill - Dorchester West - Weymouth |
| 53808 (1) | Weymouth - Dorchester South - Wareham - Hamworthy Jn - Broadstone - Templecombe No. 2 Jn - Evercreech Junction - Radstock North - Bath Green Park |
| 4992 | Bath Green Park - Mangotsfield - Yate - Standish Jn - Gloucester South Jn - Engine Shed Jn - Cheltenham Spa St James |
| 5154 + 7335 | Cheltenham Spa St James - Andoversford - Notgrove |
| 7335 | Notgrove - Kingham - Oxford - Wheatley - Princes Risborough - High Wycombe - Greenford - London Paddington |
Notes :
(1) Train banked from Weymouth to Bincombe Tunnel SB by 34050.
(2) There is a note on the timing sheet that the train was booked to have as assisting engine from Yetminster but, whilst the train stopped there, Brian Basterfield confirms : "there was no banking engine, and the crew decided that they would have a go. The resultant climb up the 1 in 51 to the tunnel entrance was the finest piece of running I have ever had on a Rebuilt Bulled Light Pacific. We had already come down through Marston Magna at 81 mph".
(3) Subsequent to the tour, Ian Allan's Trains Illustrated magazine (December 1962 issue) gave the identity of this loco as 4932 'Hatherton Hall' but this has been confirmed by various sources as incorrect captioning within the magazine.
Sources : John Clifford (on the train throughout), Brian Basterfield & David Whittaker



Photo Review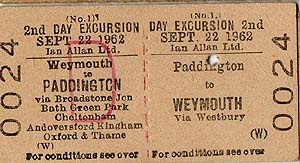 from The John Debens' Ticket Collection.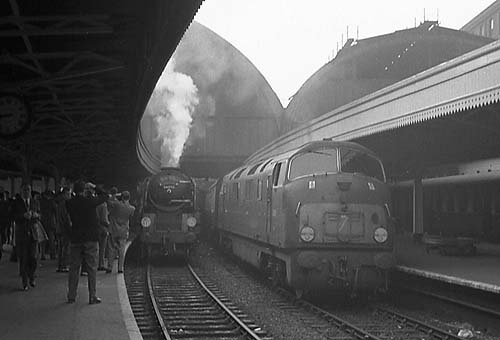 34050 at Paddington, in company with D801 (photo: Gordon Jakes)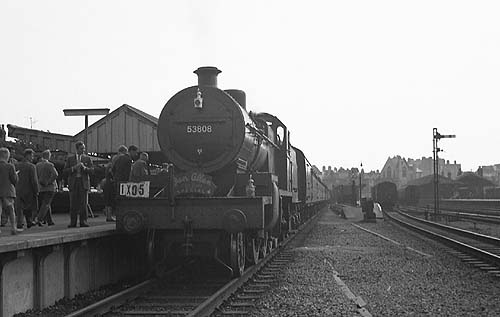 53808 caught on film at Weymouth (photo: Gordon Jakes)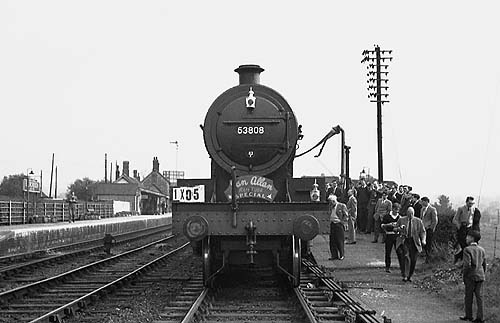 53808 again, this time watering at Evercreech Junction (photo: Gordon Jakes)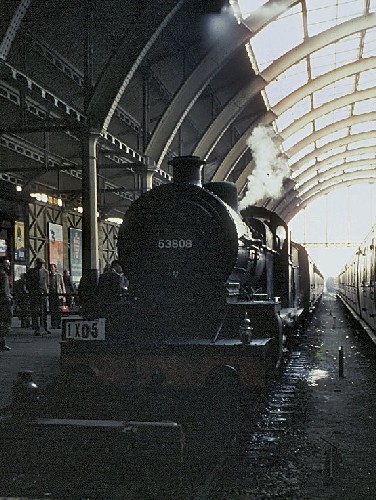 53808 on arrival at Bath Green Park (photo: Mike Morant)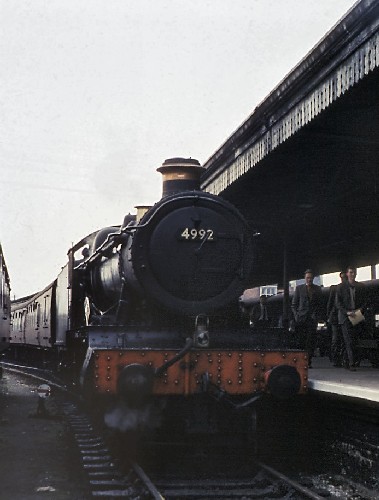 4992 at Cheltenham St James (photo: Mike Morant)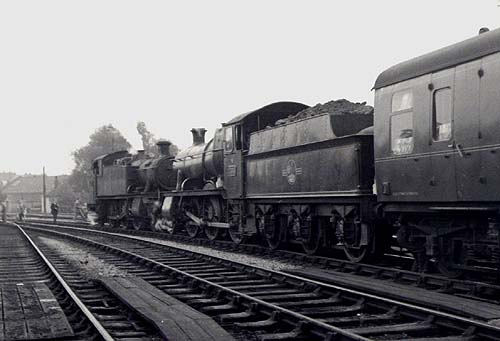 5154 & 7335 at Cheltenham St James terminus (photo: Gordon Jakes)


Timings (Booked & Actual)
(from Terry Jackson & John Clifford)
| | | |
| --- | --- | --- |
| Location | Booked | Actual |
| Paddington | 08.50d | 08.53 |
| Subway Jn | ML | - |
| Southall | 09/03 | 09/06½ |
| Slough | 09/12 | 09/14½ |
| Maidenhead | 09/18 | 09/20 |
| Reading | 09/30½ | 09/31½ |
| Newbury | 09/52 | 09/49 |
| Bedwyn | 10/08 | 10/07½ |
| Severnake (LL) | 10/12 | 10/11½ |
| Patney & Chirton | 10/23 | 10/22 |
| Heywood Road Jn | 10/35 | 10/34 |
| Westbury | 10w38a ~ 10w43d | 10.36½ ~ 10.48½ |
| Fairwood Road Jn | 10/46 | 10/52 |
| Clink Road Jn | 10/50½ | 10/57 |
| Blatchbridge Jn | 10/53 | 10/59 |
| Castle Cary | 11/08 | 11/11½ |
| Yeovil Pen Mill | 11/23 | 11/25½ |
| Yetminster | 11.30a ~ 11.33d | 11.31½ ~ 11.37½ |
| Maiden Newton | 11/45 | 11/53½ |
| Dorchester Jn | 11/55 | 12/02 |
| Weymouth | 12.05a ~ 13.05d | 12.10 ~ 13.06½ |
| Weymouth Jn | 13.07a ~ 13.10d | 13.09½ ~ 13.11½ |
| Dorchester Jn | 13/23 | 13/24½ |
| Worgret Jn | 13/40 | 13/42 |
| Hamworthy Jn | 13/48 | 13/50½ |
| Broadstone | 13/55 | 13.58½a ~ 14.01d |
| Corfe Mullen SB | 14/02 | 14/07 |
| Blandford Forum | 14/12 | 14/16 |
| Shillingstone | 14/22 | 14/23 |
| Sturminster Newton | 14/27 | 14/26½ |
| Stalbridge | 14/32 | 14/31 |
| Templecombe Jn | 14/37 | 14/36 |
| Evercreech Jn | 14.53a ~ 14.58d | 14.52 ~ 15.03 |
| Binegar | 15/21 | 15/35 |
| Radstock North | 15/29 | 15/45 |
| Midford | 15/38 | 15/53½ |
| Bath Jn | 15/45 | 16/00 |
| Bath Green Park | 15.47a ~ 16.12d | 16.02 ~ 16.14 |
| Mangotsfield North Jn | 16/29 | 16/29 |
| Yate | 16/35 | 16/35 |
| Charfield | 16/41 | 16/41½ |
| Berkeley Road | 16/47 | 16/46½ |
| Standish Jn | 16/56 | 16/56 |
| Gloucester South Jn | 17L06a ~ 17L12d | 17.07 ~ 17.08½ |
| Engine Shed Jn | 17/15½ | 17/10½ |
| Lansdown Jn | 17/24 | 17/18 |
| Cheltenham Spa Malvern Road | 17/25 | 17/19½ |
| Cheltenham Spa St James | 17.27a ~ 17.34d | 17.21½ ~ 17.34 |
| Cheltenham Spa Malvern Road | 17/36 | 17/36 |
| Lansdown Jn | 17/37 | 17/37 |
| Andoversford | 17/57 | 17.54a ~ 17.56d |
| Notgrove | 18/10 | 18.08½a ~ 18.12d |
| Bourton-on-Water | 18/20 | 18/23 |
| Kingham | 18/34 | 18/36 |
| Yarnton | 18/54 | 18/58½ |
| Oxford | 19.01a ~ 19.03d | 19.05 ~ 19.08 |
| Kennington Jn | 19/08 | 19/13 |
| Morris Cowley | 19/18 | 19/21½ |
| Wheatley | 18.28a ~ 19.34d | 19.30½ ~ 19.36½ |
| Thame | 19/49 | 19.49a ~ 19.54d |
| Princes Risborough | 20.03a ~ 20.05d | 20.06 ~ 20.07½ |
| High Wycombe | 20/18 | 20/22 |
| Northolt Jn East | 20/46 | 20/46 |
| Greenford | 20/49 | 20/48½ |
| Old Oak Common West | 20/55 RL | 20/57 |
| Paddington | 21.04a | 21.05 |