9th June 1962
Stephenson Locomotive Society
Glasgow South Rail Tour
| | |
| --- | --- |
| Loco Used | 57581 |
| Stock Used | 4 corridor coaches |
Route : Reporting Code 104 throughout
| | |
| --- | --- |
| Loco | Route |
| 57581 | Glasgow Central - Shields Jn - Ibrox Jn - Govan |
| 57581 | Govan - Ibrox Jn - Shields Jn - Terminus Jn - Muirhouse Central Jn - Strathbungo Jn - Crossmyloof - Busby Jn - Barrhead - Neilston Low - Lugton - Barrmill Jn - Giffen |
| 57581 | Giffen Jn - Barrmill Jn - Lugton - Lugton East Jn - Nielston High - Whitecraigs - Muirend - Cathcart - Kings Park - Newton - Uddinston Central - Mossend No.4 Jn - Holytown - Cleland Jn - Bellside Jn - Langbyres Jn - Newhouse - Chapelhall |
| 57581 | Chapelhall - Newhouse - Langbyres Jn - Bellside Jn - Cleland Jn - Holytown - Mossend Yard - Whifflet - Whifflet North Jn - Robehall Jn - Langloan Jn |
| 57581 (2) | Langloan Jn - Robehall Jn - Whifflet Upper - Calder - Airdrie East (CR) |
| 57581 | Airdrie East (CR) - Calder - Whifflet Upper - Robehall Jn - Langloan Jn - Carmyle - Rutherglen Jn - Eglington Street Jn - Glasgow Central |
Notes :
(1) Route confirmation required - above is from booked timings. Routing was originally uploaded as: Glasgow Central - Muirhouse Central Jn - Mount Florida - Cathcart - Whitecraigs - Nielston High - Uplawmoor - Lugton East Jn - Lugton - Giffen Jn (rev) - ??? - Holytown, then onwards as shown above but was altered following receipt of a scan of a revised timing sheet (revised 'due to the inauguration of the Glasgow South electric services'), although both timing sheets show the exact same routing throughout, so was there an on-the-day dviation to the routing?
(2) Loco propelling.
Sources : John Debens, John Robin, Andrew Fairholm, Ewan Crawford, John Furnevel
& Jim Currie/Ian Clark (SLS)



Photo Review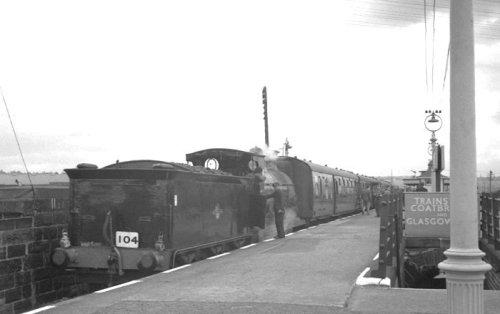 57581 at Whifflet Upper (photo: K.A. Gray, courtesy of John Furnevel)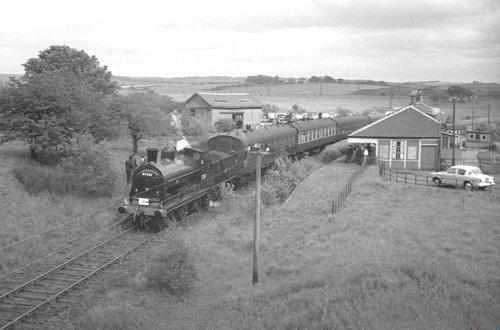 57581 at Newhouse (photo: K.A. Gray, courtesy of John Furnevel)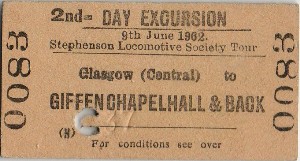 From The John Debens Ticket Collection.


Timings (Booked Only)
(from Jim Currie/Ian Clark (SLS))
| | | |
| --- | --- | --- |
| Location | Booked (original) | Booked (final) |
| Glasgow Central | 13.15d | 13.00d |
| Shields Jn | 13/19 | 13/04 |
| Ibrox Jn | 13/23 | 13/07 |
| Govan | 13.28 ~ 13.38 | 13.13 ~ 13.30 |
| Ibrox Jn | 13/44 | 13/36 |
| Shields Jn | 13/47 | 13/39 |
| Terminus Jn | 13/49 | 13/41 |
| Muirhouse Jn | 13/51 | 13/43 |
| Strathbungo | 13/52 | 13/45 |
| Busby Jn | 13/57 | 13/49 |
| Barrhead | 14/02 | 13/55 |
| Lugton | 14/13 | 14/07 |
| Barrmill Jn | 14.19 ~ 14.21 | 14.13 ~ 14.15 |
| Giffen | 14.25a ~ 14.35d | 14.19a ~ 14.29d |
| Barrmill Jn | 14.39 ~ 14.41 | 14.33 ~ 14.35 |
| Lugton | 14/47 | 14/41 |
| Lugton East | 14w49 ~ 14w55 | 14w43 ~ 14w48 |
| Uplawmoor | 15.01a ~ 15.11d | 14.53a ~ 15.03d |
| Neilston High | 15/07 | 15/09 |
| Cathcart | 15/28 | 15/21 |
| Kings Park | 15/30 | 15/23 |
| Kirkhill | 15/38 | 15/32 |
| Newton | 15/42 | 15/36 |
| Uddingston Central | 15/46 | 15/40 |
| Mossend No.4 | 15/54 | 15/48 |
| Holytown | 15/57 | 15/51 |
| Bellside Jn | 16.03 ~ 16.05 | 15w58 ~ 16w04 |
| Newhouse | 16.16 ~ 16.21 | 16.15 ~ 16.20 |
| Chapelhall | 16.28a ~ 16.38d | 16.28a ~ 16.40d |
| Bellside Jn | 16w58 ~ 17w20 | 17.00 ~ 17.02 |
| Holytown | 17/26 | 17/08 |
| Mossend | 17/29 | 17/11 |
| Whifflet L. North Jn | 17/35 | 17/16 |
| Langloan Jn | 17.37 ~ 17.47 | 17.18 ~ 17.20 |
| Whifflet Upper | 17.49 ~ 17.17.54 | 17.25 ~ 17.30 |
| Calder | 17.56 ~ 18.01 | 17.35 ~ 17.40 |
| Airdrie East | 18.06a ~ 18.16d | 17.54a ~ 18.05d |
| Langloan Jn | 18/24 | 18/20 |
| Carmyle | 18/32 | 18/32 |
| Rutherglen Jn | 18/36 | 18/36 |
| Eglington Street | 18/41 | 18/41 |
| Glasgow Central | 18.45a | 18.45a |