2nd & 3rd June 1962
R.C.T.S. / Stephenson Locomotive Society
The Aberdeen Flyer Rail Tour
Locos Used
GNSR 49 'Gordon Highlander', 46200 'Princess Royal', 46201 'Princess Elizabeth', 60004 'William Whitelaw', 60022 'Mallard' & 65345
Stock Used
[1]: 8x coaches
[2]: 7x coaches (same rake as [1] except the Kitchen Car)
[3]: 5x corridor coaches
[4]: rake [2] + 4x sleeping cars
[5]: rake [4] + 1924-built gas-lit Kitchen Car + 2x 2nd class open coaches
Route :
1F78 : Kings Cross to Aberdeen
Reporting Code 291 : Waterloo Goods to Aberdeen
1X76 : Aberdeen to London Euston
Date
Loco(s)
Stock
Route
02/06
60022
[1]
(1) London Kings Cross - York - Selby - Newcastle - Edinburgh Waverley
02/06
60004
[2]
Edinburgh Waverley - Dundee Tay Bridge - Aberdeen
02/06
GNSR 49
[3]
Waterloo Goods - Kittybrewster - Dyce - Inverurie [Works Siding]
02/06
GNSR 49 (2)
[3]
Inverurie [Works Siding] - Old Meldrum
02/06
65345 (3)
[3]
Old Meldrum - Inverurie
02/06
65345
[3]
Inverurie - Dyce - Kittybrewster - Aberdeen
02/06-03/06
46201
[4]
Aberdeen - Kinnaber Jn -

Bridge of Dun - F

orfar - Perth - Glenboig - Coatbridge - Motherwell - (via WCML) - Carlisle
03/06
46200
[4]
Carlisle - (via WCML) - Crewe
03/06
46200
[5]
Crewe - (via WCML) - London Euston
Notes :
(1) Was to have been the last steam-hauled Kings Cross to Edinburgh non-stop with a crew change via the corridor tender. Sadly, in the event a preceding freight developed a hot box near Chathill, Northumberland, delaying the special and so the non-stop run was not achieved. In the event 4472 completed a non-stop Kings Cross to Edinburgh run in May 1968.
(2) 65345 on rear.
(3) GNSR 49 on rear.
Sources : Terry Jackson, David Whittaker, Ian Clark (SLS)
& 'Vintage Railtours (RCTS - 1954-1969)' (by Gavin Morrison, published by Silver Link Publishing)



Photo Review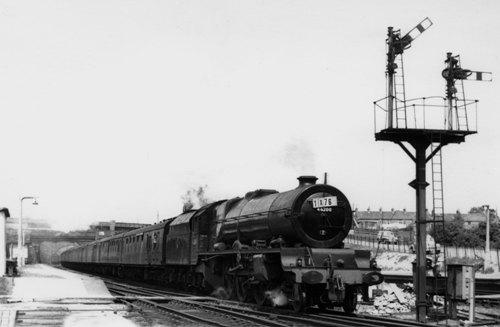 46200 passing through Roade, en-route to Euston (photo: Steve Randall)
From The John Debens Ticket Collection.


Timings (Booked & Actual)
(from Terry Jackson & Ian Clark (SLS))
| | | |
| --- | --- | --- |
| Location | Booked | Actual |
| Kings Cross | 08.00d | 08.00 |
| Potters Bar | 08/16 | ? |
| Hatfield | 08/21 | ? |
| Hitchin | 08/53½ | ? |
| Sandy | 08/42½ | ? |
| Huntingdon North | 08/58 | ? |
| Peterborough North | 09/13 | ? |
| Essendine | 09/25 | ? |
| Grantham | 09/38½ | ? |
| Barkston South Jn | 09/44½ | ? |
| Newark North Gate | 09/52½ | ? |
| Retford | 10/08½ | ? |
| Doncaster | 10/36½ | ? |
| Shaftholme Jn | 10/31 | ? |
| Selby | 10/44 | ? |
| York | 10/59 | ? |
| Thirsk | 11/19½ | ? |
| Northallerton | 11/25½ | ? |
| Darlington | 11/40½ | ? |
| Ferryhill | 11/53 | ? |
| Durham | 12/02 | ? |
| Newcastle Central | 12/17 | ? |
| Morpeth | 12/36½ | ? |
| Alnmouth | 12/53 | ? |
| Belford | 13/08 | ? |
| Berwick-upon-Tweed | 13/24½ | (13/44) |
| Marshall Meadows | 13/26 | ? |
| Reston Jn | 13/36 | ? |
| Grantshouse | 13/42 | ? |
| Dunbar | 13/53 | ? |
| Drem Jn | 14/03 | ? |
| Monktonhall Jn | 14/14 | ? |
| Portobello | 14/19 | ? |
| Edinburgh Waverley | 14.25a ~ 14.56d | 14.42 ~ 14.56 |
| Haymarket | 14/59 | ? |
| Dalmeny | 15/10 | ? |
| Forth Bridge North 'Box | 15/13 | ? |
| Inverkeithing | 15/17 | ? |
| Burntisland | 15/28 | ? |
| Kirkaldy | 15/36 | ? |
| Thornton Jn | 15/46 | ? |
| Ladybank | 15/58 | ? |
| Leuchars Jn | 16/12 | ? |
| Tay Bridge South | 16/20 | ? |
| Dundee Tay Bridge | 16.27a ~ 16.32d | ? |
| Camperdown Jn | 16/35 | ? |
| Broughty Jn | 16/41 | ? |
| Arbroath | 16/55 | ? |
| Usan 'Box | 17/11 | ? |
| Montrose | 17/16 | ? |
| Kinnaber Jn | 17/22 | ? |
| Laurencekirk | 17/31 | ? |
| Stonehaven | 17/46 | ? |
| Aberdeen | 18.08a | 18.03 |
| Waterloo Goods | 20.00d | 20.00 |
| Old Meldrum | 21.00a ~ 21.35d | ? |
| Aberdeen | 22.30a ~ 23.00d | ? |
| Stonehaven | 23/25 | ? |
| Laurencekirk | 23/43 | ? |
| Kinnaber Jn | 23/52 | ? |
| Bridge of Dun | 23/57 | ? |
| Forfar | 00/16 | ??w?? ~ ??w?? |
| Alyth Jn | 00/29 | ? |
| Coupar Angus | 00/33 | ? |
| Stanley Jn | 00/41 | ? |
| Perth | 00.51a ~ 01.00d | ? |
| Hilton Jn | 01/05 | ? |
| Gleneagles | 01/24 | ? |
| Dunblane | 01/39 | ? |
| Stirling | 01/45 | ??w?? ~ ??w?? |
| Alloa Jn | 01/54 | ? |
| Larbert | 01/57 | ? |
| Greenhill | 02/03 | ? |
| Garnqueen North Jn | 02/15 | ? |
| Coatbridge Central | 02/18 | ? |
| Mossend | 02/23 | ? |
| Motherwell | 02/27 | ? |
| Law Jn | 02/38 | ? |
| Lanark Jn | 02/50 | ? |
| Carstairs | 02/54 | ? |
| Symington | 03/03 | ? |
| Beattock Summit | 03/23 | ??w?? ~ ??w?? |
| Beattock | 03/34 | ? |
| Lockerbie | 03/48 | ? |
| Gretna Jn | 04/05 | ? |
| Carlisle | 04.16a ~ 04.26d | (05.16) ~ ??.?? |
| Penrith | 04/56 | ? |
| Shap Summit | 05/21 | ? |
| Tebay | 05/27 | ? |
| Oxenholme | 05/39 | ? |
| Carnforth | 05/51 | ? |
| Lancaster | 05/57 | ? |
| Preston | 06/19 | ? |
| Euxton Jn | 06/27 | ? |
| Wigan | 06/39 | ? |
| Warrington | 06/52 | ? |
| Weaver Jn | 07/01 | ? |
| Coppenhall Jn | 07/15 | ? |
| Crewe | 07.20a ~ 07.30d | 09.04 ~ ??.?? |
| Whitmore | 07/49 | ? |
| Norton Bridge | 07/57 | ? |
| Stafford | 08/03 | ? |
| Milford & Brocton | 08/08 | ? |
| Lichfield | 08/21 | ? |
| Tamworth | 08/27 | ? |
| Nuneaton | 08/46 | ? |
| Rugby | 09/07 | ? |
| Weedon | 09/30 | ? |
| Roade | 09/45 | ? |
| Bletchley | 10/06 | ? |
| Watford Junction | 10.50a ~ 11.00d | ? |
| Willesden Junction | 11/17 | ? |
| Euston | 11.27a | 14.23 |