13th May 1962
Railway Correspondence & Travel Society (East Midlands Branch)
The East Midlander No. 5
| | |
| --- | --- |
| Locos Used | 30925 'Cheltenham', 40646 & 90348 |
| Stock Used | 9 coaches |
Route : 1X50 throughout
| | |
| --- | --- |
| Loco(s) | Route |
| 30925 + 40646 | Nottingham Victoria - Kirkby South Jn - Pilsley - Chesterfield Central - Staveley Central - Woodhouse East Jn - Darnall - Tinsley Jn - Chapeltown Central - Stairfoot - Horbury Jn - Wakefield Kirkgate - Normanton - Burton Salmon - Church Fenton - Wetherby |
| 40646 + 30925 (3) | Wetherby - Harrogate - Starbeck |
| 30925 + 40646 | Starbeck - Ripon - Northallerton - Darlington Bank Top |
| 90348 | Darlington Bank Top - Darlington North Road (1) |
| 30925 + 40646 | Darlington Bank Top - (via ECML) - York - Church Fenton - Burton Salmon - Knottingley - Shaftholme Jn - Doncaster - (via ECML) - Newark Northgate - Bottesford West Jn - Aslockton - Netherfield & Colwick - Nottingham London Road HL - Nottingham Victoria |
Notes :
(1) For works visit. Passengers returned from the works visit to Darlington Bank Top in a fleet of Darlington Corporation double-decker buses.
(2) It was reported after the event that 40646 should not have worked the train as its boiler ticket had in fact expired, but that this was overlooked. However the two engines reportedly made a sprightly run from Darlington to York [P15?] in 39min 20secs with a top speed of 83 mph at Thirsk. Very commendable in the circumstances. Is is also reported that the York driver commented at Darlington how 'rough' the Class 2 was and Dick Challand comments that the crew of the LMS 2P was even less complimentary about the riding of the engine after the run to York. 'Bloody horrible' was part of the verdict...
(3) Both locos were running tender-first.
Sources : Gary Thornton, David Whittaker, Robin Lush, Brian Johnson, Dick Challand & Vic Smith



Photo Review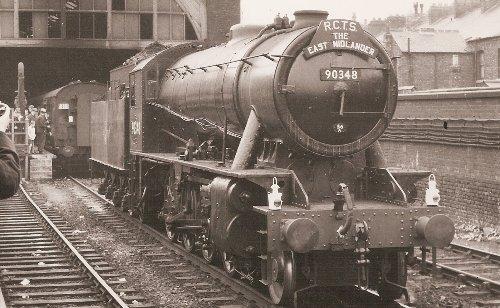 90348 rolls onto the train at Darlington Bank Top for the short run to North
Road for the works visit (photo: The John Debens Collection)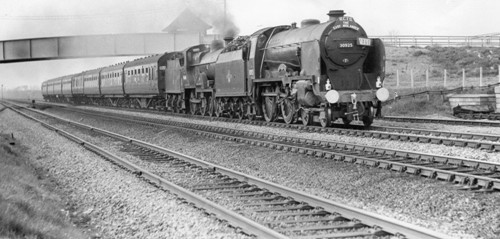 A passing shot of 30925+40646 at Beningbrough, north of York, on the
return trip (photo: Cecil Ord/The John Debens Collection)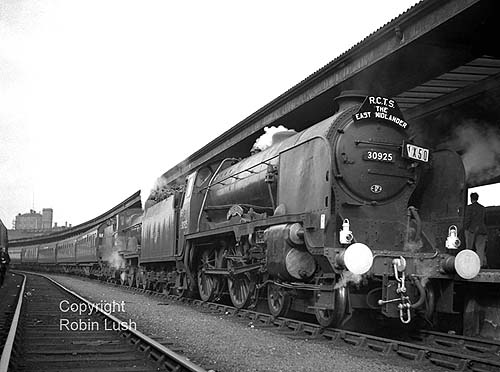 30925 & 40646 pause at York on the return leg (photo: Robin Lush)

From The John Debens Ticket Collection.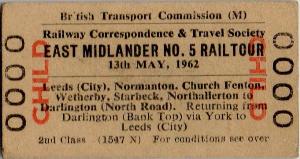 Timings (Booked & Actual)
(from Brian Johnson & John Debens)
| | | | |
| --- | --- | --- | --- |
| M.C | Location | Booked | Actual |
| 0.00 | Nottingham Victoria | 08.35d | 08.35 |
| 10.63 | Kirkby South Jn | 08/57 | 08/56 |
| 17.71 | Pilsley | 09/11 | 09/08 |
| 25.26 | Chesterfield Central | 09/26 | 09/22 |
| 30.34 | Staveley Central | 09/26 | 09/22 |
| 37.09 | Woodhouse East Jn | 09/45 | 09/43 |
| 40.39 | Darnall | 09.56a ~ 09.58d | 09.49 ~ 09.57 |
| 43.05 | Tinsley Jn | 10/08 | 10/06 |
| 47.09 | Chapeltown Central | 10/20 | 10/18 |
| 55.38 | Stairfoot | 10/38 | 10/37 |
| 58.40 | Barnsley Jumble Lane | 10.45a ~ 10.57d | 10.43 ~ 10.58 |
| 67.41 | Horbury Jn | 11/17 | 11/14 |
| 69.64 | Wakefield Kirkgate | 11.22a ~ 11.24d | 11.19 ~ 11.22 |
| 72.71 | Normanton | 11.31a ~ 11.33d | 11.30 ~ 11.35 |
| 80.56 | Burton Salmon | 11/41 | 11/47 |
| 86.51 | Church Fenton | 11.48a ~ 11.58d | 11.55 ~ 12.06 |
| 97.79 | Wetherby | 12.18a ~ 12.27d | 12.27 ~ 12.38 |
| 105.69 | Harrogate | 12/42 | 12/54 |
| 108.00 | Starbeck | 12.47a ~ 12.57d | 13.00 ~ 13.09 |
| 119.08 | Ripon | 13/17 | 13/23 |
| 132.71 | Northallerton | 13/34 | 13/42 |
| 147.05 | Darlington Bank Top | 13.54a ~ 14.00d | 13.57 ~ 14.07 |
| 148.27 | Darlington North Road | 14.05a | 14.13 |
| 0.00 | Darlington Bank Top | 16.12d | 16.11 |
| 3.00 | Croft Spa | ? | 16/15½ |
| 6.22 | Eryholme | ? | 16/18 |
| 9.00 | Danby Wiske | ? | 16/23½ |
| 14.14 | Northallerton | 16/28 | 16/25 |
| 21.74 | Thirsk | 16/35 | 16/31 |
| 26.15 | Sessay | ? | 16/34½ |
| 28.18 | Pilmoor | ? | 16/36 |
| 33.48 | Alne | ? | 16/39½ |
| 35.00 | Tollerton | ? | 16/41 |
| 40.33 | Benningborough | ? | 16/44 |
| 44.10 | York | 16.57a ~ 19.00d | 16.50 ~ 18.59 |
| 54.69 | Church Fenton | 19/13 | 19/13 |
| 60.64 | Burton Salmon | 19/20 | 19/21 |
| 63.75 | Knottingley | 19/27 | 19/27 |
| 74.30 | Shaftholme Jn | 19/50 | 19/45 |
| 78.49 | Doncaster | 20.00a ~ 20.06d | 19.59 ~ 20.02 |
| 83.46 | Rossington | ? | 20/10 |
| 87.53 | Bawtry | ? | 20/14 |
| 91.42 | Ranskill | ? | 20/19 |
| 95.77 | Retford | 20/31 | 20/26 |
| 101.79 | Tuxford North | ? | 20/35 |
| 112.31 | Crowpark | ? | 20/40 |
| 114.38 | Newark Northgate | 20.54a ~ 20.56d | 20.47 ~ 20.50 |
| 123.35 | Bottesford North Jn | 21/16 | 21/11 |
| 123.76 | Bottesford West Jn | 21/18 | 21/14 |
| 125.34 | Elton | ? | 21/17 |
| 126.55 | Aslockton | ? | 21/19 |
| 130.78 | Saxondale Jn | 21/27 | 21/24 |
| 133.63 | Radcliffe-on-Trent | ? | 21/28 |
| 135.11 | Netherfield & Colwick | 21/36 | 21/32 |
| 137.25 | Nottingham London Road HL | ? | 21/37 |
| 138.57 | Nottingham Victoria | 21.43a | 21.40 |