14th April 1962
Stephenson Locomotive Society (Midland Area)
Tour of Seven Branch Lines
| | |
| --- | --- |
| Locos Used | 1247, 40026 & 40646 |
Route : 1X47 throughout
| | |
| --- | --- |
| Loco(s) | Route |
| 40646 | Birmingham New Street - Whitacre Jn - Nuneaton Abbey Street - Nuneaton Trent Valley - Bedworth - Three Spires Jn - Humber Road Jn - Rugby - Long Buckby - Northampton Castle |
| 40646 + 40026 | Northampton Castle - Northampton Bridge Street - Hardingstone Jn - Ravenstone Wood Jn - Olney - Bedford |
| 40026 | Bedford - Shefford - Hitchin |
| 1247 | Hitchin - Stevenage - Hertford North - Cole Green - Welwyn Garden City - Hatfield |
| 1247 | Hatfield - Welwyn Garden City - Luton Bute Street |
| 40646 | Luton Bute Street - Dunstable North - Leighton Buzzard - Bletchley - Hanslope Jn - Weedon - Daventry - Marton Jn - Leamington Spa Avenue - Kenilworth - Berkswell - Stechford - Birmingham New Street |
Notes :
(1) Route confirmation required - above is from booked timings. Train ran over the Northampton to Bedford line (via Olney) which was the last day it was open.
Sources : Andrew Fairholm, Chris Harley, Kester Eddy, Mel Holley, Rob Tibbets & Ian Clark (SLS)



Photo Review

The tour paused for a photostop at Olney (photo: Robert Darlaston)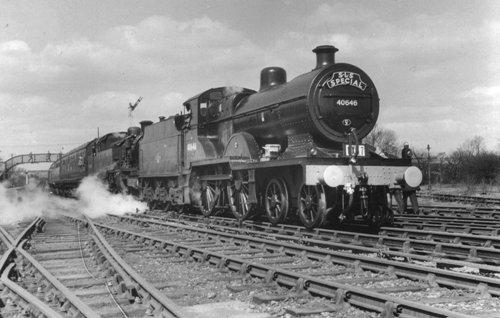 Another view at Olney with 40646 leading 40026.
(photo: W.A. Camwell / © Stephenson Locomotive Society)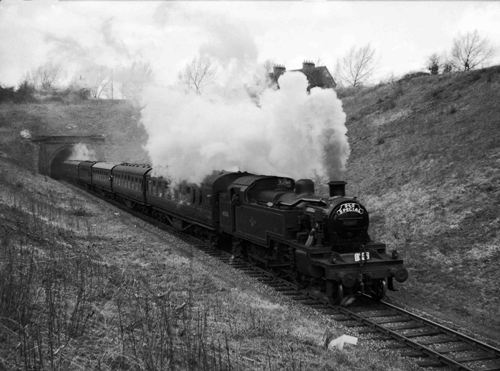 40026 exiting Old Warden Tunnel (photo: A.J.B. Dodd)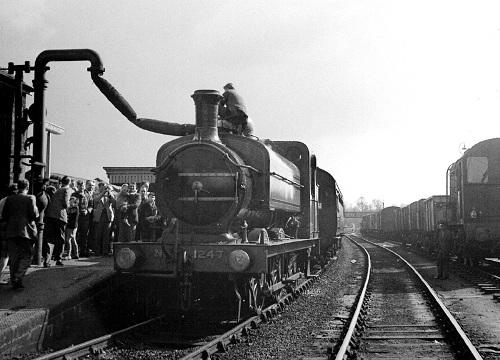 1247 taking on water at Hatfield (photo: Robert Darlaston)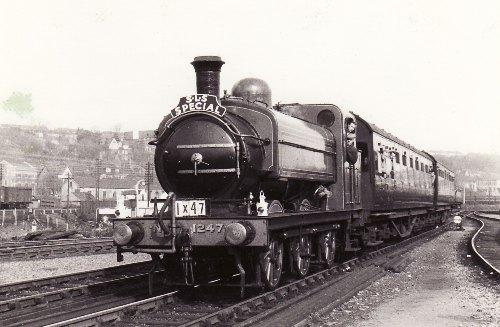 1247 arriving at Luton Bute Street (photo: the Bob Mitchell collection)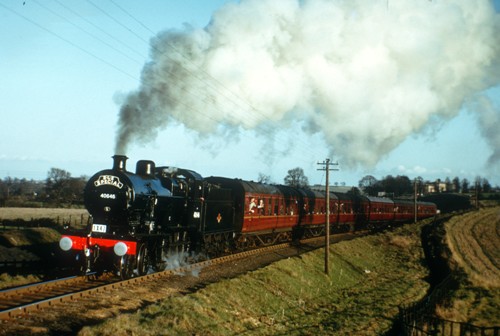 This shot of 40646 was provided by John Debens (from a scanned slide
identified with 'CCQ Color Slides', & copyright; hand-numbered 1364)
(recognising copyright this image will be removed if you are the legal owner
and contact me to request its removal)
John Jennings confirms: The kodachrome original of this image was taken by
the late T E (Tom) Williams. It was taken at approx. 6.45pm in clear evening
light between Weedon and Daventry. Some of Tom's images were copied
with his permission by CCQ colour slides and resold in the late 1960's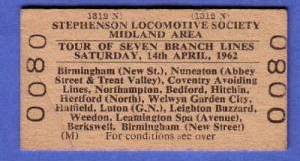 From Andrew Fairholm's ticket collection.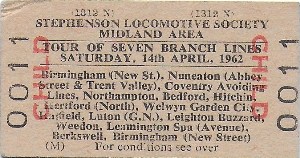 From Bob Mitchell's ticket collection.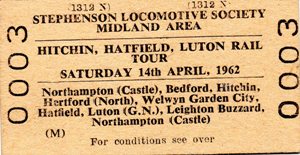 From The John Debens Ticket Collection.


Timings (Booked & Actual)
(from Ian Clark (SLS) & Robert Darlaston)
| | | |
| --- | --- | --- |
| Location | Booked | Actual |
| Birmingham New Street | 10.00d | 10.00 |
| Whitacre Jn | 10/15 | 10/15 |
| Nuneaton Abbey Street | ? | 10.14 ~ 10.41 |
| Nuneaton Trent Valley | 10.34a ~ 10.36d | 10.48 ~ 10.50 |
| Three Spires Jn | 10/50 | 11/04 |
| Humber Road Jn | 11/05 | 11.14 ~ 11.15 |
| Rugby | 11/25 | 11/30 |
| Northampton Castle | 11.57a ~ 12.02d | ??.?? ~ 12.15 |
| Olney | 12/25 | ? |
| Bedford | 12.42a ~ 12.50d | ? |
| Shefford | 13/11 | ? |
| Hitchin | 13.23a ~ 13.33d | ? |
| Stevenage | 13/44 | ? |
| Hertford North | 14.12a ~ 14.22d | 14.45 ~ 14.50 |
| Welwyn Garden City | 14/54 | ? |
| Hatfield | 15.02a ~ 15.47d | 15.20 ~ 15.47 |
| Welwyn Garden City | 15/54 | ? |
| Luton Bute Street | 16.56a ~ 17.06d | 16.55 ~ 17.04 |
| Dunstable North | 17.19a ~ 17.24d | 17.09 ~ 17.23 |
| Leighton Buzzard | 17.39a ~ 17.46d | ? |
| Bletchley | 17.59a ~ 18.00d | ? |
| Weedon | 18.40a ~ 18.45d | 18.40 ~ ??.?? |
| Braunston | 19.03a ~ 19.08d | ??.?? ~ 19.08 |
| Leamington Spa Avenue | 19.34a ~ 19.36d | ? |
| Berkswell | 19.56a ~ 19.58d | 19.56 ~ 19.58 |
| Birmingham New Street | 20.20a | 20.20 |