20th January 1962
R.C.T.S. (Darlington & North East Branch)
The Stainmore Limited
| | |
| --- | --- |
| Locos Used | 76049 & 77003 |
| Stock Used | load 9 |
Route : 1X76 throughout
Locos
Route
77003 + 76049
Darlington Bank Top – Darlington North Road – Shildon – Fieldon Bridge Jn – West Auckland – Barnard Castle – Stainmore summit – Kirkby Stephen East –

Ravenstonedale – Tebay
77003 + 76049
Tebay – Ravenstonedale – Kirkby Stephen East
77003 + 76049
Kirkby Stephen –

Warcop

–

Appleby East - Appleby Jn GF

77003 + 76049

Appleby Jn GF - Appleby West

77003 + 76049

Appleby West - Appleby Jn GF -

Clifton Moor – Penrith – Carlisle
77003 + 76049
Carlisle –

Penrith – Clifton Moor –

Appleby

–

Warcop Appleby

–

Kirkby Stephen East – Stainmore summit – Barnard Castle –

Gainford

– Darlington North Road – Darlington Bank Top
Notes :
(1) This was the final day of operation of the Stainmore line, the route made famous by the British Transport Films' 'Snowdrift at Bleath Ghyll' film. The late finish of this tour was to ensure it was the last train over the line and it also made the last run between Kirkby Stephen East and Tebay. On the return leg from Carlisle delays were caused to the train by a DMU on the WCML between Carlisle and Penrith and a single line tablet failure at Clifton Moor. The climb then to Stainmore summit proved to much for the locos and a stop for a 'blow up' had to be made.
Sources : Peter Robinson, Gary Thornton
& 'Vintage Railtours (RCTS - 1954-1969)' (by Gavin Morrison, published by Silver Link Publishing)



Photo Review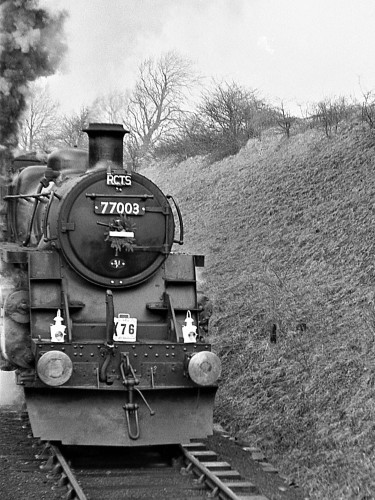 77003, photographed near Lamington by Ron Herbert,
from a DMU passing in the opposite direction.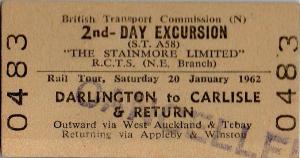 From The John Debens Ticket Collection.


Timings (Booked & Actual)
(courtesy of 'Vintage Railtours (RCTS - 1954-1969)' & David Murray)
M.C
Location
Booked
Actual
0.00
Darlington Bank Top
10.46d
10.46
8.76
Shildon South
11/07
11/06
10.39
Shildon North
11/12
11/11
?
Fieldens Bridge
11/18
11/14
12.04
West Auckland
11/22
11/16
21.62
Forth Burn
11/42
11/39
22.77
Coal Road
11/45
11/42
24.16
Barnard Castle
11p48a ~ 12p05d
11.45 ~ 12.04
37.52
Stainmore Summit
12.32 ~ 12.37
12.41 ~ 12.48
46.70
Kirkby Stephen East
13.05 ~ 13.15
13.04 ~ 13.16
52.56
Ravenstonedale
13p28a ~ 13p38d
13.30 ~ 13.39
58.58
Tebay
13.50 ~ 14.10
13.51 ~ 14.23
70.46
Kirkby Stephen East
14.31 ~ 14.50
14.55 ~ 13.11
81.73
Appleby Jn GF
15c15 ~ 15c25
15.29 ~ 15.40
82.29
Appleby West
15.30 ~ 15.46
16.00 ~ 16.04
82.65
Appleby Jn GF
15c51 ~ 15c53
16/08
92.56
Clifton Moor
16p11a ~ 16p25d
16.27 ~ 16.35
96.33
Penrith
16.33 ~ 16.43
16.40 ~ 16.51
114.13
0.00
Carlisle
17.05a ~ 20.13d
17.12 ~ 20.14
17.60
Penrith
20w44 ~ 20w46
20.51 ~ 20.58
42.69
Kirkby Stephen East
21c34 ~ 21c39
09.57 ~ 09.59
52.07
Stainmore Summit
22/00
22/45
65.43
Barnard Castle
22.20 ~ 22.25
23.12 ~ 23.17
67.39
Broomielaw
22/30
23/22
71.11
Winston
22/37
23/28
82.12
Darlington Bank Top
23.00a
23.51