1st October 1960
The Railway Correspondence and Travel Society (London Branch)
The Northern Heights Rail Tour
| | |
| --- | --- |
| DMU Used | 6-car set (3x 2-car 1955-built Met Cam sets) |
Route : Reporting No.500 throughout
DMU
Route
as listed
London Fenchurch Street - Barking (1)
as listed

Barking - Woodgrange Park - Forest Gate Jn - Stratford - Bow Road - Bow Jn - Gas Factory Jn - Salmons Lane Jn - Limehouse Jn - Limehouse West India Dock - Millwall Junction - Poplar (L&B) - East India Dock

as listed

East India Dock - Poplar (L&B) - Millwall Junction Poplar Loop Lines

as listed

Millwall Junction Poplar Loop Lines -

Poplar Central - Devons Road - Bow NL - Old

Ford - Victoria Park - Dalston Eastern Jn - Camden Road Jn

as listed

Camden Road Jn -

St Pancras Sidings - St Pancras G.N. Jn (North London Incline) - Goods & Mineral Jn - Copenhagen Jn -

Finsbury Park - Highgate - Finchley Central - Edgware

as listed

Edgware -

Finsbury Park - Canonbury

Jn - Victoria Park - Stratford (2)
Notes :
(1) A Special Traffic Notice seen by the Webmaster gave this as train no.500. Within the STN was the note; 'passengers to be detrained at Barking and cross platform'.
(2) From Canonbury, the train was originally advertised to terminate at Broad Street (at about 6pm).
(3) The Met Cam sets were the type which later had the 'yellow diamond' coupling code.
Sources : Terry Jackson, Gary Thornton, Eric Oates & David Pearson



Photo Review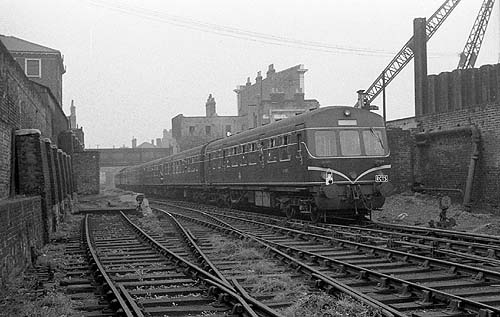 The train captured on film at Poplar L&B (photo: David Pearson)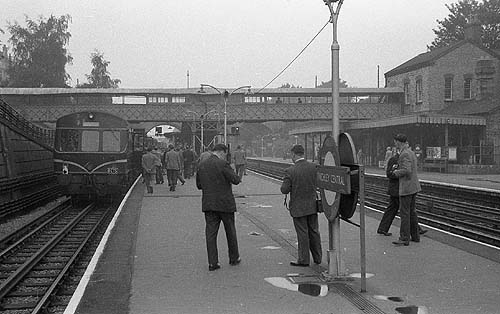 Although not booked to stop there, it appears there was time for photos at
Finchley Central (photo: David Pearson)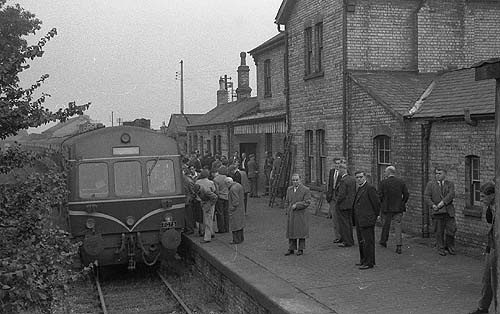 The train reversed at Edgware GNR station (photo: David Pearson)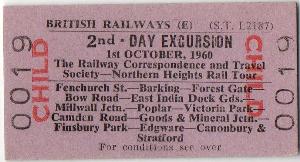 From The John Debens Ticket Collection.


Timings (Booked Only)
(from Terry Jackson & Brian Read/Edwin Wilmshurst)
| | | |
| --- | --- | --- |
| M.C | Location | Booked |
| 0.00 | Fenchurch Street | 13.55d [FL] |
| ?.?? | Stepney East | 14/00 |
| 2.52 | Gas Factory Jn | 14/02 |
| 7.45 | Barking | 14.11a ~ 14.24d [BL] |
| 9.15 | Woodgrange Park | 14.28 ~ 14.29 |
| 9.54 | Forest Gate Jn | 14/33 |
| 11.36 | Stratford (GE) | 14/38 |
| 12.09 | Bow Jn | 14/42 |
| 12.60 | Gas Factory Jn | 14/45 |
| 13.35 | Salmons Lane Jn | 14/48 |
| 14.71 | East India Dock Goods | 14.58 ~ 15.00 |
| 15.29 | Millwall Jn | 15.03 ~ ??.?? |
| ??.?? | Poplar Exchange Sidings | ??/?? |
| ??.?? | Poplar Loop Line | ??.??a ~ 15.15 |
| 15.72 | Poplar Central (Reception Sidings) | 15.17 ~ 15.20 |
| 17.18 | Bow Jn (NL) | 15/30 |
| 20.03 | Dalston Eastern Jn | 15/39 |
| ??.?? | Dalston Western Jn | 15/40 [FL] |
| 23.23 | Camden Road Jn | 15.47 ~ 15.50 |
| ??.?? | St Pancras Sidings | 15.55 ~ 15.57 |
| 23.68 | St Pancras Jn (NL Incline) | 16.00 ~ 16.05 [GL] |
| 24.17 | Goods & Mineral Jn | 16/09 |
| ??.?/ | Holloway South | 16/12 [SL] |
| 25.69 | Finsbury Park | 16/16 |
| 27.51 | Park Jn | 16/30 |
| ??.?? | East Finchley | 16/33 |
| 29.77 | Finchley Central | ??.??a ~ 16.37d |
| 32.55 | Mill Hill Central | 16.39 ~ 16.40 |
| 33.76 | Edgware | 16.50a ~ 17.10d |
| 37.04 | Mill Hill East | 17/22 |
| 40.21 | Park Jn | 17/32 |
| 42.63 | Finsbury Park | 17/48 |
| 44.15 | Canonbury Jn | 17.52 ~ 17.54 [SL] |
| ??.?? | Dalston Eastern Jn | 18/00 |
| ??.?? | Victoria Park | 18/05 |
| ??.?? | Channelsea Jn | 18/10 |
| 48.51 | Stratford | 18.15a [P10] |


Associated E.C.S. Workings
(from /Edwin Wilmshurst)
Working Carriage Sets 56+58+60 : 6-car set (3x 2-car)
| | |
| --- | --- |
| Location | Booked |
| Tilbury Riverside | 12.40d |
| West Thurrock Jn | 12/47 |
| Rainham | 12/56 |
| Barking | 13/07 |
| Gas Factory Jn | 13/17 |
| Stepney East | 13/20 [FL] |
| Fenchurch Street | 13.28a |
Working Carriage Sets 56+58+60 : 6-car set (3x 2-car)
| | |
| --- | --- |
| Location | Booked |
| Barking | 14.13d |
| Rippleside | 14/14 [GL] |
| Ripple Lane No.1 | 14.16 ~14.20 |
| Barking | 14.23a [P8] |
Working Carriage Sets 56+60 : 2-car set
| | |
| --- | --- |
| Location | Booked |
| Stratford | 18.28d [P10] |
| Forest Gate Jn | 18/33 |
| Woodgrange Park | 18/37 [SL] |
| Barking | 18/42 |
| Rainham | 18/50 |
| West Thurrock Jn | 18/59 |
| Tilbury Riverside | 19.05a |