4th September 1960
R.C.T.S. (West Riding Branch)
The Cumbrian Rail Tour
| | |
| --- | --- |
| Locos Used | 1000, 45503 'The Royal Leicestershire Regiment', 46442 & 46456 |
| Stock Used | nine coaches including cafeteria car |
| R&ER Locos Used | unidentified diesel, 'River Esk' & 'River Irt' (2) |
Route : Reporting Code N561
| | |
| --- | --- |
| Loco(s) | Route |
| 1000 | Leeds City - Shipley Leeds Jn - Skipton - Hellifield - Settle Jn - Wennington - Carnforth East Jn |
| 45503 | Carnforth East Jn - Ulverston - Dalton Jn - Park South Jn - Millom - Bootle - Ravenglass (2) - Whitehaven - Workington |
| 46456 + 46442 | Workington - Keswick - Penrith |
| 1000 | Penrith - Carlisle Upperby - Durran Hill - Petteril Bridge Jn - (via S&C) - Settle Jn - Hellifield - Skipton - Shipley Leeds Jn - Leeds City |
Notes :
(1) This was the first visit of MR Compound 1000 to the north of England since restoration.
(2) Train paused at Ravenglass for a trip on the R&ER to Dalegarth. Three trains were reported to have run, using locos 'River Esk' & 'River Irt' and an unidentified diesel. Only one set of times were given for the journey in the tour brochure however and it is believed this train ran with 'River Irt' hauling both ways. Were the other two locos on public service trains?
Sources : various including David Hills, Peter Robinson, Peter van Zeller
& 'Vintage Railtours (RCTS - 1954-1969)' (by Gavin Morrison, published by Silver Link Publishing)



Photo Review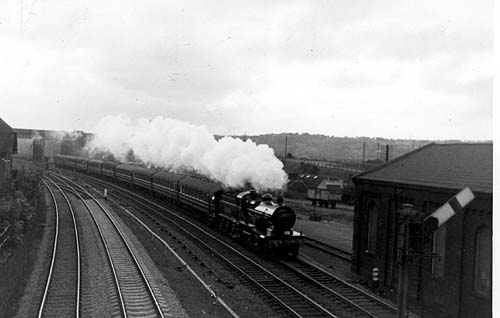 1000 is caught passing Calverley & Rodley, between Leeds and Shipley.
(photo: Paul Barrett)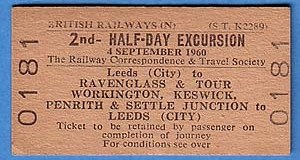 ↑ From Andrew Fairholm's ticket collection.
↓ From The John Debens Ticket Collection.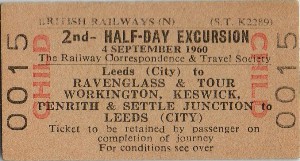 Timings (Booked Only)
(from Terry Jackson)
| | | |
| --- | --- | --- |
| M.C | Location | Booked |
| 0.00 | Leeds City North | 09.37d |
| 10.38 | Shipley Jn | 09/53 |
| 26.14 | Skipton | 10.15a ~ 10.18d |
| 39.35 | Settle Jn | 10/42 |
| 46.73 | Clapham | 10/54 |
| 63.53 | Carnforth | 11.16a ~ 11.24d |
| 72.65 | Grange-over-Sands | 11/35 |
| 82.52 | Ulverston | 11/47 |
| 87.62 | Dalton Jn | 11/58 |
| 88.68 | Park SOuth | 12/05 |
| 100.65 | Millom | 12.18a ~ 12.33d |
| 109.17 | Bootle | 12/42 |
| 113.63 | Ravenglass | 12.50a |
| ? | Ravenglass (R&ESR) | 13.00d |
| ? | Dalegarth | 13.35a ~ 13.45d |
| ? | Ravenglass (R&ESR) | 14.25a |
| 113.63 | Ravenglass | 14.35d |
| 119.56 | Sellafield | 14/44 |
| 126.01 | St Bees | 14/57 |
| 128.20 | Corkickle | 15/12 |
| 137.22 | Workington | 13.50a ~ 15.38d |
| 143.68 | Brigham | 15/52 |
| 151.24 | Basenthwaite Lake | 16/10 |
| 158.52 | Keswick | 16/25 |
| 162.07 | Threlkeld | 16/36 |
| 169.13 | Penruddock | 16/53 |
| 176.66 | Penrith | 17.06a ~ 17.14d |
| ???.?? | Carlisle no.13 | 17/35 |
| 193.28 | Carlisle no.12 | 17/39 |
| 194.19 | Carlisle no.7 | 17/46 |
| ???.?? | Durran Hill Sidings | 17/50 |
| 209.02 | Lazonby | 18/15 |
| 229.29 | Appleby West | 19/39 |
| 241.74 | Ais Gill | 19/23 |
| 253.09 | Blea Moor | 19/38 |
| 367.09 | Settle Jn | 19/54 |
| 280.30 | Skipton | 20.16a ~ 20.20d |
| 306.44 | Leeds City North | 21.02a |