6th June 1959
Stephenson Locomotive Society / Manchester Locomotive Society
Merseyside Rail Tour
| | |
| --- | --- |
| Locos Used | 47404, 49224, 49434 & 49173 |
| Stock Used | at least 4x LMS corridor coaches (booked for 5) |
Route : reporting code W600
| | |
| --- | --- |
| Loco(s) | Route |
| 49173 | Liverpool Riverside - Waterloo Dock |
| 47404 + 49173 | Liverpool Riverside - Waterloo Dock - Edge Hill (1) |
| 49434 | Edge Hill - Atlantic Dock Jn - Canada Dock |
| 49224 (2) | Canada Dock - Atlantic Dock Jn |
| 49434 (3) | Atlantic Dock Jn - Bootle Jn - Alexandra Dock |
| 49224 (2) | Alexandra Dock - Bootle Jn |
| ????? (4) | Bootle Jn - Marsh Lane Jn - North Mersey Branch Jn - Sefton Jn - Aintree CL Jn |
| ????? (4) (5) | Aintree CL Jn - Aintree Central |
| ????? (4) | Aintree Central - Altcar & Hillhouse |
| ????? (4) | Altcar & Hillhouse - Aintree Central |
| ????? (4) | Aintree Central - Ormskirk - Skelmersdale - Bushey Lane Jn - Randle Jn - Rainford Village - St Helens Shaw Street - Widnes South - Ditton Jn - Speke Jn - Church Road (Garston) |
| ????? (4) (5) | Church Road (Garston) - Garston Dock |
| 49434 (only?) | Garston Dock - Church Road (Garston) - Allerton Jn - Edge Hill - Liverpool Lime Street |
Notes :
(1) 49173 failed at Edge Hill with a cracked cylinder.
(2) 49224 with 49434 on rear.
(3) 49434 with 49224 on rear.
(4) 49434 & 49224 but in what combination? The tour timing sheet would seem to suggest the top-n-tail running was booked to have been between Canada Dock and the reversal at Bottle Jn however it has also been given that 49224 was involved between 'Canada Dock via Altcar to at least Garston Dock, to assist with reversals' it being photographed at Alexandra Docks Station, Altcar & Garston Dock. Other photographic evidence does seem to suggest the locos were top-n-tail at Altcar & Hillhouse and Garston Dock, though another photo at the former location shows 49434 apparently in the act of running round.
(5) Timing sheet refers to this as a propelling move however if 49224 was involved top-n-tail with 49434 throughout from Canada Dock to (at least) Garston Dock then presumably the propelling move was not needed.
(6) Advertised as the last train on the Aintree Central - Altcar & Hillhouse, Southport & Cheschire Lines Ext. Railway.
Sources : Bevan Price, Peter Darke, Andrew Fairholm & Mike Delamar



Photo Review

49434 is seen here at Altcar and Hillhouse, running round the train
(photo: Brian Hilton/The John Debens Collection)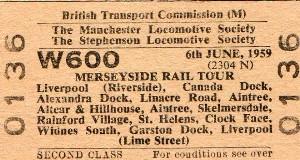 From the John Debens ticket collection.


Timings (Booked & Actual)
(from Stephen Bragg courtesy of Ian Clark (SLS) & John Debens)
| | | |
| --- | --- | --- |
| Location | Booked | Actual |
| Liverpool Riverside | 14.00d | ? |
| Edge Hill | 14/20 | ? |
| Atlanta Dock Jn | 14/30 | ? |
| Canada Dock | 14.27 ~ 14.50 | ??.?? ~ 15.09 |
| Atlantic Dock Jn | 14.55 ~ 15.05 | ? |
| Bootle Jn | 15/08 | ? |
| Alexandra Dock | 15.13 ~ 15.25 | ??.?? ~ 15.32 |
| Bootle Jn | 15.30 ~ 15.42 | ? |
| Marsh Lane Jn | 15/45 | ? |
| North Mersey Branch Jn | 15/46 | ? |
| Sefton Jn | 15/50 | ? |
| Aintree S.A. South Jn | 15/52 | ? |
| Aintree C.L. Jn | 15.53 ~ 15.55 | ? |
| Aintree Central | 16.00 ~ 16.02 | ??.?? ~ 16.02 |
| Altcar & Hillhouse | 16.45 ~ 16.55 | 16.28 ~ ??.?? |
| Aintree Central | 17.40 ~ 17.50 | 17.20 ~ ??.?? |
| Aintree C.L. Jn | 17.53 ~ 18.00 | ??.?? ~ 17.55 |
| Ormskirk | 18/16 | ??w?? ~ 18w19 |
| Skelmersdale | ? | ? |
| Bushey Lane Jn | 18/30 | 18/38 |
| Randle Jn | 18/31 | 18/41 |
| Rainford Village Jn | 18/34 | ? |
| Gerards Bridge Jn | 18/46 | ? |
| St Helens Shaw Street | 18/48 | 18/54 |
| Sutton Oak Jn | 18/52 | ? |
| Widnes South | 19/06 | 19/12 |
| Ditton Jn | 19/10 | 19/15 |
| Speke Jn | 19/16 | ? |
| Church Road (Garston) | 19.25 ~ 19.30 [DGL] | ? |
| Garston Dock (Old Pass. Station) | 19.35 ~ 19.50 | ??.?? ~ 19.50 |
| Allerton Jn | 19/58 | ? |
| Edge Hill | 20/04 | 20/10 |
| Liverpool Lime Street | 20.10a | 20.15 |