30th May 1959
Stephenson Locomotive Society
Birmingham Area Rail Tour
| | |
| --- | --- |
| Locos Used | at least 58167, 58271 & 58283 |
| Stock Used | 6x LMS corridor coaches |
| DMU Used | 6x ?Metro-Cammell? set |
Route : reporting number W721 throughout
Tour
Traction
Route
'Part 1'
58283 (1)

Birmingham New Street – Monument Lane – Harborne Jn – Harborne

'Part 1'
58271 (2) (4)

Harborne – Harborne Jn - Monument Lane – Birmingham New Street – Proof House Jn – Aston – Perry Barr Station Jn – Soho East Jn – Soho North Jn – Galton Jn – Smethwick Junction – Old Hill – Halesowen – Longbridge – Kings Norton – Bordesley Jn – St Andrews Jn – Proof House Jn – Birmingham New Street

'Part 2'
DMU as listed

Birmingham New Street – Monument Lane – Soho East Jn – Perry Barr North Jn – Bescot – Darlaston – Darlaston Old – Wednesbury – Bescot Curve Jn – Pleck Jn – Walsall – Ryecroft Jn – North Walsall – Willenhall Stafford Street – Heath Town Jn – Wolverhampton LL – Cannock Road Jn – Bushbury Jn

'Part 2'
DMU as listed

Bushbury Jn – Wolverhampton HL – Heath Town Jn – Willenhall Stafford Street – North Walsall Jn – Lichfield Road Jn – Aldridge

'Part 2'
DMU as listed

Aldridge –

Walsall Wood

– Conduit Colliery

'Part 2'
DMU as listed

Conduit Colliery –

Walsall Wood

– Aldridge – Castle Bromwich Jn - Saltley – Bordesley Jn – Lifford – Lifford West Jn – Bourneville – Church Road Jn – Birmingham Central

'Part 2'
DMU as listed

Birmingham Central – Church Road Jn

'Part 2'
DMU as listed

Church Road Jn – Birmingham Central and New Street
Notes :
(1) 58271 on rear.
(2) 58283 on rear.
(3) Route confirmation required - above is what was printed on the tour ticket. Train/locos were photographed at;
(a) 58271 at Birmingham New Street, believed for the tour,
(b) at Harborne, headed by 58283...tailed by 58271,
(c) at Halesowen, headed by 58271,
(d) with 58167 'waiting to act as banker',
(e) DMU at Conduit Colliery (Brownhills) & Birmingham Central.
(4) Ian Clark confirms that 58167 was reported as assisting on the Halesowen branch.
Sources : Peter Darke & Ian Clark (SLS)



Photo Review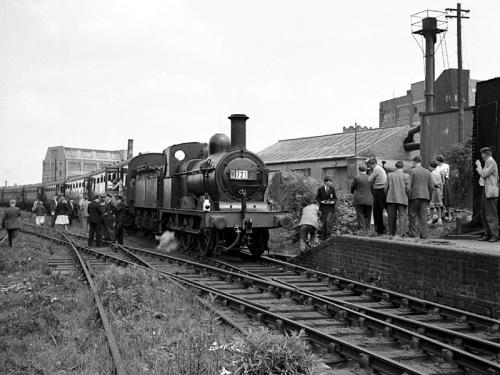 58283 at Harborne, on arrival from New Street (photo: Robert Darlaston)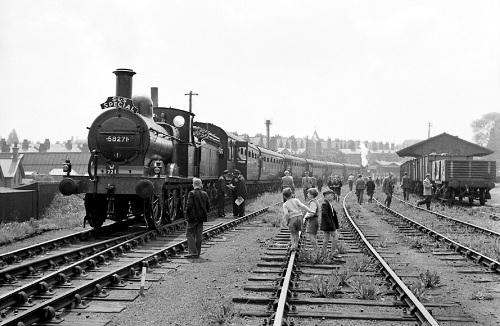 58271 at Harborne, about to return to New Street, with 58283 on the rear.
(photo: Robert Darlaston)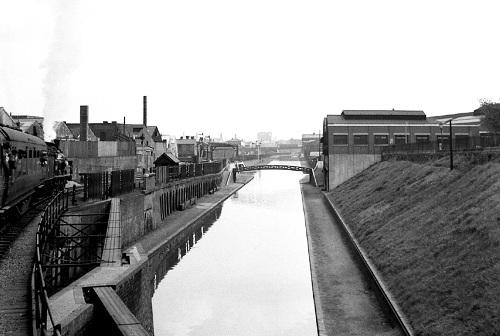 58271 leads approaching at Harborne Jn (photo: Robert Darlaston)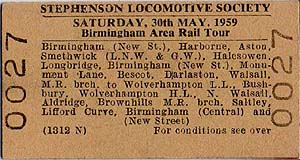 From The John Debens Ticket Collection.


Timings (Booked & Actual)
(from Ian Clark (SLS & Robert Darlaston)
| | | |
| --- | --- | --- |
| Location | Booked | Actual |
| Birmingham New Street | 13.20d | ? |
| Harborne | 13.32 ~ 13.50 | ??.?? ~ 13.52 |
| Birmingham New Street | 14.01 ~ 14.03 | 14.05 ~ ??.?? |
| Perry Barr Station Jn | 14/14 | 14/20 |
| Soho East Jn | 14/19 | ? |
| Smethwick Galton Jn | 14.24 ~ 14.26 | 14.32 ~ 14.35 |
| Smethwick Junction (GW) | 14/28 | 14/37 |
| Old Hill | 14/39 | 14/48 |
| Halesowen | 14.45 ~ 14.50 | 14.55 ~ 15.05 |
| Longbridge | 15.02 ~ 15.07 | 15.35 ~ 15.40 |
| Camp Hill | 15/22 | 16/01 |
| Birmingham New Street | 15.28a ~ 16.20d | ? |
| Monument Lane | 16/25 | ? |
| Perry Barr North Jn | 16/33 | ? |
| Bescot | 16/39 | ? |
| Darlaston | 16.43 ~ 16.45 | ? |
| Darlaston Old | 16.55 ~ 17.05 | ? |
| Wednesbury | 17/12 | ? |
| Walsall | 17/19 | ? |
| North Walsall Jn | 17/23 | ? |
| Heath Town Jn | 17.34 ~ 17.40 | ? |
| Wolverhampton LL | 17.45 ~ 17.46 | ? |
| Bushbury Jn No.1 | 17.56 ~ 18.01 | ? |
| Wolverhampton HL | 18/07 | ? |
| Heath Town Jn | 18/10 | ? |
| North Walsall Jn | 18/21 | ? |
| Lichfield Road Jn | 18/26 | ? |
| Aldridge | 18.30 ~ 18.34 | ? |
| Walsall Wood | 18/48 | ? |
| Conduit Colliery | 19.15 ~ 19.20 | ? |
| Aldridge | 19/58 | ? |
| Castle Bromwich Jn | 20/15 | ? |
| Saltley | 20/23 | ? |
| Camp Hill | 20/29 | ? |
| Lifford Station Jn | 20/35 | ? |
| Jn from Lifford | 20/43 | ? |
| Church Road Jn | 20/51 | ? |
| Birmingham Central | 20.55 ~ 21.02 | ? |
| Church Road Jn | 21.07 ~ 21.10 | ? |
| Birmingham New Street | 21.15a | ? |