4th April 1959
R.C.T.S. (Lancashire & N.W. Branch)
South Lancashire Freight Lines Rail Tour
| | |
| --- | --- |
| Loco Used | 42289 |
| Stock Used | 5x LMS corridor coaches |
Route : reporting number 774
| | |
| --- | --- |
| Loco | Route |
| 42289 | Manchester Victoria - Cheetham Hill Jn - Queens Road Jn - Radcliffe South Jn - Bradley Fold Jn - Rose Hill Jn - Astley Bridge Jn - Bolton Trinity Street - Halliwell Goods |
| 42289 | Halliwell Goods - Astley Bridge Jn - Bolton West Jn - Lostock Jn - Horwich Fork Jn - Horwich |
| 42289 | Horwich - Blackrod Jn - Adlington Jn |
| 42289 | Adlington Jn - Haigh Jct - Whelley Jn - Whelley - De Trafford Jn - Amberswood East Jn - Hindley South Jn - Bickershaw Jn - Howe Bridge West Jn - Atherton Jn - Fletcher Street Jn (2) |
| 42289 | (2) Fletcher Street Jn - Plodder Lane - Walkden Low Level - Eccles - Weaste Wharf |
| 42289 | Weaste Wharf - Eccles |
| 42289 | Eccles - Weaste - Ordsall Lane - Manchester Exchange |
Notes :
(1) The train comprised of five coaches and despite the seemingly complex route a right time arrival was made on the return to Manchester Exchange.
(2) Reversal point confirmation required - was it Fletcher Street Jn as indicated, or Bolton Fletcher Street as booked?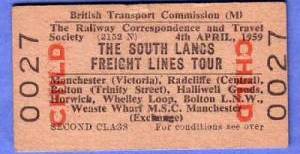 From Andrew Fairholms ticket collection.
Sources : David Hills & Peter Darke



Timings (Booked Only)
(from John Debens)
| | | |
| --- | --- | --- |
| M.C | Location | Booked |
| 0.00 | Manchester Victoria | 13.05d [P16] |
| 0.73 | Cheetham Hill Jn | 13/08 |
| 1.21 | Queens Road Jn | 13/10 |
| ? | Radcliffe South Jn | 13/22 |
| 7.66 | Radcliffe West Jn | 13/24 |
| 8.60 | Bradley Fold Jn | 13/27 |
| 11.45 | Rose Hill Jn | 13.34 ~ 13.37 |
| 12.11 | Bolton Trinity Street | 13.39 ~ 13.41 |
| 12.76 | Astley Bridge Jn | 13/45 |
| 13.37 | Halliwell Goods | 13.50 ~ 14.05 |
| 13.78 | Astley Bridge Jn | 14/10 |
| 14.44 | Bolton West Jn | 14/14 |
| 17.17 | Lostock Jn | 14/19 |
| 20.23 | Horwich Fork Jn | 14/24 |
| 21.44 | Horwich | 14.28 ~ 14.45 |
| 22.55 | Blackrod Jn | 14/49 |
| 25.05 | Adlington Jn | 14.55 ~ 15.09 |
| 28.03 | Haigh Jn | 15/12 |
| 28.58 | Whelley Jn | 15/16 |
| 31.25 | De Trafford Jn | 15/23 |
| 31.79 | Amberswood East Jn | 15/25 |
| 32.41 | Hindley South GC | 15/27 |
| 33.18 | Bickershaw Jn | 15/29 |
| 35.48 | Howe Bridge West Jn | 15/34 |
| 35.73 | Atherton Jn | 15/35 |
| 40.78 | Bolton Fletcher Street | 15.51 ~ 16.07 |
| 45.76 | Roe Green Jn | 16/22 |
| 48.22 | Eccles Jn | 16/27 |
| 49.59 | Weaste Wharf (MSC) | 16.40 ~ 16.55 |
| 50.62 | Eccles | 17.05 ~ 17.10 |
| 53.50 | Ordsall Lane No.2 | 17/17 |
| 55.04 | Manchester Exchange | 17.21a |