1st March 1959
The Locomotive Club of Great Britain
Burton Area
| | |
| --- | --- |
| Loco Used | 41328 |
| Stock Used | push-pull set (1) |
Route : Reporting Code M989
| | |
| --- | --- |
| Loco | Route |
| 41328 (2) | Derby Midland - Stenson Jn - Eggington Jn - Marston Jn - Tutbury |
| 41328 | Tutbury - Marston Jn - Dove Jn - Stretton Jn - Dallow Lane - Shobnall Jn - Wellington Street Jn - Dale Street Jn - Bond End Wharf |
| 41328 (2) | Bond End Wharf - Dale Street Jn - Leicester Jn - Birmingham Curve Jn - Swadlincote Jn - Swadlincote - Woodville - Woodville Goods Jn |
| 41328 | Woodville Goods Jn - Woodville Goods |
| 41328 (2) | Woodville Goods - Woodville Goods Jn - Woodville Jn - Moira West Jn - Moira East Jn - Ashby-de-la-Zouch - Coalville Jn - Charnwood Forest Jn - Shackerstone |
| 41328 | Shackerstone - Measham - Moira South Jn - Moira West Jn - Gresley - Netherseal Branch (EoL) |
| 41328 (2) | Netherseal Branch (EoL) - Gresley |
| 41328 | Gresley - Birmingham Curve Jn - Leicester Jn - Burton-on-Trent - Stretton Jn - Dove Jn - Eggington Jn - Stenson Jn - Derby |
Notes :
(1) Probably the 'Tutbury Jinny' set - confirmation required.
(2) Loco propelling (confirmation required - based on photo below suggesting loco was leading away from Shackerstone towards Measham and no loco run-rounds being made during the day)
(3) Route confirmation required - above is taken from booked timings.
Sources : Les Kent, Stuart Gamble & John Debens



Photo Review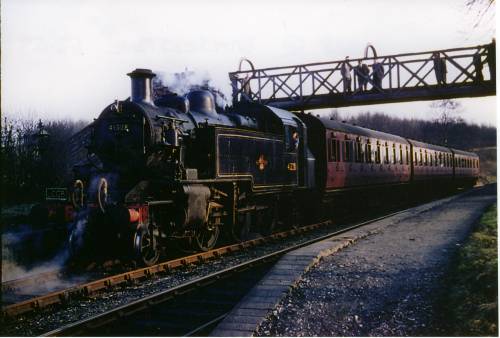 41328 is seen at Shackerstone, about to head off in the direction of Measham
(photo: copyright Charles Firminger via Stuart Gamble)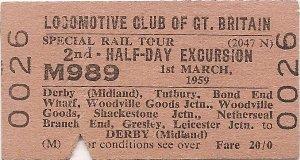 From The John Debens Ticket Collection.


Timings (Booked Only)
(from Stuart Gamble)
| | | |
| --- | --- | --- |
| Miles | Location | Booked |
| 0 | Derby Midland | 13.15d |
| 5 | Stenson Jn | 13/23 |
| 9 | Eggington Jn | 13/28 |
| 10¼ | Marston Jn | 13/30 |
| 11¾ | Tutbury | 13.33a ~ 13.38d |
| 13¼ | Marston Jn | 13/41 |
| 14¼ | Dove Jn | 13/42 |
| 16 | Stretton Jn | 13/46 |
| 17 | Dallow Lane | 13/50 |
| 17¾ | Shobnall Jn | 13/52 |
| 18 | Wellington Street Jn | 13/53 |
| 18¼ | Dale Street Jn | 13/55 |
| 18¾ | Bond End Wharf | 14.00a ~ 14.10d |
| 19¼ | Dale Street Jn | 14/15 |
| 19½ | Leicester Jn | 14/17 |
| 20 | Birmingham Curve Jn | 14/19 |
| 22¼ | Swadlincote Jn | 14/24 |
| 24¼ | Swadlincote | 14/29 |
| 26¼ | Woodville | 14/37 |
| 27¾ | Woodville Goods Jn | 14.40a ~ 14.45d |
| 28¾ | Woodville Goods | 14.50a ~ 15.00d |
| 29¾ | Woodville Goods Jn | 15/05 |
| 31¼ | Woodville Jn | 15/08 |
| 31½ | Moira West Jn | 15/10 |
| 32 | Moira East Jn | 15/12 |
| 34¾ | Ashby-de-la-Zouch | 15/18 |
| 40¼ | Coalville Jn | 15/30 |
| 40¾ | Charnwood Forest Jn | 15/32 |
| 46½ | Shackerstone Jn | 15.47a ~ 15.57d |
| 51¼ | Measham | 16/03 |
| 54¼ | Moira South Jn | 16/10 |
| 54¾ | Moira West Jn | 16/12 |
| 56½ | Gresley | 16.16a ~ 16.18d |
| 59 | Netherseal Branch (EoL) | 16.30a ~ 16.35d |
| 61½ | Gresley | 16.47a ~ 16.50d |
| 65¼ | Birmingham Curve Jn | 17/00 |
| 65¾ | Leicester Jn | 17.02a ~ 17.05d |
| 66¼ | Burton-on-Trent | 17/07 |
| 67 | North Stafford Jn (Burton) | 17/08 |
| 69½ | Dove Jn | 17/13 |
| 70¾ | Eggington Jn | 17/15 |
| 74¾ | Stenson Jn | 17/21 |
| 79¾ | Derby | 17.28a |