31st August 1958
Stephenson Locomotive Society (North West Area) / Manchester Locomotive Society
West Durham Rail Tour
Loco Used
62059 (with 46143 'The South Staffordshire Regiment' on the connecting service)
Stock Used
[1] : 10 coaches due to be formed rake [2] plus Cafe Car, 3x SO, BSK)
[2] : 5x LMS corridor coaches (booked to be formed: BSO, 3x SO, BSO)
Route : reporting number W614 throughout
| | | |
| --- | --- | --- |
| Loco | Stock | Route |
| 62059 | [1] | Darlington Bank Top - North Road - Heighington - Shildon - Bishop Auckland - Bowden Close Jn - Brancepath - Dearness Valley Jn - Baxter Wood No.2 Jn |
| 62059 | [1] | Baxter Wood No.2 Jn - Dearness Valley Jn - Waterhouses - Waterhouses Goods |
| 62059 | [1] | Waterhouses Goods - Waterhouses - Dearness Valley Jn - Baxter Wood No.2 Jn - Baxter Wood No.1 Jn - Lanchester - Consett North Jn - Blackhill - Ebchester - Lintz Green - Swalwell North Jn - Blaydon South Jn - Scotswood Bridge Jn - Scotswood |
| 62059 | [1] | Scotswood - Scotswood Bridge Jn - Blaydon Main Jn - Consett Branch Jn - Dunston-on-Tyne - Low Fell Jn |
| 62059 | [1] | Low Fell Jn - King Edward Bridge West Jn - King Edward Bridge East Jn - Greensfield Jn - Pelaw - Washington - Penshaw Jn - Leamside - Tursdale Jn - Ferryhill South Jn - Darlington Bank Top |
Connecting Service Route : W694 throughout
| | | |
| --- | --- | --- |
| Loco | Stock | Route |
| 46143 | [2] | Manchester Exchange - Miles Platting - Ashton - Stalybridge - ?Greenfield? - Diggle Jn - Huddersfield - Leeds City - York - (via ECML) - Darlington Bank Top |
| 46143 | [2] | Darlington Bank Top - (reverse of outward route) - Diggle Jn - Micklehurst - Stalybridge - (reverse of outward route) - Manchester Exchange |
Notes :
(1) The tour stock was formed using five coaches taken from a connecting special service from Manchester Exchange, hauled both ways by 46143.
(2) Howard Cook comments: Only 46143 was sporting W614 suggesting this just related to connecting service, not W694.
Sources : David Whittaker, Chris Harley, Peter Darke, John Debens & Ian Clark (SLS)



Photo Review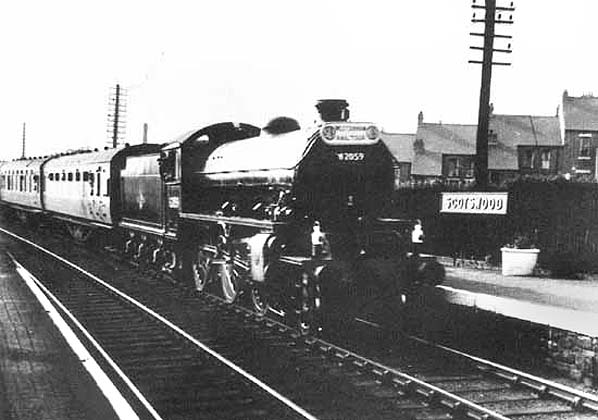 62059 at Scotswood (photo: P. Bailey)
From The John Debens Ticket Collection.


Timings (Booked & Actual)
(from David Whittaker & Tony Davies/Ian Clark (both: SLS))
Connecting Service:
| | | |
| --- | --- | --- |
| Location | Booked (out) | Booked (rtn) |
| Manchester Exchange | 09.18d | 22.29a |
| Miles Platting | 09/24 | 22/24 |
| Ashton | ??.??a ~ 09.36d | 22.16a ~ ??.??d |
| Stalybridge | ??.??a ~ 09.36d | 22.09a ~ ??.??d |
| Diggle Jn | 09/56 | 21/57 |
| Huddersfield | 10.12a ~ 10.16d | 21.32a ~ 21.34d |
| Leeds City South | 10.50a ~ 11.00d | 20.51a ~ 21.00d |
| York | 11.35a ~ 11.40d | 20.10a ~ 20.15d |
| Northallerton | 12.17a ~ ??.??d | ??.??a ~ 19.30d |
| Darlington | 12.38a | 19.10d |
Tour train:
| | | |
| --- | --- | --- |
| Location | Booked | Actual |
| Darlington | 12.50d | 12.50 |
| Shildon | 13/10 | ? |
| Bichop Auckland | 13/17 | ? |
| Willington | 13/26 | ? |
| Dearness | 13.45 ~ 13.55 | 13.42 ~ ??.?? |
| Ushaw Moor | 14/05 | ? |
| Waterhouses | 14.15 ~ 14.18 | 14.10 ~??.?? |
| Waterhouses Goods | 14.23 ~ 14.33 | ? |
| Waterhouses | 14.38 ~ 14.43 | ? |
| Ushaw Moor | 14/53 | ? |
| Dearness | 15/03 | ? |
| Baxter Wood No.2 | 15/06 | ? |
| Lanchester | 15.20 ~ 15.40 | 16.01 ~ ??.?? |
| Knitsley | 15/47 | ? |
| Consett SO. | 15.52 ~ 15.55 | ? |
| Blackhill | 16p00 ~ 16p10d | 16.01 ~ ??.?? |
| Westwood | 16/17 | ? |
| Hamsterley | 16/21 | ? |
| Lintz Green | 16/26 | / |
| Scotswood | 16.40 ~ 16.50 | 16.42 ~ ??.?? |
| Blaydon M. | 16/55 | ? |
| Norwood | 17/03 | ? |
| Low Fell | 17.18 ~ 17.28 | 17.14 ~ ??.?? |
| King Edward Bridge | 17/35 | ? |
| High Street | 17/37 | ? |
| Pelaw | 17/44 | ? |
| Usworth | 17/50 | ? |
| Washington | 17w57 ~ 18w02 | 17.54 ~ ??.?? |
| Penshaw | 18/07 | ? |
| Leamside | 18/15 | ? |
| Shincliffe | 18/23 | ? |
| Ferryhill | 18/31 | ? |
| Darlington | 18.50a | 18.52 |