19th May 1957
Stephenson locomotive Society
London, Chatham & Dover Rail Tour
| | |
| --- | --- |
| Locos Used | 31107, 31337, 31425, 31434 & 31545 |
Route : at least SPL39
| | |
| --- | --- |
| Loco(s) | Route |
| 31545 | London Victoria - Brixton - Beckenham Junction - Swanley - Chatham - Sittingbourne - Faversham - Herne Bay - Margate - Ramsgate - Deal - Kearnsey Loop Jn - Deal Jn - Shepherd's Well |
| 31434 & 31425 top-n-tail (2) | Shepherd's Well - Eythorne |
| 31434 & 31425 top-n-tail (2) | Eythorne - Shepherd's Well |
| 31434 & 31425 (2) | Shepherd's Well - Kearnsey - Dover Priory - Dover Marine |
| 31434 & 31425 (2) | Dover Marine - Folkestone Jn |
| 31107 + 31337 (3) (5) | Folkestone Jn - Folkestone Harbour |
| 31107 + 31337 (4) (5) | Folkestone Harbour - Folkestone Jn |
| 31545 | Folkestone Jn - Dover Priory - Canterbury East - Chatham - Sole Street - Swanley - Shortlands - Nunhead - Cambria Jn - London Holborn Viaduct |
Notes :
(1) Doug Lindsay comments : It was a fantastic trip, particularly the Down Fast from London with the redoubtable Sammy Gingell driving the old SECR D1 Class loco, reaching an incredible 80 mph through Farningham Road!! Arriving at Margate some 2.5 minutes early. The other notable feature was the trip on the remaining stub of the East Kent Light Railway when, due to the sharp curvature of the access line from the Main LCDR line at Shepherd's Well, the dynamo belts decided to come off several of the coaches delaying the train a bit whilst they were re-fitted….only to occur again as we exited the branch!!! That apart, a super trip.
(2) Which led on each leg is required where noted as top-n-tail. Ian Clark (SLS) comments from society records: 31434 worked the Eythorne – Folkestone Jn section (having been on the rear), running round the train at Dover Marine. 31425 headed Shepherd's Well – Eythorne top & tail, but not noted where it was detached.
(3) 31337 on rear?
(4) 31107 on rear?
(5) Contemporary sources report the use of loco 'R1' on the Folkestone Harbour branch, with no mention made of 31107+31337?
(6) 31425 (with 31434 on the rear) was photographed at Golgotha Tunnel on the East Kent Line carrying headcode SPL39 - was this used throughout?
(7) The timing sheet carried a statement: 'Please note that Shepherd's Well and Eythorne stations are not now maintained to passenger standard and that passengers may detrain there only at their own risk and after completing a form of indemnity' - so, who says the Nanny State is something new!!
Sources : Doug Lindsay, Ian Clark (SLS) & Steve Armitage



Photo Review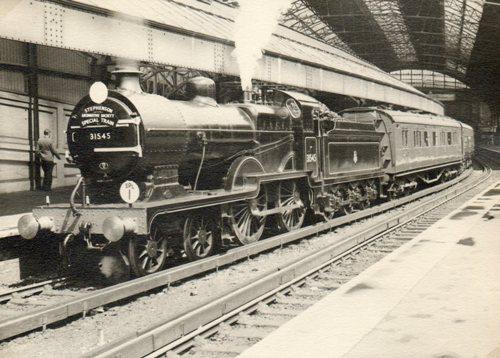 31545 at London Victoria (photo: The John Debens Collection)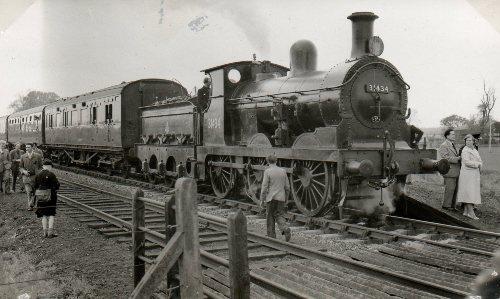 31434 & 31425 at Eythorne (photos: The John Debens Collection)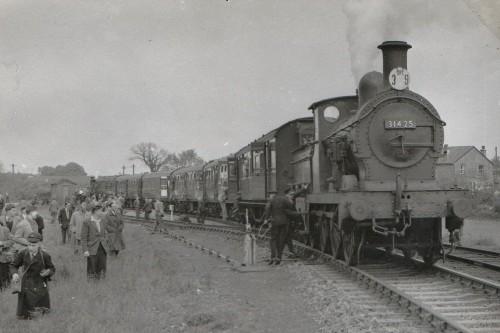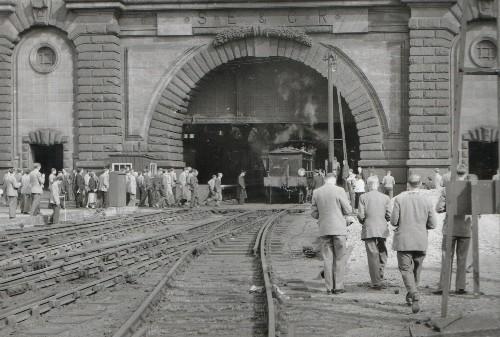 Impressive brickwork at Dover Marine (photo: The John Debens Collection)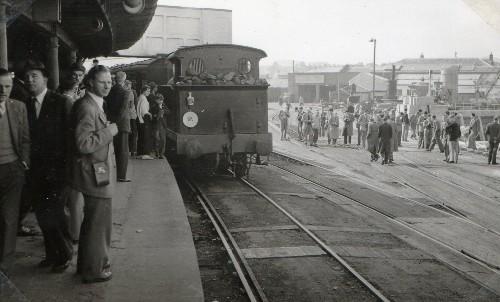 31107 at Folkestone Harbour (photo: The John Debens Collection)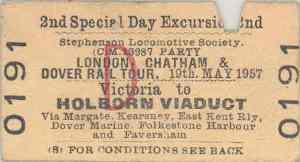 Timings (Booked & Actual)
(from Doug Lindsay & Bruce Nathan)
| | | | |
| --- | --- | --- | --- |
| Miles | Location | Booked | Actual |
| 0 | Victoria | 11.58d | 11.58 |
| 3¼ | Brixton | 12/05 | 12/05 |
| 4 | Herne Hill | 12/06½ | 12/06½ |
| 8¾ | Beckenham Junction | 12/13½ | 12/14 |
| 12½ | Bickley Jn | 12/19 | 12/19½ |
| 17¾ | Swanley | 12/25 | 12/25 |
| 26¾ | Sole Street | 12/34 | 12/34 |
| 30¾ | Cuxton Road | 12/38½ | 12/39½ |
| 33¼ | Rochester Bridge Jn | 12/42 | 12/43 |
| 34¼ | Chatham | 12/44½ | 12/45½ |
| 44¾ | Sittingbourne | 12/56½ | 12/57½ |
| 52 | Faversham | 13/03½ | 13/04 |
| 62¾ | Herne Bay | 13/16 | 13/16½ |
| 74 | Margate | 13.28a ~ 13.50d | 13.26 ~ 13.50½ |
| 79½ | Ramsgate | 14/02 | 14/02 |
| 92¾ | Deal | 14/18 | 14/19½ |
| ? | Kearnsey Loop Jn | 14/33 | 14/33½ |
| ? | Deal Jn | 14/36 | 14/34½ |
| 105¼ | Shepherds Well | 14L44a ~ 15L10d | 14.42½ ~ ??.?? |
| 107 | Eythorne | 15.20a ~ 15.30d | ? |
| 108¾ | Shepherds Well | 15.40a ~ 15.55d | ? |
| 112 | Kearnsey | 16/01 | ? |
| 114¼ | Dover Priory | 16/06 | ? |
| 115½ | Dover Marine | 16.10a ~ 16.25d | ? |
| 121½ | Folkestone Jn | 16L37a ~ 16L47d | ? |
| 122¼ | Folkestone Harbour | 16.52a ~ 17.05d | ? |
| 123 | Folkestone Jn | 17L10a ~ 17L26d | ??.?? ~ 17.29 |
| 129½ | Dover Priory | 17/37 | 17/42 |
| 145 | Canterbury East | 18/01 | 18/05 |
| 154¾ | Faversham | 18/13 | 18/18 |
| 162 | Sittingbourne | 18/20 | 18/24 |
| 172¼ | Chatham | 18.31½a ~ 18.37½d | 18.38 ~ 18.41 |
| 173¼ | Rochester Bridge Jn | 18/40 | 18/45½ |
| 179¾ | Sole Street | 18/51 | 18/56½ |
| 188¾ | Swanley | 19/00 | 19/06 |
| 194½ | Bickley Jn | 19/06 | 19/14½ |
| 196½ | Shortlands | 19/09½ | 19/18½ |
| 201½ | Nunhead | 19/18½ | 19/26 |
| 20¾ | Cambria Jn | 19/23 | 19/30½ |
| 207¼ | Holborn Viaduct | 19.32½a | 19.39 |