12th May 1957
R.C.T.S. (East Midlands Branch)
The East Midlander No.3
Route : Reporting Code 880 (throughout?)
| | |
| --- | --- |
| Loco | Route |
| 62571 | Nottingham Midland - Radford Jn - Trowell Jn - Treeton Jn - Rotherham Masborough - Wath Road Jn - Cudworth - Brierley Jn - Wrangbrook Jn - Aire Jn - Carlton Towers - North Cave - Locomotive Jn (1) - Springbank West Jn - Springbank South Jn - Albert Dock West Jn (2) |
| 62571 | Albert Dock West Jn - St Andrews Dock Jn (3) |
| 62571 | St Andrews Dock Jn - Hessle Road Jn - Beverley - Market Weighton - Pocklington - York |
| 62571 | York - Church Fenton - Sherburn South Jn - Gascoigne Wood Jn - Selby West Jn - Doncaster - Potteric Carr Jn - Low Ellers Jn - Tickhill - Shireoaks - Shirebrook West Jn - Mansfield - Hucknall - Nottingham Midland |
Notes :
(1) The tour route description records that at Locomotive Jn, Hull 'some intricate movement is required to get on to the York line'. Confirmation is required as to what reversal(s), presumably as propelling move(s), may have taken place in the area of the junction.
(2) It is unclear exactly where the train reversed as the timing sheet details 'Albert Dock' whereas the route description states that the train was reversing at 'Albert Dock West Junction'.
(3) The timing point given as 'St Andrews Dock' is believed to be the junction to the dock as no reversal at this location (which would have been needed to reach the dock itself) is mentioned in the tour route description.
Sources : David Davis, David Whittaker & John Debens



Photo Review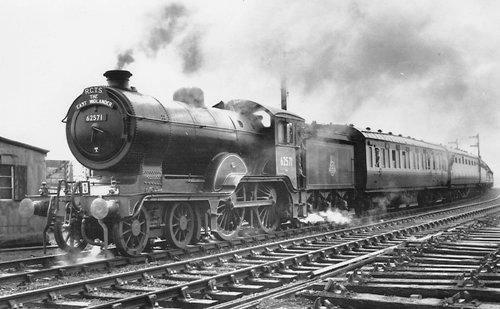 62571 at St Andrews Dock (photo: J.F.Henton/The John Debens Collection)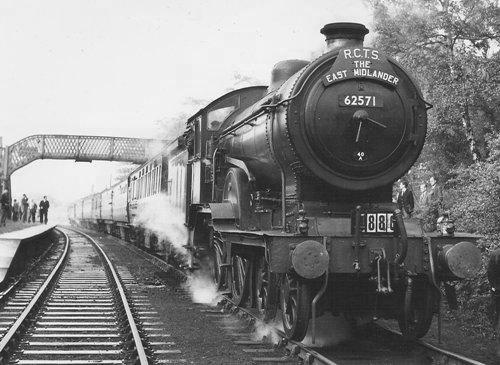 62571 seen during a stop at Maltby (photo: The John Debens Collection)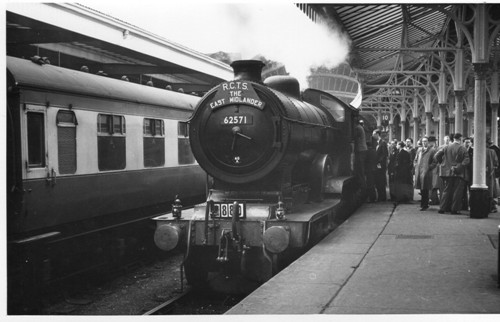 62571 at York on the return leg (photo: The John Debens Collection)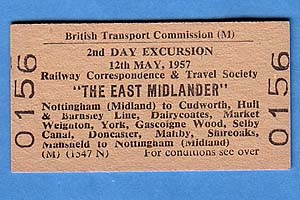 (From Andrew Fairholm's ticket collection)


Timings (Booked Only)
(from Stephen Bragg)
| | | |
| --- | --- | --- |
| M.C | Location | Booked |
| 0.00 | Nottingham Midland | 09.25d |
| 7.23 | Trowell | 09/40 |
| 24.21 | Clay Cross | 10/11 |
| 28.22 | Chesterfield | 10/17 |
| 44.01 | Rotherham Masborough | 10.45 ~ 11.00 |
| 50.01 | Wath Road Jn | 11/10 |
| 57.20 | Cudworth | 11.25 ~ 11.27 |
| 66.46 | Wrangbrook Jn | 11/48 |
| 78.60 | Carlton Towers | 12.10 ~ 12.25 |
| 96.53 | South Cave | 12/55 |
| 108.24 | Albert Dock | 13.25 ~ 13.32 |
| 109.27 | St Andrews Dock | 13.40 ~ 13.48 |
| 110.12 | Hessle Road Jn | 13/52 |
| 118.03 | Beverley | 14.06 ~ 14.11 |
| 129.19 | Market Weighton | 14/29 |
| 135.48 | Pocklington | 14/39 |
| 151.44 | York | 15.02a ~ 16.35d |
| 162.16 | Church Fenton | 16/51 |
| 164.66 | Sherburn South Jn | 16/55 |
| 165.79 | Gascoigne Wood Jn | 17/00 |
| 171.77 | Selby West Jn | 17/09 |
| 172.39 | Selby Canal Jn | 17/14 |
| 186.16 | Shaftholme Jn | 17/37 |
| 190.35 | Doncaster | 17.56 ~ 17.52 |
| 192.33 | Potteric Carr Jn | 17/57 |
| 192.89 | Low Ellers Jn | 18/00 |
| 196.44 | Tickhill | 18/09 |
| 200.21 | Maltby | 18.20 ~ 18.35 |
| 209.06 | Brancliffe East Jn | 18/58 |
| 210.01 | Shireoaks | 19.03 ~ 19.05 |
| 215.36 | Elmton & Cresswell | 19/17 |
| 219.55 | Shirebrook West Jn | 19/23 |
| 224.14 | Mansfield | 19/29 |
| 232.76 | Hucknall | 19/40 |
| 241.22 | Nottingham Midland | 19.50a |