5th May 1957
Stephenson Locomotive Society (North West Area) / Manchester Locomotive Society
Caernarvonshire Rail Tour
Locos Used
42356 & 42366
Stock Used
[1] : 5x LMS coaches (2x twin sets & Cafeteria Car)
[2] : unsprung steel slate tubs
Horses Used
'Prince' & 'Queen'
Route : reporting code W600 throughout
(except on Nantlle Tramway)
| | | |
| --- | --- | --- |
| Loco(s) | Stock | Route |
| 42356 & 42366 (2) | [1] | Bangor - Bethesda Jn - Tregath - Bethesda |
| 42356 & 42366 (2) | [1] | Bethesda - Tregath - Bethesda Jn - Bangor |
| 42366 | [1] | Bangor - Menai Bridge - Port Dinorwic - Caernarvon - Caernarvon No.1 Jn - Llanberis Jn - Groesion - Penygroes - Nantlle |
| (horse-drawn - 'Prince' & 'Queen') | [2] | (3) Nantlle - ?Nantlle Quarry? |
| (horse-drawn - 'Prince' & 'Queen') | [2] | ?Nantlle Quarry? - Nantlle (3) |
| 42366 | [1] | Nantlle - Penygroes - Groesion - Llanberis Jn - Caernarvon |
| 42366 | [1] | Caernarvon - Llanberis Jn - Pont Rug - Llanberis (4) |
| 42366 | [1] | Llanberis - Pont Rug - Llanberis Jn - Caernarvon No.1 Jn - Caernarvon - Port Dinorwic - Menai Bridge |
| 42366 | [1] | Menai Bridge - Britannia Bridge (5) - Llanfair |
| 42366 | [1] | Llanfair - Britannia Bridge - Menai Bridge - Bangor |
Notes :
(1) Route confirmation required - the tour stock to and from Manchester Exchange ran as a public excursion.
(2) Train engine was 42366 with 42356 'assisting' on the Bethesda branch - was that double-headed or top-n-tail (reports say the loco was needed for the reversal at Bethesda as the track at the station was lifted and the loop too long for the train)? Photographic evidence below suggests the pair were double-headed at least in one direction.
(3) On the Nantlle Tramway (3' 6" gauge) it is reported the ensemble went 'about ¾ mile up the line, and back'. An SLS report also commented that 'the motive power on this line was provided under contract from a local farmer' and there was 'an unexpected climax on the return to Nantlle when a sudden burst of speed on the part of the m.p.d. (perhaps stimulated by snacks of sugar administered by certain ladies) succeeded in derailing almost the whole train, fortunately without ill effects to man or beast'.
(4) Passengers made a visit to the Snowdon Mountain Railway shed at Llanberis, though no journey on the line was made due to time constraints.
(5) Train stopped 'on the Caernarvonshire side of the Britannia Bridge at a point close to the station of the same name (open 1851-1858 only) to allow participants to alight there and inspect the bridge (the more energetic apparently reaching the top of the bridge towers!).
Sources : Peter Darke, Chris Harley & Ian Clark (SLS)



Photo Review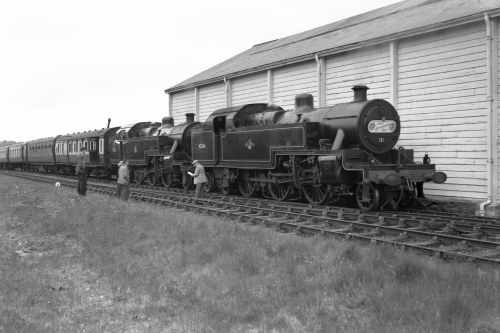 42356 & 42366 at Bethesda (photo: The Mike Morant Collection)

From The John Debens Ticket Collection.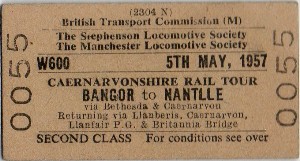 Timings (Booked Only)
(from Ian Clark (SLS))
Public Excursion
| | | |
| --- | --- | --- |
| Location | Booked (out) | Booked (rtn) |
| Manchester Exchange | 09.35d | 22.03a |
| Eccles | ??.??a ~ 09.45d | 21.52a ~ ??.??d |
| Chester General | 10.35a ~ 10.40d | 20.53a ~ ??.??d |
| Colwyn Bay | 11.32a ~ ??.??d | ??.??a ~ 20.07d |
| Llandudno Junction | ??.??a ~ ??.??d | ??.??a ~ ??.??d |
| Conway | ??.??a ~ ??.??d | ??.??a ~ ??.??d |
| Penmaenmawr | ??.??a ~ ??.??d | ??.??a ~ ??.??d |
| Llanfairfechan | 12.03 (?a or d?) | 19.40 (?a or d?) |
| Bangor | 12.14a | 19.30d |
S.L.S. Tour
| | |
| --- | --- |
| Location | Booked |
| Bangor | 12.45d |
| Bethesda | 13.05a ~ 13.30d |
| Nantlle | 14.35a ~ 15.20d |
| Llanberis | 16.30a ~ 17.00d |
| Britannia Bridge | 17.58a ~ 18.40d |
| Bangor | 18.45a |