27th April 1957
Stephenson Locomotive Society (Midland Branch)
Nottinghamshire Coalfield Rail Tour
| | |
| --- | --- |
| Loco(s) Used | at least 84006 |
| Stock Used | 3x LMS non-corridor push-pull coaches |
Route : reporting code M750 throughout
| | |
| --- | --- |
| Loco | Route |
| 84006 | Nottingham Midland - Netherfield Jn - Thurgarton - Fiskerton Jn - Rolleston West Jn - Southwell - Farnsfield Jn - Bilsthorpe Jn - New Ollerton (LMS Loaded Wagons Branch) (1) |
| 84006 | New Ollerton (LMS Loaded Wagons Branch) - Bilsthorpe Jn - Farnsfield Jn |
| 84006 | Farnsfield Jn - Blidworth Jn - Bidworth - Rufford Jn - Mansfield Colliery Jn - Mansfield East Jn - Mansfield South Jn - Sutton Junction - Kirkby-in-Ashfield - Hucknall (Byron?) - Bestwood Park Jn |
| 84006 | Bestwood Park Jn - Papplewick Jn - Calverton Colliery |
| 84006 | Calverton Colliery - Papplewick Jn - Bestwood Park Jn - Bulwell - Radford - Lenton North Jn - Mansfield Jn - Nottingham Midland |
Notes :
(1) Although referred to in the timing sheet as Ollerton Colliery, Richard Maund has confirmed the actual reversal point was at New Ollerton (LMS Loaded Wagons Branch) and not what some published Atlas's show as Ollerton Colliery (LMS Empty Wagons Branch).
(2) Route confirmation required. As push-pull stock was used it is likely that 84006 was used throughout - at least it was on the train at; Nottingham, Bilsthorpe, New Ollerton and Calverton Colliery.
Sources : Howard Sprenger (courtesy of Mike Morant), Peter Darke & John Debens



Photo Review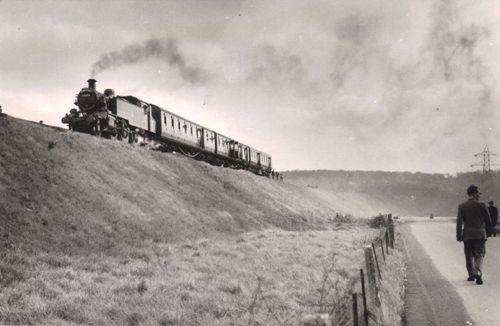 84006 at New Ollerton (end of the Joint Line, looking back towards where
the line crossed the LD&ECR)
(photo: W.A. Camwell / © Stephenson Locomotive Society)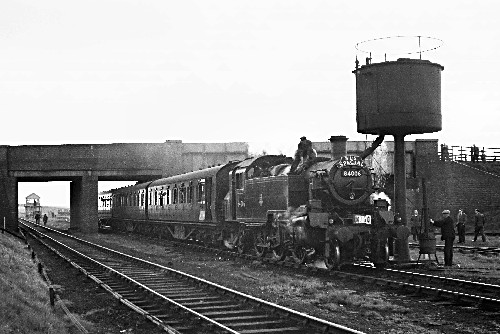 84006 being watered at Bilsthorpe (photo: Mike Morant Collection)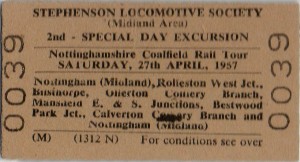 From The John Debens Ticket Collection.


Timings (Booked Only)
(from John Debens)
| | |
| --- | --- |
| Location | Booked |
| Nottingham Midland | 14.53d |
| Fiskerton Jn | 15/12 [GL] |
| Rolleston West Jn | 15/17 |
| Southwell | 15.22 ~ 15.23 |
| Kirklington | 15/30 |
| Farnsfield | 15.35 ~ 15.36 |
| Bilsthorpe | 15w46 ~ 15w51 |
| Ollerton Colliery (1) | 16.05 ~ 16.10 |
| Bilsthopre | 16/25 |
| Farnsfield | 16.33 ~ 16.34 |
| Blidworth Jn | 16/42 |
| Blidworth | 16/44 |
| Rufford Jn | 16/47 |
| Mansfield Colliery Jn | 16/51 |
| Mansfield East Jn | 16/55 |
| Mansfield South Jn | 16/58 |
| Sutton Jn | 17/04 |
| Kirkby-in-Ashfield | 17/08 |
| Hucknall | 17/17 |
| Bestwood Park Jn | 17w23 ~ 17w31 |
| Papplewick Jn | 17/38 |
| Calverton Colliery Jn | 17.56 ~ 18.05 |
| Papplewick Jn | 18/23 |
| Bestwood Park Jn | 18/30 |
| Radford | 18/40 |
| Nottingham Midland | 18.45a |