14th April 1957
Railway Enthusiasts Club
The Charnwood Forester /
Bedford & Hitchin Branch Centenarian
| | |
| --- | --- |
| Locos Used | 43728, 58209, 60032 'Gannet', 67357 & 67380 |
| Stock Used | 5 coaches (BR mark 1 plus Cafeteria Car) (4) |
Route : Reporting Number 980 throughout
| | |
| --- | --- |
| Loco | Route |
| 60032 | London Kings Cross - Hitchin - Huntingdon - Holme |
| 67380 | Holme - St Mary's - Ramsay North |
| 67380 | Ramsay North - St Mary's - Holme |
| 67357 | Holme - Fletton Jn - Peterborough North - Werrington Jn - Essendine |
| 67357 | Essendine - Ryhall & Belmisthorpe - Stamford - Luffenham - Seaton - Rockingham - Drayton Jn - Welham Jn - Market Harborough |
| 43728 | Market Harborough - Wigston - Knighton South Jn - Saffron Lane Jn - Kirby Muxloe - Desford Jn - Desford |
| 58209 | Desford - Desford Jn - Glenfield |
| 58209 | Glenfield - Desford Jn - Desford |
| 43728 | Desfrod - Coalville Jn - Coalville Town - Swannington |
| 43728 | Swannington - Coalville Town - Coalville Jn - Charnwood Forest Jn |
| 43728 | Charnwood Forest Jn - Coalville East - Whitwick - Shepshed |
| 43728 | Shepshed - Whitwick - Coalville East - Hugglescote - Heather & Ibstock - Shackerstone - Market Bosworth - Shenton - Nuneaton Abbey Street |
| 43728 | Nuneaton Abbey Street - Nuneaton Trent Valley - Hinckley - Narborough - Wigston - Market Harborough - Kettering - Bedford (3) - Hitchin |
| 60032 | Hitchin - London Kings Cross |
Notes :
(1) Route confirmation required (above is as booked). Outward leg with 60032 was with driver Hoole. Ran as 'The Charnwood Forester' from Kings Cross to Bedford.
(2) Conflicting reports as to the loco which hauled the return trip from Holme to Ramsay North and back - 67357 or 67380, however Howard Cook has confirmed the above to be correct..
(3) At Bedford the tour became the 'Bedford & Hitchin Branch Centenarian'.
(4) Photographic evidence suggests that 5 coaches of LNER corridor stock may also have been used - seen behind 60032 at Kings Cross & Holme, and also behind 67380 at Holme.
Sources : John Clifford, Chris Harley, Stuart Gamble, Peter Darke & Howard Cook



Photo Review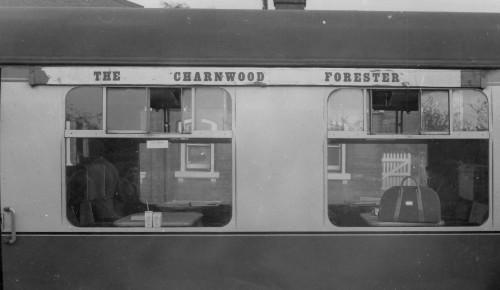 A tour name roof board (photo: The John Debens Collection)

60032 at Holme (Photo: Stuart Gamble/© David Lawrence)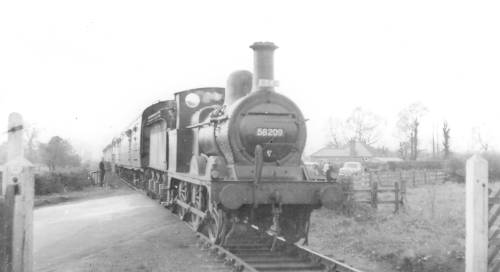 58209 at Desford (Photo: Stuart Gamble/© Kenneth Hunt)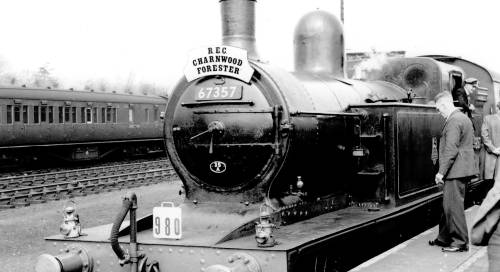 67357 at Seaton (Photo: Stuart Gamble/© Hugh Davies)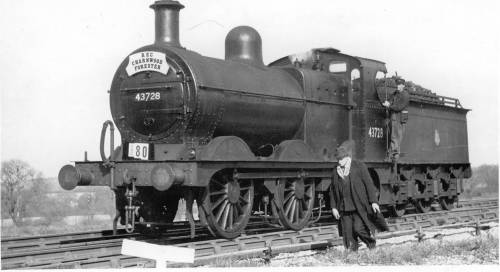 43728 running round at Swannington (Photo: Stuart Gamble/© Ron Hemsley)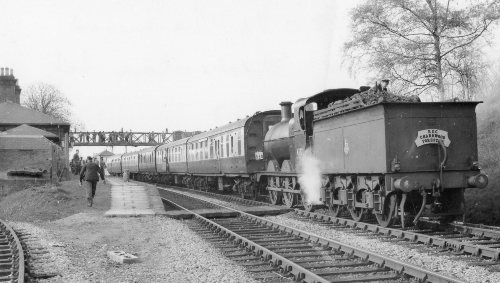 43728 at Shackerstone Junction (Photo: J.J. Davis/John Debens Collection)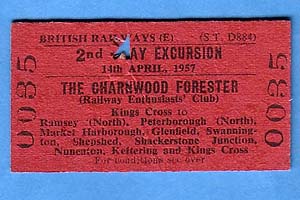 (From Andrew Fairholm's ticket collection)


Timings (Booked Only)
(from Stuart Gamble)
| | |
| --- | --- |
| Location | Booked |
| Kings Cross | 09.00d |
| Holme | 10L13a ~ ??L??d |
| Essendine | 11.53a ~ ??.??d |
| Seaton | ??p??a ~ ??p??d |
| Market Harborough | 13L04a ~ ??L??d |
| Desford | ??L??a ~ ??L??d |
| Desford | ??L??a ~ ??L??d |
| Swannington | ??p??a ~ ??p??d |
| Hugglescote | ??p??a ~ ??p??d |
| Heather & Ibstock | ??p??a ~ ??p??d |
| Shackerstone | ??p??a ~ ??p??d |
| Bedford | ??L??a ~ ??L??d |
| Kings Cross | 20.58a |