5th September 1954
Stephenson Locomotive Society / Manchester Locomotive Society
West Cumberland Rail Tour
| | |
| --- | --- |
| Locos Used | 52494 & 52501 |
| Stock Used | 5x LMS corridor coaches (booked for: 2x BTO + 3x TO) |
Route : W699 Throughout
| | |
| --- | --- |
| Loco(s) | Route |
| 52501 | Sellafield - Egremont - Moor Row |
| 52501 | Moor Row - Cleator Moor Goods - Birks Bridge Jn - Eskett Jn - Rowrah - Ullock Jn - Marron Jn - Workington Bridge Jn - Derwent Jn - Workington Main |
| 52494 (1) | Workington Main - Derwent Jn - Siddick Junction |
| 52501 (2) | Siddick Junction - Dock Jn - Calva Jn |
| 52494 (1) | Calva Jn - Seaton - Buckhill |
| 52501 (2) | Buckhill - Seaton - Calva Jn - Cloffocks Jn - Workington Central |
| 52501 | Workington Central - Harrington Jn - Distington - Moresby Parks - Cleator Moor Jn - Moor Row - Mirehouse Jn - Whitehaven Corkickle |
Notes :
(1) 52501 on rear.
(2) 52494 on rear.
(3) There was also a ticket issued for the Ravenglass & Eskdale Railway. Peter Darke has a photos of Muir Hill petrol loco 396 at Dalegarth (but this may not have been the train used by tour participants) and 'River Irt' approaching Ravenglass (probably the excursion).
(4) Originally uploaded as having run on 9th September, in error. It had been planned to use 52494 throughout but this was not possible as the authorities felt the loco was not in good enough condition and there would have been risk of delays occurring as a result.
(5) The E.C.S. moves from Workington Main to Sellafield (outward) and Whitehaven Corkickle to Workington Main (return) were available to passengers upon payment of a day fare.
Sources : Peter Robinson, Peter Darke & Ian Clark (SLS)



Photo Review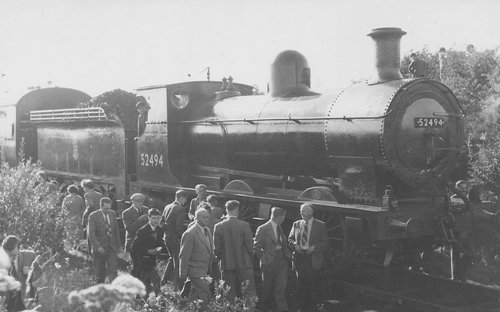 52494 and participants at Buckhill (photo: The John Debens Collection)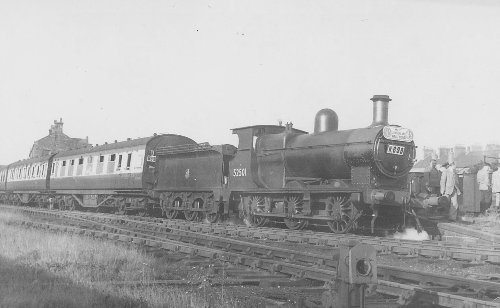 52501 at an unspecified location (photo: The John Debens Collection)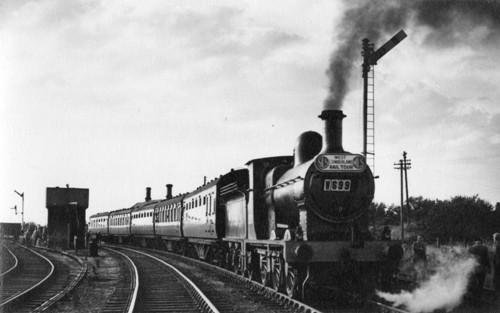 The tour at Distington, before the final run to Whitehaven and Corkickle
with no. 52501 in charge (photo: E.D.Bruton/The John Debens Collection)
From The John Debens Ticket Collection.


Timings (Booked & Actual)
(from Ian Clark (SLS)/MLS Library Collection & John Debens)
| | | |
| --- | --- | --- |
| Location | Booked | Actual |
| Sellafield | 13.20d | 13.36 |
| Beckermet Mines Jn | 13/27 | ? |
| Florence Pit Siding | 13/30 | ? |
| Egremont | 13/34 | 13/50 |
| Woodend | 13/37 | 13/53 |
| Moor Row | 13.42 ~ 14.00 | 13.57 ~ 14.16 |
| Moor Row No.1 | 14/03 | ? |
| Rowrah | 14.25 ~ 14.26 | 14.42½ ~ 14.55 |
| Ullock | 14.45 ~ 14.55 | ? |
| Marron Jn | 15.23 ~ 15.25 | 15/20 |
| Derwent Jn | 15/37 | ? |
| Workington Main | 15L40 ~ 16L25 | 15.35 ~ 16.26 |
| Siddick Jn | 16.30 ~ 16.32 | 16.31 ~ 16.32½ |
| Calva Jn | 16.37 ~ 16.40 | 16.38 ~ 16.40 |
| Buckhill Colliery | 17.05 ~ 17.15 | 16.55 ~ 17.19 |
| Calva Jn | 17.40 ~ 17.42 | 17.32½ ~ 17.44 |
| Workington Central | 17L49 ~ 17L55 | 17.47 ~ 17.56 |
| Harrington Jn | 18/00 | ? |
| Distington | 18.05 ~ 18.15 | 18.07 ~ 18.20 |
| Cleator Moor Jn | 18/30 | ? |
| Moor Row | 18/35 | 18/36 |
| Whitehaven Corkickle | 18.45a | 18.45 |
'Half Day Excursion Train' (Service Train) Timings
| | | |
| --- | --- | --- |
| Location | Booked (out) | Booked (rtn) |
| Manchester Victoria | 09.25d | 23.17a |
| Bolton | ??.??a ~ 09.49d | 22.55a ~ ??.??d |
| Chorley | ??.??a ~ ??.??d | ? |
| Leyland | ??.??a ~ ??.??d | ? |
| Preston | ??.??a ~ 10.30d | 22.12a ~ ??.??d |
| Lancaster Castle | ??.??a ~ 10.58d | 21.40a ~ ??.??d |
| Carnforth | ??.??a ~ 11.09d | 21.31a ~ ??.??d |
| Grange-over-Sands | ??.??a ~ 11.25d | ??.??a ~ ??.??d |
| Ulverston | ??.??a ~ 11.40d | ??.??a ~ ??.??d |
| Dalton | ??.??a ~ 11.52d | ??.??a ~ ??.??d |
| Dalton Jn | ? [Barrow Avoider] | ? |
| Park South Jn | ? | ? |
| Millom | ??.??a ~ 12.20d | ??.??a ~ ??.??d |
| Seascale | ??.??a ~ 12.50d | ??.??a ~ ??.??d |
| Sellafield | ??.??a ~ ??.??d | ? |
| Whitehaven Corckicle | ??.??a | 19.25d |


Additional E.C.S. & Light Engine Workings
B - Special - Reporting No. W699 (ran as E.C.S. but was usable by passengers upon payment of an additional 'Day Fare')
Booked for 2x BTO + 3x TO; worked throughout by 52501
| | | |
| --- | --- | --- |
| Location | Booked (out) | Booked (rtn) |
| Workington Main | 12.00d | 19.50a |
| Moss Bay Iron Works | 12/03 | 19/47 |
| Whitehaven Bransty | 12.15 ~ 12.18 | 19.33 ~ 19.34 |
| Whitehaven Corkickle | 12/23 | 19.28d |
| St Bees | 12/32 | - |
| Nethertown | 12/37 | - |
| Sellafield | 12.45a | - |
G - Light Engine (52494)
| | |
| --- | --- |
| Location | Booked |
| Workington Central | 18.00d |
| Siddick Jn | 18.05 ~ 18.06 |
| Workington Shed | 18.10a |