25th April 1953
Stephenson Locomotive Society (North Western Area) /
Manchester Locomotive Society
High Peak Rail Tour
Locos Used
43618, 47000, 58077, 58856 & 58860
Stock Used
[1] : open wagons
[2] : 4 corridor coaches (booked for 2 coaches)
[3] : 4x open wagons + 3x goods brakes (booked for 2x open wagons + 3x goods brakes)
[4] : 2x BTO & 1x TO (open corridor coaches)
Route :
M700 : Wirksworth to Wirksworth
M839 : Friden Top to Buxton (LNWR)
| | | |
| --- | --- | --- |
| Loco(s) | Stock | Route |
| 47000 | [1] | Top of Sheep-pasture - foot of Middleton incline |
| 58077 | [2] | Wirksworth - Duffield |
| 58077 | [2] | Duffield - Wirksworth |
| 58860 + 58856 | [3] | Middleton Top - Hopton Top |
| 58856 | [3] | Hopton Top - Longcliffe - Friden |
| 43618 | [4] | Friden - Parsley Hey - Hindlow - Old Harpur - Ladmanlow |
| 43618 | [4] | Ladmanlow - Old Harpur - Hindlow |
| 43618 | [4] | Hindlow - Buxton (LNWR) |
Notes :
(1) The 130 or so passengers assembled at Matlock station using either service train arrivals at 10.12 or 10.21 from where they were to be transferred by bus to Cromford Wharf. After inspecting the workshops at Cromford Wharf the tour participants set-off on foot to ascend the Sheep-pasture incline. At the top 47000 took the participants the 1¼ miles to the foot of Middleton incline. Foot power was again used to get to Middleton Top to look at the engine house. Lunch was taken a mile away in Wirksworth, reached once again on foot. After the round trip with 58077 to Duffield it was leg-power again up the hill to Middleton Top to get the train to Hopton Top and onwards to Buxton.
(2) Due to this tour being a sell-out, a repeat trip on 27th June 1953 was organised.
Sources : John Clifford (from contemporary sources) & Ian Clark (SLS)



Photo Review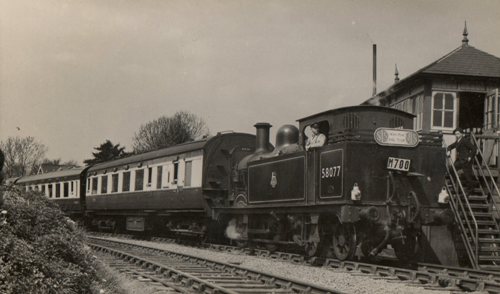 58077 posing by Duffield SB (photo: The John Debens Collection)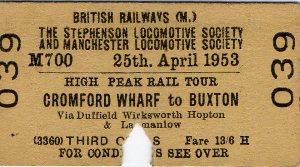 From The John Debens Ticket Collection.


Timings (Booked Only)
(from John Debens & Ian Clark (SLS))
Miles
Location
Booked
Actual
0
Matlock
10.??am
?

by bus

?

Cromford Wharf
10.45a ~ 11.15d
? ~ ?

on foot over route of
Cromford & High Peak Railway

?

Middleton Top
12.45a
?

on foot

0

Wirksworth
??.??a ~ 13.30d
??.?? ~ 13.31

8¼
0

Duffield
13.55a ~ 14.05d
??.?? ~ 14.15

8¼

Wirksworth
14.30a
?

on foot (plus cars and taxi!)

0

Middleton Top
15.25d
(15.25)
1½
Hopton Top
15L35 ~ 15L37
?
?
15w50 ~ 15w55
?
9
0
Friden
16.25a ~ 16.35d
?
2½
Parsley Hay
16x45
?
8
Hindlow
17w03 ~ 17w09
?
9¾
Harpur Hill
5x20
?
10½
Old Harpur
5x26
?
12¼
Ladmanlow
17.40 ~ 18.15
?
14
Old Harpur
18x30
?
14¾
Harpur Hill
18x40
?
16½
Hindlow
18w50 ~ 19w05
?
20¼
Buxton (LNWR)
19.15a
19.05