23rd August 2017
Railway Touring Company
The Dorset Coast Express
| | |
| --- | --- |
| Locos Used | 47746 'Chris Fudge' & steam: 60009 'Union of South Africa' |
| Stock Used | 35486+13320+3058+99712+99350+99121+5229+1860+4940+99723 |
Route :
1Z67 : London Victoria to Weymouth
1Z69 : Weymouth to Clapham Junction
| | |
| --- | --- |
| Loco(s) | Route |
| 60009 (1) | London Victoria - Grosvenor Bridge Jn - Stewarts Lane Jn - Longhedge Jn - Latchmere Jn - Kensington Olympia - North Pole Jn - Mitre Bridge Jn - Willesden SW Sidings - Acton Wells Jn - Kew East Jn - Brentford - Hounslow - Feltham - Staines - Virginia Water - Addlestone Jn - Byfleet & New Haw - Woking - Farnborough Main - Basingstoke - Worting Jn - Winchester - Eastleigh - St Denys - Southampton Central - Redbridge - Brockenhurst - Bournemouth - Poole - Wareham - Dorchester South - Weymouth |
| 47746 (2) | Weymouth - (reverse of outward route) - Millbrook (4) |
| 60009 (1) | Millbrook - Redbridge - Romsey - Dean - Laverstock South Jn - Laverstock North Jn - Andover - Worting Jn - Basingstoke - Farnborough Main - Woking - Byfleet & New Haw - Addlestone Jn - Virginia Water - Staines - Feltham - Hounslow - Brentford - Barnes - Clapham Junction |
Notes:
(1) 47746 on rear.
(2) 60009 on rear.
(3) Delays in the Wool area, caused by a damaged bridge.
(4) Reversal actually took place on the up fast line at Millbrook.
(5) Timings revised due to major engineering works at London Waterloo. The outward route is normally via Clapham Junction and Barnes, returning to London Waterloo via Surbiton.
Source : Nick Bartlett (on the tour throughout)



Photo Review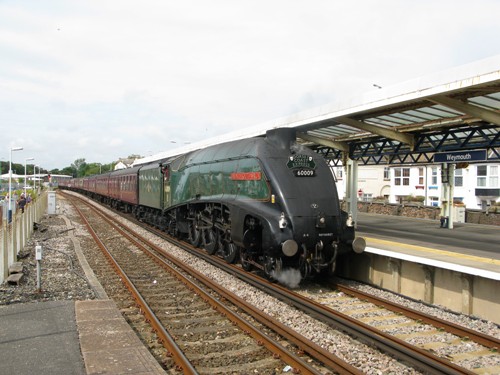 60009 & 47746 on arrival into Weymouth (photos: Nick Bartlett)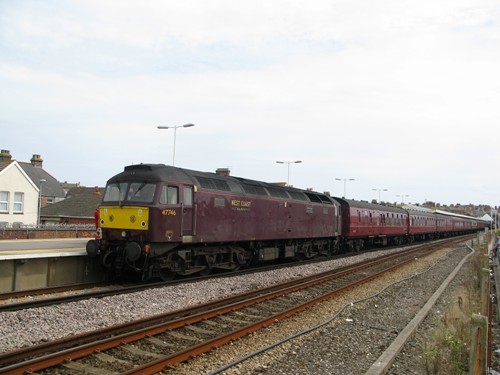 Timings (Booked & Actual)
(from Realtime Trains)
| | | | | | |
| --- | --- | --- | --- | --- | --- |
| Location | Booked (revised) | Actual | | Booked (revised) | Actual |
| London Victoria | 08.14d [P2] [FL] | 08.20 [P2] | | - | - |
| Grosvenor Bridge Jn | 08/18 | 08/23 | | - | - |
| Stewarts Lane Jn | 08/22 [RVL] | 08/25 [RVL] | | - | - |
| Longhedge Jn | 08/26 | 08/27 | | - | - |
| Latchmere Jn | 08/29 | 08/28 | | - | - |
| Kensington Olympia | 08/36½ [P2] | 08/35 [P2] | | - | - |
| North Pole Jn | 08/41 | 08/41 | | - | - |
| Mitre Bridge Jn | 08/43 | 08/43 | | - | - |
| Willesden SW Sidings | 08/47 | 08/45 | | - | - |
| Acton Wells Jn | 08/49 | 08/47 | | - | - |
| South Acton Jn | 08/54 | 08/52 | | - | - |
| Kew East Jn | 08/56 | 08/55 | | - | - |
| Clapham Junction | - | - | | 21.47a [P3] | 21.50 [P3] |
| Barnes | - | - | | 21/38 [P1] [UWS] | 21/39 [P1] [UWS] |
| Brentford | 09/01 [P2] | 09/00 [P2] | | 21/33 [P1] | 21/29 [P1] |
| Hounslow | 09/07 [P2] | 09/06 [P2] | | 21/28 [P1] | 21/24 [P1] |
| Feltham Jn | 09/10½ | 09/11 | | 21/25 | 21/22 |
| Feltham | 09/12½ [P2] | 09/14 [P2] | | 21/23 [P1] | 21/19 [P1] |
| Staines | 09.21a ~ 09.23d [P2] | 09.23 ~ 09.27 [P2] | | 21.13a ~ 21.15d [P1] | 21.09 ~ 21.12 [P1] |
| Virginia Water | 09/33 [P4] | 09/36 [P4] | | 21/02 [P3] | 20/59 [P3] |
| Addlestone Jn | 09/42 | 09/46 | | 20/52 | 20/48 |
| Byfleet & New Haw | 09/46½ [P2] [DS] | 09/48 [P2] [DS] | | 20/50 [US] | 20/47 [US] [P1] |
| Woking | 10.00a ~ 10.04d [P5] [DS] | 10.01 ~ 10.07 [P5] [DS] | | 20.42a ~ 20.44d [P1] [US] | 20.37 ~ 20.39 [P1] [US] |
| Woking Jn | 10/06 [DS] | 10/09 [DS] | | 20/40 [US] | 20/36 [US] |
| Pirbright Jn | 10/12 [DS] | 10/16 [DS] | | 20/27½ [US] | 20/29 [US] |
| Farnborough (Main) | 10/16 [P2] [DS] | 10/20 [P2] [DS] | | 20/21½ [P1] [US] | 20/26 [P1] [US] |
| Fleet | 10/20 [P2] [DS] | 10/24 [P2] [DS] | | 20/17 [P1] [US] | 20/23 [P1] [US] |
| Winchfield | 10w25 ~ 10w36 [P2] [DS] | 10.29 ~ 10.43 [P2] [DS] | | 20/13½ [P1] [US] | 20/19 [P1] [US] |
| Basingstoke | 10.51a ~ 10.53d [P1] [DS] | 10.54 ~ 11.18 [P1] [DS] | | 19w52a ~ 20w04d [P4] [US] | 19.56 ~ 20.09 [P4] [US] |
| Worting Jn | 10/58 [DF] | 11.26 ~ 11.27 | | 19/47 [US] | 19.39 ~ 19.49 [US] |
| Winchester | 11/14 [P2] | 11/45 [P2] | | - | - |
| Shawford Jn | 11/19 [DS] | 11/47 [DF] | | - | - |
| Eastleigh | 11/36 [P2] | 11/52 [DF] | | - | - |
| St Denys | 11/42 [P2] | 11/56 [P2] | | - | - |
| Northam Jn | 11/49 [DS] | 11/58 [DF] | | - | - |
| Andover | - | - | | 19/26 [P1] | 19/23 [P1] |
| Laverstock North Jn | - | - | | 19/08 | 19/07 |
| Laverstock South Jn | - | - | | 19/04 | 19/06 |
| Dean | - | - | | 18/54 [P2] | 18/57 [P2] |
| Romsey | - | - | | 18/45 [P2] | 18/47 [P2] |
| Redbridge | - | - | | 18/37 [P2] | 18/39 [P2] |
| Southampton Central | 11.53a ~ 11.55d [P4] [DS] | 12/00 [P4] [DF] | | - | - |
| Southampton [Up Goods Loop] | - | - | | 18.26 ~ 18.32 [UGL] | DIV |
| Millbrook | 11/57½ | 12/02 [DF] | | 18/24 [UF] | 18.26 ~ 18.35 [UF] |
| Redbridge | 12/02 [P2] | 12/04 [P2] | | 18/21 [P1] | 18/25 [P1] |
| Beaulieu Road | 12/09 [P2] | 12/11 [P2] | | 18/14 [P1] | 18/18 [P1] |
| Brockenhurst | 12w15a ~ 12w30d [P4] | 12.18 ~ 12.32 [P4] | | 18/09 [P2] | 18/12 [P2] |
| Bournemouth | 12.51a ~ 12.53d [P3] | 12.51 ~ 12.54 [P3] | | 17.48a ~ 17.50d [P2] | 17.47 ~ 17.52 [P2] |
| Branksome | 12/59 [P2] | 13/00 [P2] | | 17/38 [P1] | 17/36 [P1] |
| Poole | 13/05 [P2] | 13/08 [P2] | | 17/27 [P1] | 17/29 [P1] |
| Wareham | 13/13 [P2] | 13/20 [P2] | | 17/13 [P1] | 17/19 [P1] |
| Wool | 13/19 [P2] | 13.35 ~ 13.42 [P2] | | 17/03 [P1] | 17.06 ~ 17.10 [P1] |
| Moreton | 13/25 [P2] | 13/48 [P2] | | 16/57 [P1] | 16/58 [P1] |
| Dorchester South | 13/32 [P1] | 13/56 [P1] | | 16/50 [P1] | 16/50 [P1] |
| Dorchester Jn | 13/35 | 13/57 | | 16/49 | 16/49 |
| Weymouth | 13.45a [P2] | 14.08 [P2] | | 16.35d [P2] | 16.35 [P2] |


Associated E.C.S. Workings
5Z66 : (60009 with 47746 on rear) : Southall to Willesden No.7 Jn
5Z66 : (47746 with 60009 on rear) : Willesden No.7 Jn to London Victoria
5Z71 : (60009 with 47746 on rear) : Clapham Junction to Southall
| | | |
| --- | --- | --- |
| Location | Booked (out) | Booked (rtn) |
| Southall Depot | 06.20d | 23.47a |
| Southall Yard | 06.30 ~ 06.45 | 23.28 ~ 23.37 |
| Southall East Jn | 06/46 | 23/27 |
| West Ealing | 06/48 | 23/23 |
| Acton West | 06/50 | 23/21 |
| Acton Main Line | 06/56 | 23.05 ~ 23.17 |
| Acton Wells Jn | 07/02 | 23/02 |
| Acton Canal Wharf | 07/06 | - |
| Willesden No.7 Jn | 07.10 ~ 07.16 | - |
| Willesden SW Sidings | - | 22.18 ~ 22.58 |
| Willesden West London Jn | 07/19 | 22/08 |
| Mitre Bridge Jn | 07/26 | 22/12 |
| North Pole Jn | 07/27 | 22/11 |
| Kensington Olympia | 07.31 ~ 07.35 | 22.06 ~ 22.07 |
| Latchmere Jn | 07/43 | 22/00 |
| Clapham Junction | - | 21.57d [P3] |
| Longhedge Jn | 07/46 | - |
| Stewarts Lane Jn | 07/51 | - |
| Grosvenor Bridge Jn | 07/57 | - |
| London Victoria | 08.05a [P2] | - |
5Z67 : (47746 with 60009 on rear) : Weymouth to Jersey Sidings
5Z69 : (60009 with 47746 on rear) : Jersey Sidings to Weymouth
| | |
| --- | --- |
| Location | Booked |
| Weymouth | 13.51d [P2] |
| Jersey Sidings | 13.55a ~ 16.22d |
| Weymouth | 16.26a [P2] |