12th August 2017
Railway Touring Company
The West Somerset Steam Express
| | |
| --- | --- |
| Locos Used | D1661 'North Star' & steam: 60009 'Union of South Africa' |
| Stock Used (1) | (35486)+13320+3058+99712+99350+99121+5229+1860+4940+5032+99723 |
Route :
1Z50 : London Paddington to Minehead
1Z51 : Minehead to Slough
| | |
| --- | --- |
| Loco | Route |
| 60009 | London Paddington - Southall - Slough - Maidenhead - Reading - Southcote Jn - Newbury - Bedwyn - Heywood Road Jn - Westbury - Fairwood Jn - Clink Road Jn - Frome - Blatchbridge Jn - Castle Cary - Cogload Jn - Taunton - Norton Fitzwarren - Bishops Lydeard |
| D1661 | Bishops Lydeard - Crowcombe Heathfield - Williton - Blue Anchor - Minehead |
| D1661 | Minehead - (reverse of outward route) - Bishops Lydeard |
| 60009 | Bishops Lydeard - (reverse of outward route) - Westbury - Trowbridge - Bradford Jn - Melksham - Chippenham - Swindon - Didcot Parkway - Reading - Maidenhead - Slough |
Notes :
(1) 35486 was only in the consist when 60009 was on the train.
(2) D1661 replaced the booked loco 53808 due to an air braked only coach in the consist.
(3) The return leg was originally advertised to run via Newbury to London Paddington, but terminated at Slough due to engineering works.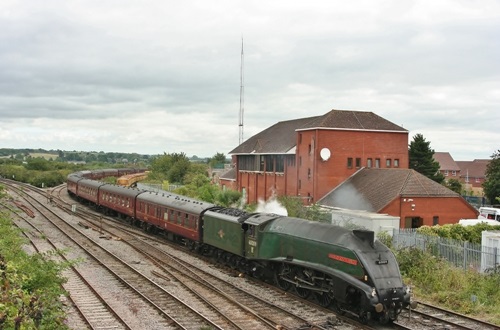 60009 arriving at Westbury on the outward leg (photo: Guy Vincent)
Source : Guy Vincent



Timings (Booked & Actual)
(from Realtime Trains)
| | | | | | |
| --- | --- | --- | --- | --- | --- |
| Location | Booked | Actual | | Booked | Actual |
| London Paddington | 08/08d [P8] | 08.08 | | - | - |
| Royal Oak Jn | 08/09 | 08/10 | | - | - |
| Portobello Jn | 08/10 | ? | | - | - |
| Ladbroke Grove | 08/12 [DR] | 08/11 | | - | - |
| Acton West | 08/16 [DR] | 08/16 | | - | - |
| West Ealing | 08/18½ | ? | | - | - |
| Southall | 08/22 [P3] [DR] | 08/22 | | - | - |
| Heathrow Airport Jn | 08/27 [DR] | 08/26 | | - | - |
| Slough | 08.36a ~ 08.38d [P4] [DR] | 08.34 ~ 08.37 | | 23.19a [P5] | 23.23 |
| Maidenhead | 08/46 [P3] [DR] | 08/46 | | 23/11 [P4] [UR] | 23/14 |
| Twyford | 08/52 [P3] [DR] | 08/53 | | 23/05 [P4] [UR] | 23/07 |
| Kennet Bridge Jn | 08/58 [DR] | 08/58 | | 23/00 [UR] | 23/01 |
| Reading | 09.00a ~ 09.16d [P14] [DFR] | 09.01 ~ 09.16 | | 22.55a ~ 22.58d [P12] | 22.56 ~ 22.59 |
| Oxford Road Jn | 09/19 | 09/20 | | - | - |
| Southcote Jn | 09/22 | 09/22 | | - | - |
| Theale | 09w32 ~ 10w02 [UGL] | ? | | - | - |
| Newbury | 10.19a ~ 10.22d [P1] | 10.16 ~ 10.22 | | - | - |
| Bedwyn | 10/39 [P1] | 10/38 | | - | - |
| Woodborough | 10/53 | 10/51 | | - | - |
| Lavington | 11/03 | 10/59 | | - | - |
| Heywood Road Jn | 11/11 | 11/08 | | - | - |
| Reading West Jn | - | - | | 22/52 [UR] | 22/53 |
| Goring & Streatley | - | - | | 22/44 [P4] [UR] | 22/46 |
| Didcot East Jn | - | - | | 22/36 [UR] | 22/36 |
| Didcot Parkway | - | - | | 22.31a ~ 22.34d [P4] | 22.30 ~ 22.36 |
| Foxhall Jn | - | - | | 22/28 | 22/25 |
| Milton Jn | - | - | | 21w58 ~ 22w24 [UR] | ? ~ 22.19 |
| Steventon | - | - | | 21/55 | 21/59 |
| Wantage Road | - | - | | 21/51 | 21/55 |
| Challow | - | - | | 21/48 | 21/51 |
| Uffington | - | - | | 21/45 | 21/49 |
| Swindon | - | - | | 21/34 [P4] | 21/40 |
| Wootton Bassett Jn | - | - | | 21/24 | 21/34 |
| Chippenham | - | - | | 21/10 [P1] | 21/23 |
| Thingley East Jn | - | - | | 21/07 | 21/21 |
| Thingley Jn | - | - | | 21/05 | 21/19 |
| Melksham | - | - | | 20/59½ | ? |
| Bradford Jn | - | - | | 20/54 | 21/03 |
| Trowbridge | - | - | | 20/52½ [P1] | 20/59 |
| Westbury | 11.18a ~ 11.20d [P1] | 11.12 ~ 11.21 | | 20.44a ~ 20.46d [P3] | 20/53 |
| Fairwood Jn | 11/24 | 11/24 | | 20/39 | 20/51 |
| Clink Road Jn | 11/30 | 11/30 | | 20/34 | 20/46 |
| Frome | 11w33 ~ 11w46 | 11.33 ~ 11.46 | | 20w19 ~ 20w31 | 20.30 ~ 20.42 |
| Blatchbridge Jn | 11/49 | 11/49 | | 20/16 | 20/28 |
| East Somerset Jn | 11/54 | 11/55 | | 20/11 | 20/23 |
| Castle Cary | 12/03 [P2] | 12/04 | | 20/02 [P1] | 20/06 |
| Somerton GF | 12/12 | 12/12 | | 19/51 | 19/55 |
| Athelney LC | 12/20 | 12/21 | | 19/42 | 19/47 |
| Cogload Jn | 12/23 | 12/24 | | 19/39 | 19/43 |
| Taunton | 12.28a ~ 12.36d [P2] | 12.29 ~ 12.37 | | 19.30a ~ 19.32d [P2] | 19.25 ~ 19.27 |
| Norton Fitzwarren | 12/41 [RL] | 12/41 | | 19/25 [RL] | 19/15 |
| Bishops Lydeard | 12L51a ~ 13L20d | 12.51 ~ ??.?? [P2] | | 18L33a ~ 19L10d | ??.?? ~ 19.05 |
| Crowcombe Heathfield | 13.35 ~ 13.48 | ? | | 18/23 | ? |
| Williton | 14/00 | ? | | 18/05 | ? |
| Blue Anchor | 14.25 ~ 14.27 | ? | | 17.30 ~ 17.42 | ? |
| Dunster | ? | ? | | ? | ? |
| Minehead | 14.42a | ? | | 17.15d | ? |


Associated E.C.S. Workings
5Z50 : (????? with 60009 on rear) : Southall to London Paddington
| | |
| --- | --- |
| Location | Booked |
| Southall Depot | 06.44d |
| Southall Yard | 06.54 ~ 07.04 |
| Southall East Jn | 07/05 |
| Hanwell Bridge Loop | 07.07 ~ 07.17 |
| Hanwell | 07/19 |
| West Ealing | 07/22 |
| Acton West | 07/25 |
| Ladbroke Grove | 07/33 |
| Portobello Jn | 07/34 |
| Royal Oak Jn | 07/36 |
| London Paddington | 07.40a [P8] |
5Z52 : (60009) : Slough to Southall
| | |
| --- | --- |
| Location | Booked |
| Slough | 23.23d [P5] |
| Heathrow Airport Jn | 23/33 |
| Southall West Jn | 23/45 |
| Southall Yard | 23.48 ~ 23.51 |
| Southall Depot | 00.01a |