5th July 2017
UK Railtours
The Bournemouth Belle
| | |
| --- | --- |
| Locos Used | 66185 'DP World London Gateway' & steam: 35028 'Clan Line' |
| Stock Used | 17096+6313+99536+99539+99546+99532+99530+99535+99537+99534+99541+99543+99545 |
Route :
1Z67 : London Waterloo to Bournemouth
1Z28 : Bournemouth to London Waterloo
| | |
| --- | --- |
| Loco(s) | Route |
| 35028 | London Waterloo - Clapham Junction - Wimbledon - Surbiton - Weybridge - Woking - Farnborough Main - Basingstoke - Worting Jn - Winchester - Eastleigh - St Denys - Southampton Central - Redbridge - Brockenhurst - Bournemouth |
| 66185 (1) | Bournemouth - Brockenhurst - Redbridge - Southampton [Up Goods Loop] |
| 35028 | Southampton [Up Goods Loop] - Redbridge - Romsey - Dean - Laverstock South Jn - Laverstock North Jn - Andover - Worting Jn - Basingstoke - (reverse of outward route) - London Waterloo |
Notes:
(1) 35028 on rear.
(2) This tour marked exactly 50 years to the day that the 'Bournemouth Belle' was last steam hauled, and that 35028 'Clan Line hauled its last train in British Railways service on 05/07/1967.
(3) Pullman Car 'Lucille' (99541) was also in the consist of the original train, 50 years ago.
(4) Route confirmation required - above is from booked timings.
Source : David Lodwick (on the tour throughout)



Photo Review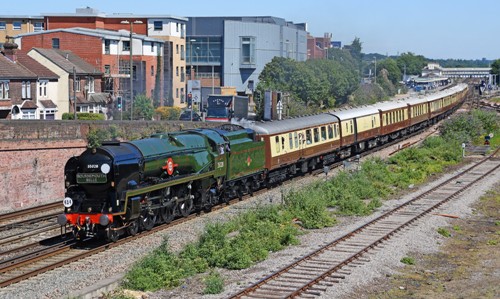 35028 'Clan Line' passing Eastleigh with the outward leg (photo: Mark V. Pike)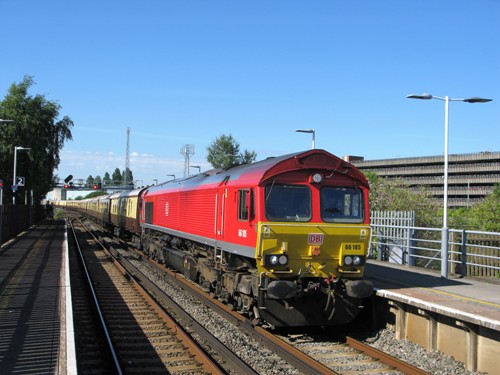 66185 at Poole on 5Z28 E.C.S. to Bournemouth (photo: Nick Bartlett)


Timings (Booked Only)
(from Realtime Trains)
| | | | | | |
| --- | --- | --- | --- | --- | --- |
| Location | Booked | Actual | | Booked | Actual |
| London Waterloo | 09.52d [P19] [WFL] | | | 21.23a [P19] | |
| Nine Elms Jn | 09/58 [WL] | | | 21/15 | |
| Queenstown Road | 09/59 [P3] [DMF] | | | 21/13 [P2] [WL] | |
| Clapham Junction | 10/03 [P9] [DF] | [P9] [DF] | | 21/08 [P8] [UMF] | |
| Wimbledon | 10/08 [P7] [DF] | | | 21/03 [P6] [UF] | |
| New Malden | 10/10 [DF] | | | 21/00 | |
| Surbiton | 10/12 [DF] | | | 20/57 [P2] [UF] | |
| Hampton Court Jn | 10/13 | | | 20/55 | |
| Woking | 10/23 [P4] [DF] | | | 20/44 [P2] | [P2] |
| Woking Jn | 10/24 [DF] | | | 20/43 | |
| Farnborough (Main) | 10/33 [DF] | | | 20/35 | |
| Basingstoke | 10/46 [P2] [DF] | | | 19w52 ~ 20w20 [P4] [UF] | |
| Worting Jn | 10/49 | | | 19/47 [US] | |
| Winchester | 11/04 [P2] | | | - | - |
| Shawford Jn | 11/07 | | | - | - |
| Eastleigh | 11/11 [DF] | [DF] | | - | - |
| St Denys | 11/16 | | | - | - |
| Northam Jn | 11/19 | | | - | - |
| Andover | - | - | | 19/24 [P1] | |
| Laverstock North Jn | - | - | | 19/06 | |
| Laverstock South Jn | - | - | | 19/03 | |
| Dean | - | - | | 18/53 [P2] | [P2] |
| Romsey | - | - | | 18/44 [P2] | |
| Redbridge | - | - | | 18/36 [P2] | [P2] |
| Southampton Central | 11/22 [P4] | [P4] | | - | - |
| Southampton Down Loop | 11w24 ~ 11w54 [DGL] | | | - | - |
| Southampton Up Loop | - | - | | 18.12 ~ 18.30 [UGL] | |
| Redbridge | 11/59 [P2] | [P2] | | 18/07 [P1] | [P1] |
| Brockenhurst | 12/11 [P3] | [P3] | | 17/55 [P2] | |
| Bournemouth | 12.29a [P3] | [P3] | | 17.36d [P2] | [P2] |


Associated E.C.S. & Light Engine Workings
5Z66 : (67005 with 35028 on rear) : Stewarts Lane T&RSMD to Battersea Loop
5Z66 : (35028 with 67005 on rear) : Battersea Loop to Kensington Olympia
5Z66 : (67005 with 35028 on rear) : Kensington Olympia to London Waterloo
5Z29 : (????? with 35028 on rear) : London Waterloo to Kensington Olympia
5Z29 : (35028 with ????? on rear) : Kensington Olympia to Battersea Loop
5Z29 : (????? with 35028 on rear) : Battersea Loop to Stewarts Lane T&RSMD
| | | | | |
| --- | --- | --- | --- | --- |
| Location | Booked | Actual | | Booked |
| Stewarts Lane T&RSMD | 07.40d | | | 23.01a |
| Stewarts Lane Jn | 07/47 | | | 22/56 |
| Battersea Loop | 07.50 ~ 08.18 | | | 22.33 ~ 22.53 |
| Stewarts Lane Jn | 08/21 | | | 22/30 |
| Longhedge Jn | 08/25 | | | 22/28 |
| Latchmere Jn | 08/28 | | | 22/22 |
| Kensington Olympia | 08.35 ~ 09.03 [DM] | [DM] | | 22.07 ~ 22.15 [DM] |
| Latchmere Jn | 09/09 | | | 22/00 |
| West London Jn | 09/11 | | | 21/52 |
| Nine Elms Jn | 09/14 | | | 21/49 |
| London Waterloo | 09.25a [P19] | | | 21.44d [P19] |
5Z67 : (35028) : Bournemouth to Poole Sidings
5Z28 : (66185 with 35028 on rear) : Poole Sidings to Bournemouth
| | | |
| --- | --- | --- |
| Location | Booked (out) | Booked (rtn) |
| Bournemouth | 12.37d [P3] | 17.29a [P2] |
| Branksome | 12/44 | 17/24 |
| Poole | 12.50 ~ 12.51 | 17.15 ~ 17.16 |
| Poole Sidings | 12.54a | 17.12d |
0Z27 : (66185) : Eastleigh Yard to Poole Sidings
| | |
| --- | --- |
| Location | Booked |
| Eastleigh Yard | 14.30d |
| Bournemouth | 15/48 |
| Poole Sidings | 16.04a |