3rd June 2017
UK Railtours
The Broadsman
| | |
| --- | --- |
| Locos Used | 66707 'Sir Sam Fay' & 66771 |
| Stock Used | 21269+3120+3066+1691+3097+3068+3123+1651+3098+1832+4927+4946 |
Route :
1Z92 : London London Kings Cross to Hoveton & Wroxham
1Z95 : Hoveton & Wroxham to London London Kings Cross
| | |
| --- | --- |
| Loco(s) | Route |
| 66771 (1) | London Kings Cross - Finsbury Park - Potters Bar - Stevenage - Hitchin - Letchworth - Royston - Shepreth Branch Jn - Cambridge - Ely - Ely North Jn - Brandon - Thetford - Wymondham - Trowse Jn - [via Wensum Curve] - Wensum Jn - Whitlingham Jn - Hoveton & Wroxham |
| 66707 (2) | Hoveton & Wroxham - (reverse of outward route) - Ely North Jn - Ely West Jn - March - Peterborough - Peterborough Sig.P466 (4) |
| 66771 (1) | Peterborough Sig.P466 - Peterborough - Huntingdon - Sandy - Hitchin - Stevenage - Hertford North (5) - Gordon Hill - Alexandra Palace - Finsbury Park - London Kings Cross |
Notes :
(1) 66707 on rear.
(2) 66771 on rear.
(3) Off tour options: A cruise on the Norfolk Broads, or a visit to the Bure Valley Railway with locos 1 'Wroxham Broad', 6 'Blickling Hall' & 9 'Mark Timothy' in use.
(4) The tour reversed on the up slow line, rather than Peterborough West Yard as shown in the tour brochure.
(5) The return leg was diverted via Hertford North, due a suicidal person on Digswell Viaduct.
Sources : David Lodwick & Nick Bartlett (both on the tour throughout)



Photo Review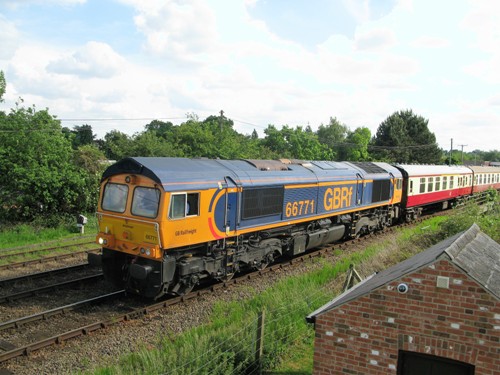 66771 on 5Z94 ECS at Hoveton & Wroxham (photo: Nick Bartlett)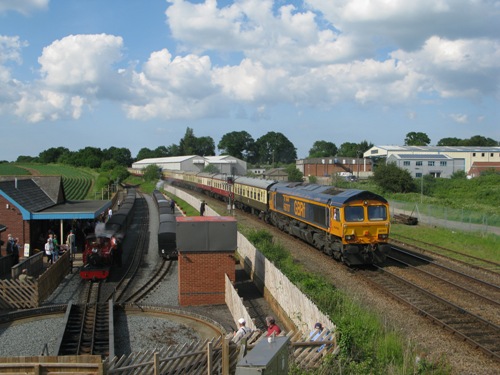 66707 on the rear of 5Z94 at Hoveton & Wroxham (photo: Nick Bartlett)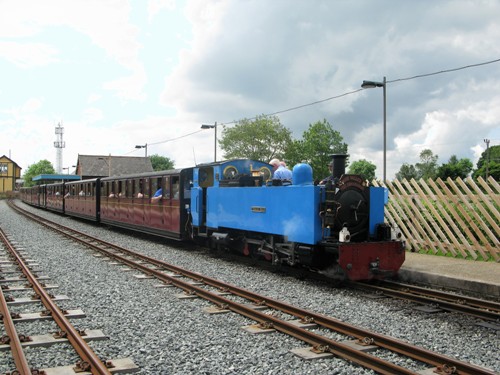 B.V.R. No.1 'Wroxham Broad' at Wroxham (photo: Nick Bartlett)


Timings (Booked & Actual)
(from David Lodwick & Nick Bartlett)
| | | | |
| --- | --- | --- | --- |
| M.C | Location | Booked | Actual |
| 0.00 | London Kings Cross | 07.48d [P1] | 07.47½ [P6] |
| ? | Belle Isle | 07/50 [FL2] [DF] | 07/50 [FL1] [DF] |
| ? | Holloway South Jn | 07/52 [DF-DS] | 07/52 [DF-DS] |
| 2.41 | Finsbury Park | 07/54 [P7] [DS] | 07/53 [DS1] |
| 4.78 | Alexandra Palace | 07/58 [P3] [DS] | 07/56 [P3] [DS] |
| 12.57 | Potters Bar | 08.14a ~ 08.16d [P4] [DS] | 08.14 ~ 08.17 [P4] [DS] |
| 20.25 | Welwyn Garden City | 08.27a ~ 08.29d [P3] [DS] | 08.28 ~ 08.30 [P3] [DS] |
| 21.20 | Digswell Jn | 08/31½ | 08/32 |
| 23.73 | Woolmer Green Jn | 08/34½ [DS] | 08/35 [DS] |
| 27.45 | Stevenage | 08.39a ~ 08.41d [P4] [DS] | 08.40 ~ 08.43 [P4] [DS] |
| 31.74 | Hitchin | 08/46 [P2] [DCF] | 08/48 [P2] [DCF] |
| 34.50 | Letchworth | 08/50½ [P2] | 08/52 [P2] |
| 44.72 | Royston | 09/02 [P2] | 09/01 [P2] |
| 55.26 | Shepreth Branch Jn | 09/15 | 09/12 |
| 57.75 | Cambridge | 09/22 [P1] | 09/22 [TL] |
| 58.74 | Coldham Lane Jn | 09/25 | 09/25 |
| ? | Cambridge North | 09/27 [P2] | 09/26 [P2] |
| 72.22 | Ely Dock Jn | 09/42 | 09.41 ~ 09.43 |
| 72.53 | Ely | 09C43 ~ 09C58 [P2] [UM] | 09.45 ~ 09.58 [P2] [UM] |
| 74.15 | Ely North Jn | 10/01 | 10/02 |
| 88.55 | Brandon | 10/19 [P1] | 10/19 |
| 95.73 | Thetford | 10/26 [P1] | 10/25 [P1] |
| ? | Attleborough | 10/40 [P1] | 10/39 |
| 116.15 | Wymondham | 10/45½ [P1] | 10/44 [P1] |
| 125.23 | Trowse Jn | 11/05 | ? ~ 11.05 |
| 125.66 | Trowse Swing Bridge | 11/06 | 11/07 |
| 126.11 | Wensum Jn | 11/08 | 11/10 |
| 127.28 | Whitlingham Jn | 11/11 | 11/14 |
| 134.18 | Hoveton & Wroxham | 11.22a [P2] ~ 17.06d [P1] | 11.25 [P2] ~ 17.06 [P1] |
| 141.08 | Whitlingham Jn | 17/16 | 17/16 |
| 142.25 | Wensum Jn | 17/18 | 17.20 ~ 17.21 |
| 142.50 | Trowse Swing Bridge | 17/20 | 17/26 |
| 143.13 | Trowse Jn | 17/21 | 17/28 |
| 152.21 | Wymondham | 17/29 [P2] | 17/37 [P2] |
| ? | Attleborough | 17/35 [P2] | ? |
| 172.43 | Thetford | 17/49 [P2] | ? |
| 179.61 | Brandon | 17/56 [P2] | ? |
| 194.21 | Ely North Jn | 18/14 | 18/20 |
| 195.26 | Ely West Jn | 18*17 ~ 18*28 | 18.23 ~ 18.26 |
| 208.63 | March | 18/43 [P1] | 18/49 [P1] |
| ? | March West Jn | 18/44 | 18/50 |
| 217.48 | Whittlesea | 18/53 [P1] | 18/58 [P1] |
| ? | Peterborough East Jn | 19/01 [MI] | 19/03 |
| 223.57 | Peterborough | 19C04 ~ 19C08 [P4] | 19.06 ~ 19.08 [P5] |
| 224.07 | Peterborough Sig.P466 | 19.11 ~ 19.21 [US] | 19.12 ~ 19.25 [US] |
| 224.37 | Peterborough | 19C24 ~ 19C25 [P2] | 19/28 [P2] [UF] |
| ? | Fletton Jn | ? | 19/31 [UF] |
| ? | Holme Jn | ? | 19/37 |
| ? | Connington South Jn | 19/36 | 19/39 |
| 232.38 | Connington Loop | 19*39 ~ 19*45 [US] | 19/43 [US] |
| 241.76 | Huntingdon | 19/56 [P2] [US] | 19/52 [P2] [US] |
| 256.56 | Sandy | 20/09 [P1] [US] | 20/05 [P1] [US] |
| 268.72 | Hitchin | 20/20 [P1] [US] | 20/17 [P1] [US] |
| 273.21 | Stevenage | 20.26a ~ 20.29d [P1] [US] | 20.24 ~ 20.29 [P1] [US] |
| 276.73 | Woolmer Green Jn | 20/33 | DIV |
| 279.46 | Digswell Jn | 20/35 [US] | DIV |
| 280.41 | Welwyn Garden City | 20.39a ~ 20.41d [P2] [US] | DIV |
| 288.09 | Potters Bar | 20.52a ~ 20.54d [P1] [US] | DIV |
| ? | Langley Jn | DIV | 20/32 |
| ? | Hertford North | DIV | 20/40 [P1] |
| ? | Gordon Hill | DIV | 20/48 [P2] |
| 295.68 | Alexandra Palace | 21/06 [P2] [SL2] | 20.55 ~ 20.59 [P1] |
| 298.25 | Finsbury Park | 21/14 [P1] [SL2] | 21/03 [P1] [SL2] |
| ? | Holloway South Jn | 21/19 [UF] | 21/12 [US-UF] |
| ? | Belle Isle | 21/21 [FL2] | 21/14 |
| 300.66 | London Kings Cross | 21.24a [P1] | 21.16 [P1] |


Associated E.C.S. Workings
03/06/17 :
5Z92 : (66771 with 66707 on rear) : Eastleigh Arlington to Hornsey
5Z92 : (66707 with 66771 on rear) : Hornsey to London Kings Cross
| | |
| --- | --- |
| Location | Booked |
| Eastleigh Arlington | 04.19d |
| Eastleigh | 04/24 |
| Winchester | 04/32 |
| Worting Jn | 04/47 |
| Basingstoke | 04/50 |
| Farnborough Main | 05/10 |
| Woking Jn | 05/18 |
| Woking | 05/21 |
| Byfleet & New Haw | 05/26 |
| Addlestone Jn | 05/30 |
| Virginia Water | 05/38 |
| Staines | 05/48 |
| Feltham | 05/53 |
| Feltham Jn | 05/55 |
| Hounslow | 05/57 |
| Brentford | 06/01 |
| Kew East Jn | 06/04 |
| South Acton Jn | 06*05 ~ 06*19 |
| Acton Wells Jn | 06/26 |
| Willesden Junction HL | 06/29 |
| Kensal Green Jn | 06/31 |
| Gospel Oak | 06/44 |
| Junction Road Jn | 06/47 |
| Upper Holloway | 06/50 |
| Harringay Park Jn | 06/52 |
| Harringay | 06/54 |
| Hornsey Sig.K440 | 06.59 ~ 07.10 |
| Harringay | 07/15 |
| Finsbury Park | 07/18 |
| Holloway South Jn | 07/21 |
| Belle Isle | 07/25 |
| London Kings Cross | 07.28a [P1] |
5Z93 : (66771 with 66707 on rear) : Hoveton & Wroxham to North Walsham
5Z93 : (66707 with 66771 on rear) : North Walsham to Norwich Crown Point T&RSMD
5Z94 : (66771 with 66707 on rear) : Norwich Crown Point T&RSMD to North Walsham
5Z94 : (66707 with 66771 on rear) : North Walsham to Hoveton & Wroxham
| | | |
| --- | --- | --- |
| Location | Booked (out) | Booked (rtn) |
| Hoveton & Wroxham | 11.27d [P2] | 17.00a [P1] |
| North Walsham | 11.40 ~ 11.46 | 16.41 ~ 16.47 |
| Hoveton & Wroxham | 12/00 | 16/28 |
| Whitlingham Jn | 12/09 | 16/18 |
| Norwich Crown Point T&RSMD | 12.14a | 16.15d |
5Z96 : (66707 with 66771 on rear) : London Kings Cross to Ferme Park Reception
| | |
| --- | --- |
| Location | Booked |
| London Kings Cross | 21.50d [P1] |
| Belle Isle | 21/54 |
| Holloway South Jn | 21/59 |
| Finsbury Park | 22/00 |
| Harringay | 22/05 |
| Ferme Park Reception | 22.09a |
04/06/17 :
5Z97 : (66771 with 66707 on rear?) : Ferme Park Reception to Eastleigh Arlington
| | | |
| --- | --- | --- |
| Location | Booked | Actual |
| Ferme Park Reception | 08.59d | |
| Harringay | 09/01 | |
| Harringay Park Jn | 09/03 | |
| Upper Holloway | 09/06 | |
| Junction Road Jn | 09/07 | |
| Gospel Oak | 09/09 | |
| Kensal Green Jn | 09/15 | |
| Willesden Junction HL | 09/17 | |
| Mitre Bridge Jn | 09/19 | |
| North Pole Jn | 09/20 | |
| Kensington Olympia | 09/23 | |
| Latchmere Jn | 09/29 | |
| Clapham Junction | 09/31 | |
| Barnes | 09/44 | |
| Richmond | 09/50 | |
| Twickenham | 09/54 | |
| Whitton Jn | 09/57 | |
| Feltham Jn | 09/58 | |
| Feltham | 10/00 | |
| Staines | 10/09 | |
| Virginia Water | 10/18 | |
| Addlestone Jn | 10/25 | |
| Byfleet & New Haw | 10/31 | |
| Woking | 10/38 | |
| Woking Jn | 10/39 | |
| Farnborough Main | 10/47 | |
| Basingstoke | 11/01 | [P2] |
| Worting Jn | 11/06 | |
| Winchester | 11/20 | |
| Eastleigh | 11.29 ~ 11.31 | |
| Eastleigh Arlington | 11.36a | |