17th December 2016
Steam Dreams
The Cathedrals Express
| | |
| --- | --- |
| Locos Used | D6575, 47802 & steam: 6960 'Raveningham Hall' & 34046 'Braunton' (3) |
| Stock Used (4) | (35451)+5222+5200+9104+13440+99352+13320+99347+1666+5236+5249 |
Route :
1Z34 : London Victoria to Minehead
1Z35 : Minehead to London Paddington
| | |
| --- | --- |
| Loco (s) | Route |
| 34046 (1) | London Victoria - Grosvenor Bridge Jn - Stewarts Lane Jn - Longhedge Jn - Latchmere Jn - Kensington Olympia - North Pole Jn - Mitre Bridge Jn - Willesden SW Sidings - Acton Wells Jn - Acton Main Line - Southall - Slough - Maidenhead - Reading - Southcote Jn - Newbury - Heywood Road Jn - Westbury - Fairwood Jn - Clink Road Jn - Frome - Blatchbridge Jn - Castle Cary - Cogload Jn - Taunton - Norton Fitzwarren W.S.R. |
| 6960 (2) | Norton Fitzwarren W.S.R. - Bishops Lydeard - Crowcombe Heathfield - Williton - Blue Anchor - Minehead |
| 6960 (2) | Minehead - (reverse of outward route) - Bishops Lydeard |
| 34046 (1) | Bishops Lydeard - (reverse of outward route) - Blatchbridge Jn - Clink Road Jn - Fairwood Jn - Heywood Road Jn - (reverse of outward route) - Acton Main Line - London Paddington |
Notes :
(1) 47802 on rear.
(2) D6575 on rear.
(3) 34046 running numbered / named as 34052 'Lord Dowding'.
(4) 35451 was only in the consist when 34046 was on the train.
(5) John Clifford comments: The latest brochure showed the train as being hauled by 6201 'Princess Elizabeth', but as this was unavailable 34046 was substituted. Also the train was due to start from London Paddington, but as there was engineering work the train started from London Victoria. On the day, just as the E.C.S. was leaving Southall, a person was hit by a freight train there. Consequently the railway was temporarily shut while investigations were carried out. The E.C.S. arrived at London Victoria late with the train starting about an hour behind schedule. Some time had been made up when I joined the train at Slough. The Newbury Racecourse stop was shortened which made up much time. Nevertheless we had to wait there for two trains to pass us, one of which was the 09.00 Paddington - Plymouth. By this time we were only 10 minutes late, but there was a signal problem in the Westbury area which further delayed us. The Frome water stop took longer than booked as were held at Frome to let the 10.00 Paddington - Penzance go ahead. At Norton Fitzwarren there was a further delay to let late running trains pass, i.e., 08.44 Penzance - Paddington (63 min late) and 11.49 Bristol Temple Meads - Laira E.C.S. (35 min late). On the West Somerset Railway the loco change was made at their Norton Fitzwarren platform instead of Bishops Lydeard. Arrival at Minehead was 22 minutes late. The locos being used on the W.S.R.'s 'Santa Express' were 44422 and 53808. On the return journey we were keeping roughly to time but there was some slow running after Newbury. I could not see that we were following anything so possibly there was a signal problem. There was some engineering works on the route into London, so we lost time arriving back nearly a quarter of an hour late.
Source : John Clifford (joined the tour at Slough) & Guy Vincent



Photo Review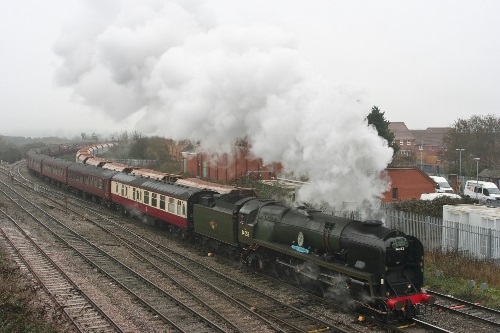 34046 arriving at Westbury on the outward leg (photo: Guy Vincent)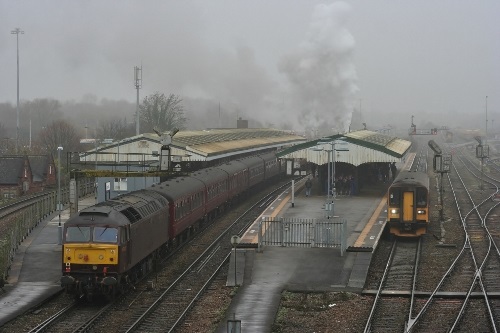 47802 on the rear at Westbury (photo: Guy Vincent)


Timings (Booked & Actual)
(from John Clifford & Realtime Trains)
| | | | | | |
| --- | --- | --- | --- | --- | --- |
| Location | Booked | Actual | | Booked (Revised) | Actual |
| London Victoria | 07.15d [P2] [FL] | 08.12 | | - | - |
| Grosvenor Bridge Jn | 07/19 | ? | | - | - |
| Stewarts Lane Jn | 07/22 [RVL] | ? | | - | - |
| Longhedge Jn | 07/25 | ? | | - | - |
| Latchmere Jn | 07/27 | 08/24 | | - | - |
| Kensington Olympia | 07.35 ~ 07.37 [DM] | 08.29 ~ 08.29 | | - | - |
| North Pole Jn | 07/41 | 08/35 | | - | - |
| Mitre Bridge Jn | 07/42 | 08/37 | | - | - |
| Willesden SW Sidings | 07/46 | ? | | - | - |
| Acton Wells Jn | 07/49 | 08/44 | | - | - |
| London Paddington | - | - | | 23.16a [P11] | 23.28½ [P11] |
| Ladbroke Grove | - | - | | 23/12 [UM] | 23/20 [UM] |
| Acton Main Line | 07/52 [DR] | 08/47 | | 23/07 [UM] | 23/17 [UM] |
| Acton West | 07/54 [DR] | 08/52 | | 23/06 [UM] | 23/16 [UM] |
| Southall | 08/00 [DR] | 08/59 | | 23/01 [UM] | 23/11 [P2] [UM] |
| Southall West Jn | 08/01½ | 08/59½ | | 22/59 [UR-UM] | 23.03 ~ 23.04 [UR-UM] |
| Heathrow Airport Jn | 08/04 [DR] | 09/01 | | 22/55 [UR] | 23/00 [UR] |
| Slough | 08.27a ~ 08.29d [P4] [DR] | 09.11 ~ 09.12 [P4] [DR] | | 22.42a ~ 22.45d [P5] [UR] | 22.48½ ~ 22.50 [P5] [UR] |
| Maidenhead | 08/37 [P3] [DR] | 09/21 [P3] [DR] | | 22/34 [P4] [UR] | 22/41½ [P4] [UR] |
| Twyford | 08.47a ~ 08.49d [P3] | 09.30½ ~ 09.33½ [P3] [DR] | | 22.24a ~ 22.26d [P4] | 22.29 ~ 22.31½ [P4] [UR] |
| Kennet Bridge Jn | 08/57 [DR] | 09/40 [DR] | | 22/17 [UR] | 22/21 [UR] |
| Reading | 08.59a ~ 09.02d [P12] [DFR] | 09.43 ~ 09.45½ [P12] [DFR] | | 22.11a ~ 22.14d [P15] [UR] | 22.15 ~ 22.18 [P15] [UR] |
| Oxford Road Jn | 09/05 | 09/49 | | 22/08 [DFR] | 22/11 [DFR] |
| Southcote Jn | 09/07 | 09/51 | | 22/06 | 22/09 |
| Newbury Racecourse | 09w26 ~ 10w14 [P3] | 10.09½ ~ 10.23 [P3] | | - | - |
| Newbury | 10.19a ~ 10.21d [P1] | 10.28 ~ 10.31 [P1] | | 21.44a ~ 21.47d [P2] | 21.42 ~ 21.45 [P2] |
| Bedwyn | 10/39 [P1] | 10/49 [P1] | | 21/28 [P2] | 21/24½ [P2] |
| Woodborough | 10/52 | 11/04 | | 20w56 ~ 21w13 [UGL] | 20.57 ~ 21.06½ [UGL] |
| Lavington | 11/02 | 11/11½ | | 20/44 | 20/44 |
| Heywood Road Jn | 11/09 | 11.19½ ~ 11.22½ | | 20/37 | 20/36 |
| Westbury | 11.14 ~ 11.16 [P1] | 11.32 ~ 11.34 [P1] | | - | - |
| Fairwood Jn | 11/20 | 11/38 | | 20/34 | 20/30 |
| Clink Road Jn | 11/24 | 11/45 | | 20/27 | 20/26½ |
| Frome | 11w27 ~ 11w39 | 11w48 ~ 12w04½ | | - | - |
| Blatchbridge Jn | 11/42 | 12/09 | | 20/25 | 20/25 |
| East Somerset Jn | 11/47 | 12/15½ | | 20/20 | 20/21 |
| Castle Cary | 11/59 [P2] | 12/24 [P2] | | 20/11 [P1] | 20/11 [P1] |
| Somerton GF | 12/10 | 12/33 | | 20/00 | 20/01½ |
| Athelney LC | 12/19 | 12/41 | | 19/51 | 19/53 |
| Cogload Jn | 12/24 | 12/43½ | | 19/48 | 19/50 |
| Taunton | 12.30a ~ 12.33d [P2] [RL] | 12.50 ~ 12.52 [P2] [RL] | | 19.31a ~ 19.40d [P2] | 19.37 ~ 19.42 [P2] |
| Norton Fitzwarren Jn | 12/39 | 12.57 ~ 13.03 | | 19/25 [RL] | 19.19 ~ 19.26 [RL] |
| Norton Fitzwarren W.S.R. | - | 13L09 ~ 13L42 | | - | - |
| Bishops Lydeard | 12L50 ~ 13L20 | 13/53½ [P1] | | 18L25a ~ 19L05 | 18.24 ~ 19.04 |
| Bishops Lydeard Sig. | - | - | | - | 18.06 ~ 18.21 |
| Crowcombe Heathfield | ? | 14/05 [ML] | | ? | 18/04 [ML] |
| Williton | ? | 14/21 [P1] | | ? | 17/48 [P2] |
| Blue Anchor | ? | 14/40 [DL] | | ? | 17/28½ [UL] |
| Dunster | 14.20a ~ 14.25d | 14.46 ~ 14.50 | | 17.20a ~ 17.25d | 17.19 ~ 17.21½ |
| Minehead | 14.35a [P1] | 14.57 [P1] | | 17.10d [P1] | 17.12½ [P1] |


Associated E.C.S. Workings
5Z34 : (34046 with 47802 on rear) : Southall to Willesden No.7 Jn
5Z34 : (47802 with 34046 on rear) : Willesden No.7 Jn to London Victoria
| | |
| --- | --- |
| Location | Booked |
| Southall Depot | 05.19d |
| Southall Yard | 05.29 ~ 05.41 |
| Southall East Jn | 05/42 |
| West Ealing | 05/45 |
| Acton West | 05/50 |
| Acton Main Line | 05/53 |
| Acton Wells Jn | 05/56 |
| Acton Canal Wharf | 05/58 |
| Willesden No.7 Jn | 06.11 ~ 06.18 |
| Willesden West London Jn | 06/22 |
| Mitre Bridge Jn | 06/25 |
| North Pole Jn | 06/27 |
| Kensington Olympia | 06/31 |
| West Brompton | 06.34 ~ 06.36 |
| Latchmere Jn | 06/41 |
| Longhedge Jn | 06/43 |
| Stewarts Lane Jn | 06/47 |
| Grosvenor Bridge Jn | 06/51 |
| London Victoria | 06.55a [P2] |
5Z36 : (47802 with 34046 on rear) : London Paddington to Southall
| | |
| --- | --- |
| Location | Booked |
| London Paddington | 23.35d [P11] |
| Ladbroke Grove | 23/40 |
| Acton West | 23/44 |
| West Ealing | 23/47 |
| Southall East Jn | 23/52 |
| Southall Yard | 23.54 ~ 00.04 |
| Southall Depot | 00.14a |