17th September 2016
Steam Dreams
The Cathedrals Express (Day 1 of 4)
| | |
| --- | --- |
| Locos Used | 47746 'Chris Fudge' & steam: 6201 'Princes Elizabeth' |
| Stock Used | 99040+5200+9104+13440+99352+13320+1666+5236+5249 |
Route :
1Z82 : London Victoria to Plymouth
1Z84 : Plymouth to Penzance
| | |
| --- | --- |
| Loco(s) | Route |
| 6201 (1) | London Victoria - Grosvenor Bridge Jn - Stewarts Lane Jn - Longhedge Jn - Latchmere Jn - North Pole Jn - Mitre Bridge Jn - Willesden SW Sidings - Acton Wells Jn - Acton Main Line - Southall - Maidenhead - Twyford - Reading - Southcote Jn - Newbury - Westbury - Clink Road Jn - Frome - Blatchbridge Jn - Castle Cary - Cogload Jn - Taunton - Tiverton Parkway - Exeter St Davids |
| 6201 | Exeter St Davids - Dawlish - Teignmouth - Newton Abbot - Totnes - Plymouth - Liskeard - Lostwithiel - Par - Truro - St Austell - Camborne - St Erth - Penzance |
Notes:
(1) 47746 on rear.
(2) This tour was originally advertised to run to Newquay.
(3) This was reported as the first time that a 'Princess Royal' class locomotive had worked in Cornwall.
(4) Days 2 & 3 off train options: visits to Padstow, Tintagel Castle, Eden Project, Lost Gardens of Heligan or Bodmin & Wenford Railway.
Source : Guy Vincent



Photo Review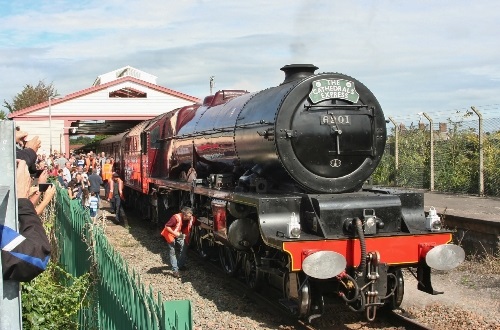 6201 during the water stop at Frome (photo: Guy Vincent)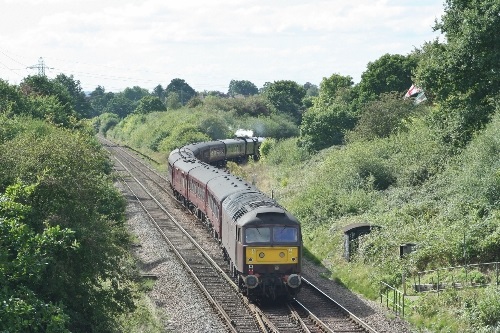 47746 on the rear of the train at Clink Road Jn (photo: Guy Vincent)


Timings (Booked & Actual)
(from Realtime Trains)
| | | |
| --- | --- | --- |
| Location | Booked | Actual |
| London Victoria | 08.44d [P2] | 08.43 |
| Grosvenor Bridge Jn | 08/48 [FL] | ? |
| Stewarts Lane Jn | 08/51 [RVL] | ? |
| Longhedge Jn | 08/56 | ? |
| Latchmere Jn | 08/58 | 08/58 |
| Kensington Olympia | 09/05 [DM] | 09/02 [DM] |
| North Pole Jn | 09/09 | 09/06 |
| Mitre Bridge Jn | 09/10 | 09/09 |
| Willesden SW Sidings | 09/15 | ? |
| Acton Wells Jn | 09/17 | 09/14 |
| Acton Main Line | 09/20 [DR] | 09/19 |
| Acton West | 09/24½ [DR] | 09/21 |
| West Ealing | 09/27½ | ? |
| Southall | 09/32 [DR] | 09/28 |
| Heathrow Airport Jn | 09/34 [DR] | 09/32 |
| Slough | 09/43 [P4] [DR] | 09/39 |
| Maidenhead | 09/50 [P3] [DR] | 09/48 |
| Twyford | 09/57 [P3] [DR] | 09/56 |
| Kennet Bridge Jn | 10/03 [DR] | 10/00 |
| Reading | 10.06a ~ 10.15d [P12] [DFR] | 10.03 ~ 10.18 |
| Oxford Road Jn | 10/18½ | 10/21 |
| Southcote Jn | 10/21½ | 10/24 |
| Theale | 10/27 | ? |
| Newbury Racecourse | 10/44 [P3] | 10/46 |
| Newbury | 10.47a ~ 11.01d [P1] | 10.48 ~ 11.22 |
| Bedwyn | 11/17 [P1] | 11/43 |
| Woodborough | 11/30 | 11/56 |
| Lavington | 11/41 | 12/05 |
| Heywood Road Jn | 11/47 | 12/12 |
| Westbury | 11.50a ~ 11.52d [P2] | 12.15 ~ 12.17 |
| Fairwood Jn | 11/55 | 12/20 |
| Clink Road Jn | 11/59 | 12/26 |
| Frome | 12w02 ~ 12w28 | 12.54 ~ 13.09 |
| Blatchbridge Jn | 12/33 | 13/22 |
| East Somerset Jn | 12/39 | 13/31 |
| Castle Cary | 12/49½ [P2] | 13/40 |
| Somerton GF | 13/02½ | 13/47 |
| Athelney LC | 13/13½ | 13/56 |
| Cogload Jn | 13/19 | 13/59 |
| Taunton | 13/25 [P2] | 14/05 |
| Norton Fitzwarren | 13/27 | 14/07 |
| Whiteball | 13/37 | 14/20 |
| Tiverton Parkway | 13/41 [P1] | 14/24 |
| Tiverton Loop | 13/44 | 14/25 |
| Cowley Bridge Jn | 13/57½ | 14/50 |
| Exeter St Davids | 14.03a [P3] ~ 16.23d [P3] | 14.53 [P6] ~ 16.24 [P3] |
| Dawlish Warren | 16*40 ~ 16*54 [P1] | 16/37 [DT] |
| Dawlish | 16/58 | 16/40 |
| Teignmouth | 17/01 | 16/46 |
| Newton Abbot | 17/10 [P2] | 16/55 |
| Newton Abbot West Jn | 17/11 | 16/56 |
| Dainton Tunnel | 17/18 | 17/01 |
| Totnes | 17/26 [DT] | 17/07 |
| Aish Crossover | 17/40 | 17/18 |
| Ivybridge | 17/47 | 17/23 |
| Hemerdon | 17/55 | 17/28 |
| Lipson Jn | 18/06 | 17/35 |
| Plymouth | 18w12a ~ 19w15d [P7] | 17.42 ~ 19.12 |
| St Budeaux Jn | 19/22 | 19/20 |
| Saltash | 19/26 [P1] | 19/24 |
| St Germans | 19/37 [P1] | 19/37 |
| Liskeard | 19/49 [P1] | 19/50 |
| St Pinnock | 19/56 | ? |
| Largin | 19/57 | ? |
| Lostwithiel | 20/05 [P2] | 20/06 |
| Par | 20/12 [P1] | 20/14 |
| St Austell | 20.19a ~ 20.23d | ? |
| Burngullow Jn | 20/27 | 20/31 |
| Probus | 20/36 | ? |
| Truro | 20/43 [P2] | 20/46 |
| Penwithers Jn | 20/44 | ? |
| Baldhu | 20/51 | ? |
| Redruth | 20/57 | ? |
| Camborne | 21/03 | 21/02 |
| St Erth | 21/16 [P1] | 21/11 |
| Long Rock | 21/21 | ? |
| Penzance | 21.26a [P1] | 21.20 |


Associated E.C.S. & Light Engine Workings
5Z81 : (47746 with 6201 on rear) : Southall to London Victoria
| | |
| --- | --- |
| Location | Booked |
| Southall Depot | 06.50d |
| Southall | 07.00 ~ 07.11 |
| Southall East Jn | 07/12 |
| West Ealing | 07/15 |
| Acton West | 07/19 |
| Acton Main Line | 07/25 |
| Acton Wells Jn | 07/29 |
| Willesden SW Sidings | 07.32 ~ 07.36 |
| Mitre Bridge Jn | 07/40 |
| North Pole Jn | 07/42 |
| Kensington Olympia | 07/44 |
| West Brompton | 07.46 ~ 07.47 |
| Latchmere Jn | 07/52 |
| Longhedge Jn | 07/53 |
| Stewarts Lane Jn | 07/56 |
| Grosvenor Bridge Jn | 08/02 |
| London Victoria | 08.14a [P2] |
5Z83 : (47746 with 6201 on rear) : Exeter St Davids to Exeter Riverside Yard
5Z84 : (6201) : Exeter Riverside Yard to Exeter St Davids
| | | |
| --- | --- | --- |
| Location | Booked (out) | Booked (rtn) |
| Exeter St Davids | 14.11d [P3] | 16.04a [P3] |
| Exeter Riverside Yard | 14.14a | 16.00d |
0Z84 : (47746) : Exeter Riverside Yard to Penzance
| | |
| --- | --- |
| Location | Booked |
| Exeter Riverside Yard | 16.45d |
| Exeter St Davids | 16/48 |
| Dawlish Warren | 17/02 |
| Dawlish | 17/05 |
| Teignmouth | 17/08 |
| Newton Abbot | 17/16 |
| Newton Abbot West Jn | 17/17 |
| Dainton Tunnel | 17/25 |
| Totnes | 17/35 |
| Aish Crossover | 17/49 |
| Ivybridge | 17/56 |
| Hemerdon | 18/05 |
| Lipson Jn | 18/16 |
| Plymouth | 18.21 ~ 19.30 |
| St Budeaux Jn | 19/37 |
| Saltash | 19/41 |
| St Germans | 19/51 |
| Liskeard | 19/59 |
| St Pinnock | 20/04 |
| Largin | 20/05 |
| Lostwithiel | 20/14 |
| Par [DGL] | 20.23 ~ 20.42 |
| St Austell | ? |
| Burngullow Jn | 20/53 |
| Probus | 21/04 |
| Truro | 21/10 |
| Penwithers Jn | 21/11 |
| Baldhu | 21/22 |
| Camborne | 21/34 |
| St Erth | 21/44 |
| Long Rock | 21/48 |
| Penzance | 21.51a [P4] |