8th September 2016
GB Railfreight
GBRf 15 (Day 1 of 4)
| | |
| --- | --- |
| Locos Used | 20118 'Saltburn-by-the-Sea', 20132 'Barrow Hill Depot', 73128 'O.V.S. Bulleid C.B.E' & 73213 'Rhodalyn' |
| Stock Used | 35469+3325+3304+3386+3356+3390+3364+1200+5961+6158+5998 |
Route :
1Z15 : London Victoria to Swanage
1Z16 : Swanage to London Kings Cross
| | |
| --- | --- |
| Loco(s) | Route |
| 20118 + 20132 (1) | London Victoria - Grosvenor Bridge Jn - Voltaire Road Jn - Brixton - Herne Hill - Tulse Hill - St reatham - Wimbledon - Raynes Park - Motspur Park - Epsom - Leatherhead - Dorking - Horsham - Billingshurst - Pulborough - Arundel Jn - Ford - Barnham - Chichester - Havant - Farlington Jn - Portcreek Jn - Fratton |
| 73213 + 73128 (2) | Fratton - Portcreek Jn - Cosham - Fareham - Netley - St Denys - Northam Jn - Southampton Central - Redbridge - Brockenhurst - Bournemouth - Poole - Wareham - Worgret Jn - Corfe Castle - Swanage |
| 20118 + 20132 (1) | Swanage - Corfe Castle - Worgret Jn - Wareham - Poole - Bournemouth - Brockenhurst - Redbridge - Southampton Central - Northam Jn - St Denys - Eastleigh - Chandlers Ford - Romsey - Dean - Salisbury - Wilton Jn - Warminster - Westbury - Heywood Road Jn - Bedwyn - Newbury - Southcote Jn - Reading - Twyford - Maidenhead - Slough - Southall - Acton Main Line - Acton Wells Jn - Willesden Junction HL - Kensal Green Jn - Gospel Oak - Junction Road Jn - Upper Holloway - Harringay Park Jn - Hornsey |
| 73213 + 73128 (3) | Hornsey - Finsbury Park - London Kings Cross |
Notes :
(1) 73128 + 73213 on rear.
(2) 73128 dead-in-train with 20132 + 20118 on rear.
(3) 20132 + 20118 on rear.
(4) John Clifford comments: This was the first day of a four day (and one overnight) tour to celebrate fifteen years of operation by GB Railfreight. On the day there was a slow start from London and consequent loss of time which saw us following the 09.54 Waterloo - Dorking from Wimbledon instead of preceding it. There was a generous amount of pathing allowance between Dorking and Horsham and on the Mid Sussex line so that we passed Arundel Jn slightly early. At Fratton it was found that 73128 had overheated and it had decided that it did not want to play anymore so 73213 took the train forward to Swanage with 73128 dead. This was fine when working on electric power, but on diesel on the Swanage branch with its steep gradients we were down to walking pace at times with a 20 minutes late arrival at Swanage. On the Swanage Railway 'U' class no.31806 was working, as was their 2 car D.M.M.U. 73128 was repaired at Swanage, and there were no problems on the return journey until reaching Reading, where we were told that there had been a fatality. However, we set off and only lost a small amount of time despite switching between the fast and relief lines a few times. The problem came at Acton where we were delayed by freight trains running early. Eventual arrival at London Kings Cross was 20 minutes late.
Source : John Clifford (on the tour) & Nigel Benning



Photo Review

73213+73128 on arrival at Swanage (photo: Andrew P.M. Wright)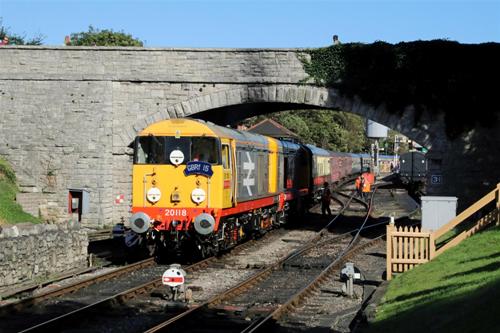 20118+20132 about to depart Swanage (photo: Andrew P.M. Wright)


Timings (Booked & Actual)
(from John Clifford)
| | | |
| --- | --- | --- |
| Location | Booked | Actual |
| London Victoria | 09.43d [P2] [FL] | 09.45 [P2] [FL] |
| Grosvenor Bridge Jn | 09/46 | 09/49 |
| Voltaire Road Jn | 09/49 | 09/51 |
| Brixton | 09/51 | 09/53½ [P2] |
| Herne Hill | 09/52 [P3] | 09/56½ [P3] |
| Tulse Hill | 09/56 [P2] | 10/00½ [P2] |
| Streatham | 09/59 [P1] | 10/04 [P1] |
| Streatham South Jn | 10/01 | 10/06 |
| Wimbledon | 10.07 ~ 10.07 [P9] | 10.11½ ~ 10.12 [P9] |
| Wimbledon West Jn | 10/09 [DS] | 10/14 [DS] |
| Wimbledon Sig.W211 | - | 10.16 ~ 10.18 |
| Raynes Park | 10/11 [P4] | 10/20 [P4] |
| Motspur Park | 10/13 | 10/22½ [P2] |
| Epsom | 10/22 [P2] | 10/32 [P2] |
| Leatherhead | 10/29 [P2] | 10/38 [P2] |
| Dorking | 10/35 [P3] | 10/50 [P3] |
| Horsham | 11/05 [P3] | 11/13 [P3] |
| Billingshurst | 11/15 | 11/21½ [P2] |
| Pulborough | 11/22 | 11/27 [P2] |
| Arundel Jn | 11/40 | 11/39 |
| Ford | 11/43 [P2] | 11/40 [P2] |
| Barnham | 11/47 [P2] | 11/45½ [P2] |
| Chichester | 11/56 [P2] | 11/54 [P2] |
| Emsworth | 12/05 | 12/01½ [P2] |
| Havant | 12/08 [P2] | 12/04½ [P2] |
| Farlington Jn | 12/13 | 12/08½ |
| Portcreek Jn | 12/14 | 12/09 |
| Fratton East Jn | 12/17 [DM] | 12/12½ [DM] |
| Fratton | 12.19a ~ 12.34d [P2] | 12.14 ~ 12.34 [P2] |
| Portcreek Jn | 12/39 | 12/41 |
| Cosham Jn | 12/41 | 12/42½ |
| Cosham | 12/42 | 12/43½ [P1] |
| Fareham | 12/51 [P1] | 12/52 [P1] |
| Netley | 13/02½ | 13/07½ |
| St Denys | 13/10 [P4] | 13/14 [P4] |
| Northam Jn | 13/12 [DF] | 13/17 [DS] |
| Southampton Central | 13.15a ~ 13.17d [P4] [DF] | 13.20 ~ 13.21 [P4] [DF] |
| Redbridge | 13/22 [P2] | 13/26 [P2] |
| Brockenhurst | 13/33 [P3] | 13/37 [P3] |
| Bournemouth | 13/50 | 13/54 [P3] |
| Branksome | 13/55 [P2] | 13/58 [P2] |
| Poole | 14/02 [P2] | 14/04½ [P2] |
| Wareham | 14t12 ~ 14t14 [P2] | 14.16½ ~ 14.18 [P2] |
| Worgret Jn | 14/18 | 14/22 |
| Furzebrook | 14/25 | 14/31 |
| Norden Gates | 14/29 | 14/38 |
| Corfe Castle | 14/31 [DM] | 14/40½ [DM] |
| Harmans Cross | 14/36 [DM] | 14/54 [DM] |
| Swanage | 14.45a ~ 16.05d [P2] | 15.05 ~ 16.09½ [P2] |
| Harmans Cross | 16/15 [UM] | 16.18 ~ 16.18½ [UM] |
| Corfe Caste | 16/20 [UM] | 16/26 [UM] |
| Norden Gates | 16/25 | 16/29½ |
| Furzebrook | 16/29 | 16/35 |
| Worgret Jn | 16/39 | 16/42 |
| Wareham | 16t44 ~ 16t46 [P1] | 16.45 ~ 16.46 [P1] |
| Poole | 16/56 [P1] | 16/58 [P1] |
| Branksome | 17/05 [P1] | 17/06 [P1] |
| Bournemouth | 17/09 [P2] | 17/10 [P2] |
| Brockenhurst | 17/38½ [P2] | 17/38½ [P2] |
| Redbridge | 17/51 [P1] | 17/52 [P1] |
| Southampton Central | 17/57 [US] [P2] | 17/57 [US] [P2] |
| Northam Jn | 18/00 [US] | 18/02 [US] |
| St Denys Sig.E706 | - | 18.04 ~ 18.07½ |
| St Denys | 18.03 ~ 18.06 [P1] | 18/09 [P1] |
| Southampton Airport Parkway | 18/11 [P1] | 18/14 [P1] |
| Eastleigh Sig.E85 | 18.13 ~ 18.15 [US] | 18/17½ [US] |
| Eastleigh | 18.17 ~ 18.19 [P1] | 18.19 ~ 18.21 [P1] |
| Eastleigh East Jn | 18/21 | 18/22 |
| Chandlers Ford | 18/25½ | 18/27 |
| Romsey | 18/37 [P2] | 18/34 [P2] |
| Dean | 18/46 | 18/43 [P2] |
| Tunnel Jn | 18/56 | 18/54 |
| Salisbury | 18/59 [P3] | 18/59 [P4] |
| Wilton Jn | 19/02 | 19/02½ |
| Wishford | 19/07 | 19/06½ |
| Wylye AHB | 19/12 | 19/12 |
| Upton Lovell | 19/19 | 19/17 |
| Warminster | 19/26 | 19/23½ [P1] |
| Westbury | 19/35 [P1] | 19/33 [P1] |
| Heywood Road Jn | 19/38 | 19/35½ |
| Lavington | 19/46 | 19/44 |
| Woodborough | 19/57 | 19/54 |
| Bedwyn | 20/10 [P2] | 20/11 [P2] |
| Newbury | 20/25 | 20/25 [UT] |
| Southcote Jn | 20/42 | 20/45 |
| Oxford Road Jn | 20/44 [DFR] | 20/49 [DFL] |
| Reading Sig.T1728 | 20.48 ~ 20.52 | 20/51 |
| Reading | 20.55a ~ 20.57d [P15] [UR] | 20.53 ~ 20.58 [P10] [FL] |
| Kennet Bridge Jn | 21/00 [UR] | 21/01½ [FL] |
| Twyford West Jn | 21/03½ | 21/09 [UR] |
| Twyford | 21/04 [P4] | 21/10 [P4] [UR] |
| Maidenhead | 21/14 [P4] [UR] | 21/17½ [P4] [UR] |
| Slough West Jn | 21/21 [UM] | 21/25 [UR] |
| Slough | 21/23 [P3] [UM] | 21/26½ [P5] [UR] |
| Dolphin Jn | 21/24½ | 21/30 [UM] |
| Stockley Jn | 21/30 | 21/36½ [UM] |
| Heathrow Airport Jn | 21/31 [UM] | 21/37½ [UM] |
| Southall | 21/34 [UM] | 21/40 [P2] [UM] |
| Southall East Jn | 21/35 [UR] | 21/41 [UR] |
| West Ealing | 21/37 [UR] | 21/43 [P4] [UR] |
| Acton West | 21/40 [UR] | 21/45 [UR] |
| Acton Main Line | 21/42 [UR] | 21.48 ~ 21.57½ [P4] [UR] |
| Acton Wells Jn | 21/45 | 22.00 ~ 22.01½ |
| Willesden Junction HL | 21/47 [P4] | 22/06 [P4] |
| Kensal Green Jn | 21/49 | 22/07 |
| Gospel Oak | 22/00 | 22/19 |
| Junction Road Jn | 22/03 | 22/21 |
| Upper Holloway | 22/05 [P2] | 22/23 [P2] |
| Harringay Park Jn | 22/09 | 22/29 |
| Harringay | 22/11 [SL2] | 22.30 ~ 22.33 |
| Hornsey Sig.K431? | - | 22.36 ~ 22.42 |
| Hornsey Sig.K440 | 22.14 ~ 22.25 | 22.44 ~ 22.46 |
| Harringay | 22/30 [SL2] | 22/49½ [SL2] |
| Finsbury Park | 22/33 [P1] | 22/52 [P1] |
| Holloway South Jn | 22/35 [FL] | 22/55 [FL] |
| Belle Isle | 22/37 [FL2] | 22/56 [FL2] |
| London Kings Cross | 22.39a [P1] | 22.59 [P1] |


Associated E.C.S. & Light Engine Workings
07/09/16 :
0Z15 : (20132 + 20118) : Doncaster Roberts Road to Burton Wetmore Sidings
| | |
| --- | --- |
| Location | Booked |
| Doncaster Roberts Road | 08.00d |
| Hexthorpe Jn | 08/06 |
| Mexborough | 08/12 |
| Thrybergh Jn | 08/16 |
| Aldwarke Jn | 08/17 |
| Masborough Jn | 08/20 |
| Beighton Jn | 08/28 |
| Barrow Hill North Jn | 08/36 |
| Tapton Jn | 08/39 |
| Chesterfield | 08/40 |
| Chesterfield South Jn | 08/41 |
| Clay Cross North Jn | 08.45 ~ 08.47 |
| Ambergate Jn | 09/05 |
| Broadholme | 09.08 ~ 09.20 |
| St Marys Jn | 09/34 |
| Derby | 09.37 ~ 09.51 |
| Stenson Jn | 10/04 |
| North Stafford Jn | 10/05 |
| Clay Mills Jn | 10/11 |
| Burton East Yard Loop | 10.19 ~ 10.23 |
| Wetmore Jn | 10.27 ~ 10.31 |
| Burton Wetmore Sidings | 10.35a |
5Z15 : (20132 + 20118) : Burton Wetmore Sidings to Eastleigh T&RSMD
| | |
| --- | --- |
| Location | Booked |
| Burton Wetmore Sidings | 11.43d |
| Wetmore Jn | 11.47 ~ 12.07 |
| Burton-on-Trent | 12/11 |
| Wichnor Jn | 12/18 |
| Elford | 12.22 ~ 12.31 |
| Tamworth HL | 12/39 |
| Kingsbury Jn | 12/46 |
| Water Orton | 12/50 |
| Landor Street Jn | 12/56 |
| St Andrews Jn | 12/58 |
| Bordesley Jn | 12/59 |
| Small Heath South Jn | 13/02 |
| Tyseley | 13/03 |
| Bentley Heath LC | 13/10 |
| Dorridge | 13/11 |
| Hatton | 13/18 |
| Leamington Spa | 13/25 |
| Fenny Compton | 13/39 |
| Banbury | 13.48 ~ 13.49 |
| Aynho Jn [Up Goods Loop] | 14.00 ~ 14.04 |
| Heyford | 14/12 |
| Wolvercote Jn | 14/24 |
| Oxford | 14/27 |
| Kennington Jn | 14/29 |
| Didcot North Jn | 14/37 |
| Didcot East Jn | 14/38 |
| Goring & Streatley | 14/47 |
| Reading West Jn | 14/59 |
| Oxford Road Jn | 15.01 ~ 15.03 |
| Southcote Jn | 15/05 |
| Bramley | 15/17 |
| Basingstoke | 15/25 |
| Worting Jn | 15/29 |
| Winchester | 15/46 |
| Shawford Jn | 15/49 |
| Eastleigh | 16.03 ~ 16.05 |
| Eastleigh South Jn | 16/07 |
| Eastleigh T&RSMD | 16.12a |
08/09/16 :
5Z15 : (73213 + 73128 with 20132 + 20118 on rear) : Eastleigh T&RSMD to London Victoria
| | | |
| --- | --- | --- |
| Location | Booked | Actual |
| Eastleigh T&RSMD | 05.15d | |
| Eastleigh | 05.20 ~ 05.22 | |
| Shawford | 05/42 | |
| Winchester | 05/47 | |
| Worting Jn | 06/03 | |
| Basingstoke | 06/07 | |
| Fleet | 06/19 | |
| Farnborough Main | 06/22 | |
| Pirbright Jn | 06/31 | |
| Woking Jn | 06/44 | |
| Woking | 06/45 | |
| Byfleet & New Haw | 06/53 | |
| Addlestone Jn | 06/55 | |
| Virginia Water | 07/04 | |
| Staines | 07/13 | |
| Feltham | 07/20 | |
| Feltham Jn | 07/22 | |
| Hounslow | 07/24 | |
| Brentford | 07/28 | |
| Kew East Jn | 07/32 | |
| South Acton Jn | 07/38 | |
| Acton Wells Jn | 07/48 | |
| Willesden SW Sidings | 07.51 ~ 08.37 | |
| Mitre Bridge Jn | 08/42 | |
| North Pole Jn | 08/43 | |
| Kensington Olympia | 08/46 | |
| Latchmere Jn | 08/54 | |
| Longhedge Jn | 08/56 | |
| Stewarts Lane Jn | 08/58 | |
| Grosvenor Bridge Jn | 09/02 | |
| London Victoria | 09.05a [P2] | 09.17 [P2] |
5Z16 : (20118 + 20132 with 73128 + 73213 on rear) : London Kings Cross to Ferme Park
| | |
| --- | --- |
| Location | Booked |
| London Kings Cross | 23.25d [P1] |
| Belle Isle | 23/27 |
| Holloway South Jn | 23/29 |
| Finsbury Park | 23/33 |
| Ferme Park Reception Line | 23.42a |
09/09/16 :
0Z16 : (73213 + 73128) : Ferme Park to Tonbridge
| | |
| --- | --- |
| Location | Booked |
| Ferme Park Reception | 01.45d |
| Harringay | 01/50 |
| Harringay Park Jn | 01/52 |
| Upper Holloway | 01/55 |
| Junction Road Jn | 01/56 |
| Gospel Oak | 02/00 |
| Kensal Green Jn | 02/10 |
| Willesden Junction HL | 02/12 |
| Mitre Bridge Jn | 02/19 |
| North Pole Jn | 02/20 |
| Kensington Olympia | 02/23 |
| Latchmere Jn | 02/30 |
| Longhedge Jn | 02/32 |
| Factory Jn | 02/33 |
| Voltaire Road Jn | 02/34 |
| Denmark Hill | 02/38 |
| Crofton Road Jn | 02/39 |
| Nunhead | 02/41 |
| Bellingham | 02/45 |
| Shortlands Jn | 02/48 |
| Bickley Jn | 02/51 |
| Petts Wood Jn | 02/53 |
| Orpington | 02/55 |
| Sevenoaks | 03/05 |
| Tonbridge | 03.14 ~ 03.18 |
| Tonbridge West Yard | 03.21a |