27th August 2016
Vintage Trains
Holiday at the Palace
| | |
| --- | --- |
| Loco Used | steam: 5043 'Earl of Mount Edgcumbe' |
| Stock Used | 96100+9101+5212+5198+17018+99353+99361+35470 |
Route :
1Z53 : Tyseley Warwick Road to Oxford
1Z55 : Oxford to Tyseley Warwick Road
| | |
| --- | --- |
| Loco | Route |
| 5043 | Tyseley Warwick Road - Small Heath South Jn - Birmingham Moor Street - Birmingham Snow Hill - Smethwick Galton Bridge - Rowley Regis - Stourbridge Junction - Kidderminster - Droitwich Spa - Worcester Shrub Hill - Norton Jn - Evesham - Moreton-in-Marsh - Ascott-under-Wychwood - Wolvercote Jn - Oxford |
| 5043 | Oxford - Banbury - Leamington Spa - Solihull - Tyseley - Birmingham Moor Street - Birmingham Snow Hill (3) |
| 5043 | Birmingham Snow Hill (3) - Birmingham Moor Street - Tyseley Warwick Road |
Notes :
(1) 5043 replaced advertised 4965 'Rood Ashton Hall'.
(2) Off tour option: visit to Blenheim Palace.
(3) The return leg from Birmingham Moor Street to Tyseley Warwick Road was due to be worked by 47773 with 5043 on the rear, however the diesel loco had failed, so the train was diverted to Birmingham Snow Hill for 5043 run round.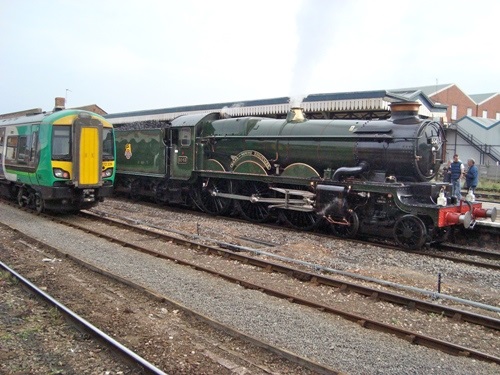 5043 at Worcester Shrub Hill (photo: Al Wallace)
Source : Al Wallace (on the tour throughout)



Timings (Booked & actual)
(from Realtime Trains)
| | | |
| --- | --- | --- |
| Location | Booked | Actual |
| Tyseley Warwick Road | 08.27d | 08.23 |
| Small Heath South Jn | 08/36 | 08/35 |
| Birmingham Moor Street | 08/42 [P2] | 08/41 |
| Birmingham Snow Hill | 08.43a ~ 08.47 [P2] | 08.43 ~ 08.46 |
| Jewellery Quarter | 08/50 | 08/49 [P1] |
| Smethwick Galton Bridge | 08/57 [P1] | 08/57 |
| Smethwick Jn | 08/58 | 08/57 |
| Rowley Regis | 09/03 | 09/04 |
| Stourbridge Junction | 09/16 [P3] | 09/13 [P3] |
| Blakedown | 09/21 | 09/18 |
| Kidderminster | 09/27 [P2] | 09/21 |
| Hartlebury | 09/31 | 09/24 |
| Droitwich Spa [GL] | 09.38 ~ 09.48 | 09.32 ~ 09.46 |
| Droitwich Spa | 09/50 | 09/51 |
| Tunnel Jn | 10/00 | 10/01 |
| Worcester Shrub Hill | 10w02a ~ 10w34d [P2] | 10.02 ~ 10.34 [P2] |
| Norton Jn | 10/43 | 10/43 |
| Evesham | 10/55 | 10/55 |
| Honeybourne | 11/02 [P2] | ? |
| Moreton-in-Marsh | 11/15 [P2] | 11/15 [P2] |
| Ascott-under-Wychwood | 11/27 [P2] | 11/25 |
| Charlbury | 11/43 [P2] | 11/42 |
| Hanborough | 11.51a ~ 11.57d | ? |
| Wolvercote Jn | 12/05 | 12/01 |
| Oxford North Jn | 12.10 ~ 12.45 | ? ~ 12.43 |
| Oxford | 12.49a [P1] ~ 17.51d [P1] | 12.48 ~ 18.01 |
| Oxford North Jn | 17/53½ | 18/03 |
| Wolvercote Jn | 17/56 | 18/06 |
| Heyford | 18/05 | 18/16 |
| Banbury | 18/18 [P2] | 18/25 |
| Fenny Compton | 18/29 | 18/34 |
| Leamington Spa | 18.41 ~ 18.59 | 18.46 ~ 18.56 |
| Warwick Parkway | 19/05 [P2] | 19/00 |
| Hatton | 19/10 | 19/06 |
| Dorridge | 19/17 [P2] | 19/13 |
| Bentley Heath LC | 19/18 | 19/14 |
| Solihull | 19.22a ~ 19.25d [P2] | 19.18 ~ 19.20 [P2] |
| Tyseley | 19/32 [P2] | 19.26 ~ ? [P2] |
| Small Heath South Jn | 19/33 | 19/28 |
| Birmingham Moor Street | 19.40a ~ 20.08d [P4] | ? |
| Birmingham Snow Hill | DIV | ? ~ 20.05? [P1] |
| Birmingham Moor Street | DIV | ? |
| Small Heath South Jn | 20/15 | 20/19 |
| Tyseley Warwick Road | 20.22a | 20.24 |


Associated E.C.S. & Light Engine Workings
5Z53 : (5043 + tour stock) : Oxford - Oxford U&DGL
5Z55 : (5043 + tour stock) : Oxford U&DGL - Oxford
| | |
| --- | --- |
| Location | Booked |
| Oxford | 12.54d [P1] |
| Oxford U&DGL | 12.57 ~ 17.45 |
| Oxford | 17.47a [P1] |
5Z54 : (5043 with 96100) : Oxford - Foxhall Jn - Didcot Parkway - Oxford
(Loco turning trip)
| | |
| --- | --- |
| Location | Booked |
| Oxford U&DGL | 15.20d |
| Kennington Jn | 15/24 |
| Didcot North Jn | 15/34 |
| Foxhall Jn | 15.37 ~ 15.39 |
| Didcot Parkway | 15.42 ~ 15.44 |
| Didcot North Jn | 15/47 |
| Kennington Jn | 15/55 |
| Oxford | 16.01 ~ 16.12 |
| Oxford U&DGL | 16.15a |