23rd August 2016
Steam Dreams
The Cathedrals Express
| | |
| --- | --- |
| Locos Used | 47580 'County of Essex' & steam: 6201 'Princes Elizabeth' |
| Stock Used (2) | (99040)+5171+5200+5222+9104+13440+99352+13320+1666+5236+5249+5237 |
Route :
1Z46 : London Victoria to Minehead
1Z48 : Minehead to London Victoria
| | |
| --- | --- |
| Loco | Route |
| 6201 (1) | London Victoria - Grosvenor Bridge Jn - Stewarts Lane Jn - Longhedge Jn - Clapham Junction - Barnes - Brentford - Hounslow - Feltham - Staines - Virginia Water - Ascot - Wokingham - Reading - Southcote Jn - Newbury - Heywood Road Jn - Fairwood Jn - Clink Road Jn - Frome - Blatchbridge Jn - Castle Cary - Cogload Jn - Taunton - Norton Fitzwarren W.S.R. (4) |
| 47580 | Norton Fitzwarren W.S.R. - Bishops Lydeard - Crowcombe Heathfield - Williton - Blue Anchor - Minehead |
| 47580 | Minehead - (reverse of outward route) - Bishops Lydeard |
| 6201 (1) | Bishops Lydeard - (reverse of outward route) - Blatchbridge Jn - Clink Road Jn - (reverse of outward route) - Reading (4) |
| 47580 | Reading - (reverse of outward route) - Clapham Junction (4) |
Notes :
(1) 47580 on rear.
(2) 99040 was only in the consist when 6201 was on the train.
(3) This was 6201 'Princess Elizabeth's first run since major overhaul.
(4) On the outward leg 6201 was removed from the train at Norton Fitzwarren W.S.R, due to being too long for the turntable at Minehead. 6201 was turned by using Norton Fitzwarren triangle. On the return leg 6201 was removed from the train at Reading, due to running low on water. There was a scheduled water stop at Ascot, but the Water Bowser was stuck in traffic on the M4 Motorway. The tour train finally terminated at Clapham Junction, as there was no loco available to take the empty stock from London Victoria to Southall.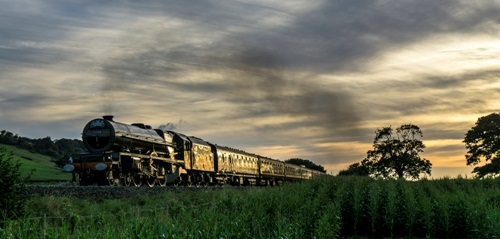 The return leg of the tour passing Wyke Champflower near Castle Cary.
(photo: Graham Hutton)
Source : Guy Vincent & Nick Bartlett



Timings (Booked & actual)
(from Realtime Trains)
| | | | | | |
| --- | --- | --- | --- | --- | --- |
| Location | Booked | Actual | | Booked | Actual |
| London Victoria | 08.42d [P2] | 08.42 | | 23.33a [P2] | CANX |
| Grosvenor Bridge Jn | 08/46 | ? | | 23/30 | CANX |
| Stewarts Lane Jn | 08/53 [RVL] | ? | | 23/27 [RVL] | CANX |
| Longhedge Jn | 08/57 | ? | | 23/24 | CANX |
| Clapham Junction | 09/01 [P5] [DF] | 09/01 | | 23/21 [P3] | 23.45a |
| Barnes | 09/08 [P3] | 09/09 | | 23/14 [P1] | 23/39 |
| Brentford | 09.14a ~ 09.16d [P2] | 09.16 ~ 09.18 | | 23.06a ~ 23.08d [P1] | 23.32 ~ 23.34 |
| Hounslow | 09/21 [P2] | 09/24 | | 23/01 [P1] | 23/25 |
| Feltham Jn | 09/24 | 09/26 | | 22/58 | 23/22 |
| Feltham | 09/26 [P2] | 09/28 | | 22/56 [P1] | 23/19 |
| Staines | 09/32 [P2] | 09/34 | | 22/49 [P1] | 23/15 |
| Virginia Water | 09.42a ~ 09.44d [P2] | 09.42 ~ 09.44 | | 22.36a ~ 22.39d [P1] | 23.06 ~ 23.08 |
| Sunningdale | 09w49 ~ 09w59 [P2] | 09/50? | | 22/31 [P1] | 23/01 |
| Ascot | 10.05a ~ 10.08d [P2] | 09.53 ~ 10.08 | | 22w16a ~ 22w28d [P1] | 22.55 ~ 22.58 |
| Wokingham | 10/21 [P2] | 10/22 | | 22/00 [P1] | 22/43 |
| Earley | 10/27 | 10/27 | | 21/51 | 22/38 |
| Reading Spur Jn | 10/30 | 10/31 | | 21/47 | 22/35 |
| Reading New Jn | 10/33 | 10/36 | | 21/37 | 22/33 |
| Reading | 10.35a ~ 10.42d [P7] | 10.42 ~ 10.46 | | 21.32a ~ 21.35d [P7] | 21L34 ~ 22L32 |
| Oxford Road Jn | 10/44 | 10/48 | | 21/30 | 21/32 |
| Southcote Jn | 10/46 | 10/50 | | 21/28 | 21/31 |
| Theale | 10/50 | ? | | 21/23 | ? |
| Newbury Racecourse | 11w04 ~ 11w20 [P3] | 11.07 ~ ? | | 21/07½ | ? |
| Newbury | 11/24 [P1] | 11/26 | | 20.56a ~ 21.06d [P2] | 21.04 ~ 21.11 |
| Bedwyn | 11/37 [P1] | 11/41 | | 20/39 [P2] | 20/44 |
| Woodborough | 11/50 | 11/53 | | 20w01 ~ 20w23 [UGL] | 20.08 ~ 20.29 |
| Lavington | 11/59 | 12/00 | | 19/49 | 19/57 |
| Heywood Road Jn | 12/08 | 12/07 | | 19/42 | 19/51 |
| Fairwood Jn | 12/11 | 12/09 | | 19/40 | 19/48 |
| Clink Road Jn | 12/17 | 12/15 | | 19/34 | 19/45 |
| Frome | 12w19 ~ 12w30 | 12.17 ~ 12.32 | | - | - |
| Blatchbridge Jn | 12/33 | 12/38 | | 19/32 | 19/44 |
| East Somerset Jn | 12/38 | 12/46 | | 19/27 | 19/40 |
| Castle Cary | 12.48a ~ 12.50d [P2] | 12.56 ~ 13.01 | | 19.10a ~ 19.13d [P1] | 19.23 ~ 19.26 [P1] |
| Somerton GF | 13/02 | 13/10 | | 18/59 | 19/12 |
| Athelney LC | 13/10 | 13/19 | | 18/50 | 19/03 |
| Cogload Jn | 13/15 | 13/24 | | 18/46 | 19/00 |
| Taunton | 13.21a ~ 13.23d [P2] | 13.31 ~ 13.35 | | 18.38a ~ 18.40d [P2] | 18.50 ~ 18.53 |
| Norton Fitzwarren | 13/27 | 13/39 | | 18/32 | ? |
| Norton Fitzwarren W.S.R. | 13L30 ~ 14L00 | ? | | ? | ? |
| Bishops Lydeard | 14.12a ~ 14.18d | ? | | 18L10 ~ ??L?? | ? |
| Crowcombe Heathfield | 14/32 | ? | | 18/00 | ? |
| Williton | 14/50 | ? | | 17/42 | ? |
| Blue Anchor | 15.10 ~ 15.12 | ? | | 17.15 ~ 17.20 | ? |
| Dunster | ? | ? | | ? | ? |
| Minehead | 15.27a | ? | | 17.00d | ? |


Associated E.C.S. Workings
5Z45 : (47580 with 6201 on rear) : Southall to London Victoria
| | |
| --- | --- |
| Location | Booked |
| Southall Depot | 06.25d |
| Southall Yard | 06.35 ~ 06.45 |
| Southall East Jn | 06/46 |
| West Ealing | 06/49 |
| Acton West | 06/54 |
| Acton Main Line | 06/56 |
| Acton Wells Jn | 06/59 |
| Willesden SW Sidings | 07.02 ~ 07.20 |
| Mitre Bridge Jn | 07/25 |
| North Pole Jn | 07/27 |
| Kensington Olympia | 07/31 |
| West Brompton | 07.34 ~ 07.38 |
| Latchmere Jn | 07/42 |
| Longhedge Jn | 07/44 |
| Stewarts Lane Jn | 07/48 |
| Grosvenor Bridge Jn | 08/00 |
| London Victoria | 08.04a [P2] |
5Z48 : (47580 with 6201 on rear) : London Victoria to Southall (cancelled)
| | |
| --- | --- |
| Location | Booked |
| London Victoria | 23.58d [P2] |
| Grosvenor Bridge Jn | 00/02 |
| Stewarts Lane Jn | 00/05 |
| Longhedge Jn | 00/08 |
| Latchmere Jn | 00/12 |
| West Brompton | 00.18 ~ 00.21 |
| Kensington Olympia | 00/24 |
| North Pole Jn | 00/28 |
| Mitre Bridge Jn | 00/29 |
| Willesden SW Sdgs | 00/33 |
| Acton Wells Jn | 00/37 |
| Acton Main Line | 00/40 |
| Acton West | 00/43 |
| West Ealing | 00/46 |
| Southall East Jn | 00/50 |
| Southall | 00/51 |
| Hayes & Harlington Loop | 00.54 ~ 00.59 |
| Southall West Jn | 01/01 |
| Southall Yard | 01.04 ~ 01.08 |
| Southall Depot | 01.18a |
5Z?? : (6201 with 99040) : Reading to Southall
| | |
| --- | --- |
| Location | Revised |
| Reading | ?d |
| Twyford | ? |
| Maidenhead | ? |
| Slough | ? |
| Southall Depot | ?a |
5Z48 : (47580) : Clapham Junction to Southall
| | |
| --- | --- |
| Location | Revised |
| Clapham Junction | ?d |
| Latchmere Jn | 00/12 |
| West Brompton | 00.18 ~ 00.21 |
| Kensington Olympia | 00/24 |
| North Pole Jn | 00/28 |
| Mitre Bridge Jn | 00/29 |
| Willesden SW Sdgs | 00/33 |
| Acton Wells Jn | 00/37 |
| Acton Main Line | 00/40 |
| Acton West | 00/43 |
| West Ealing | 00/46 |
| Southall East Jn | 00/50 |
| Southall | 00/51 |
| Hayes & Harlington Loop | 00.54 ~ 00.59 |
| Southall West Jn | 01/01 |
| Southall Yard | 01.04 ~ 01.08 |
| Southall Depot | 01.18a |