13th August 2016
Railway Touring Company
The West Somerset Steam Express
| | |
| --- | --- |
| Locos Used | 47580 'County of Essex' & steam: 45699 'Galatea' & 53808 |
| Stock Used (2) | (80217)+99128+99712+99122+99121+99350+5222+1860+5032+4940+99304 |
Route :
1Z46 : London Paddington to Minehead
1Z48 : Minehead to London Paddington
| | |
| --- | --- |
| Loco(s) | Route |
| 45699 (1) | London Paddington - Southall - Slough - Maidenhead - Reading - Southcote Jn - Newbury - Heywood Road Jn - Westbury - Fairwood Jn - Clink Road Jn - Frome - Blatchbridge Jn - Castle Cary - Cogload Jn - Taunton - Norton Fitzwarren - Bishops Lydeard |
| 53808 | Bishops Lydeard - Crowcombe Heathfield - Williton - Blue Anchor - Minehead |
| 53808? | Minehead - (reverse of outward route) - Bishops Lydeard |
| 47580 | Bishops Lydeard - (reverse of outward route) - Blatchbridge Jn - Clink Road Jn - Fairwood Jn - Heywood Road Jn - (reverse of outward route) - London Paddington |
Notes :
(1) 47580 on rear.
(2) 80217 was only in the consist when 45699 was on the train.
(3) 53808 carried the 'Severn Coast Express' headboard.
(4) This tour was originally advertised to be steam hauled throughout. The return timings were revised for diesel loco haulage.
(5) Guy Vincent comments: 45699 is thought to have made one previous appearance
at Westbury. In 1965 it was moved from Eastleigh depot, where it had been stored in December 1964, via Salisbury, Westbury and Bath to Woodhams Bros, Barry for scrap!
Source : Guy Vincent



Photo Review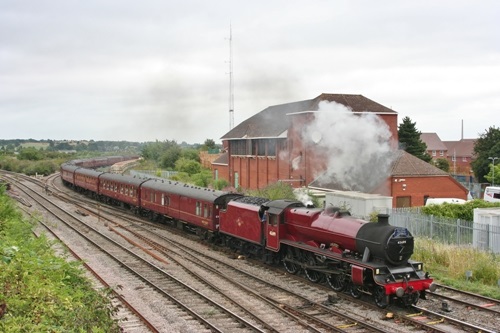 45699 arrives at Westbury, with the outward leg (photo: Guy Vincent)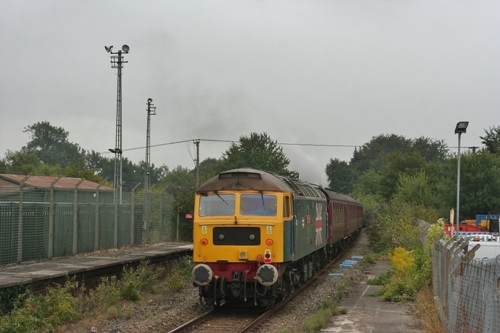 47580 on the rear of the tour at Frome (photo: Guy Vincent)


Timings (Booked & actual)
(from Realtime Trains)
| | | | | | |
| --- | --- | --- | --- | --- | --- |
| Location | Booked | Actual | | Revised | Actual |
| London Paddington | 08.06d [P10] | 08.06 | | 22.03a [P1] | 22.08 |
| Ladbroke Grove | 08/12 [RL] | 08/09 | | 21/58 [RL] | 22/05 |
| Acton West | 08/16 [DR] | 08/14 | | 21/55 [UR] | 22/02 |
| West Ealing | 08/19 | ? | | 21/53½ | 22/01 |
| Southall | 08/24 [DR] | 08/22 | | 21/51 [UR] | 21/58 |
| Heathrow Airport Jn | 08/30 [DR] | 08/27 | | 21/49 [UR] | 21/52 |
| Slough | 08.37a ~ 08.39d [P4] [DR] | 08.36 ~ 08.38 | | 21.38a ~ 21.41d [P5] [UR] | 21.39 ~ 21.42 |
| Slough West | 08/40½ | ? | | 21/36½ [UM-UR] | ? |
| Maidenhead | 08/45 [P3] [DR] | 08/46 | | 21/30 [P2] [UM] | 21/33 |
| Twyford | 08/52½ [P3] | 08/59 [P3] | | 21/24 [P2] | 21/29 |
| Kennet Bridge Jn | 08/59 [DR] | 09/04 | | 21/20 [UM] | 21/23 |
| Reading | 09.03a ~ 09.16d [P12] [WL] | 09.07 ~ 09.16 | | 21.15a ~ 21.18d [P11] | 21.18 ~ 21.22 |
| Oxford Road Jn | 09/21 | 09/19 | | 21/11½ [UFM] | 21/16 |
| Southcote Jn | 09/23 | 09/21 | | 21/10 | 21/14 |
| Theale | 09w33 ~ 10w02 [GL] | ? | | 21/07 | ? |
| Newbury | 10.19a ~ 10.22d [P1] | 10.17 ~ 10.22 | | 20.53a ~ 20.56d [P2] | 20.58 ~ 21.01 |
| Bedwyn | 10/38 [P1] | 10/44 | | 20/42 [P2] | 20/47 |
| Woodborough | 10/51 | 10/55 | | 20/29 | 20/33 |
| Lavington | 11/01 | 11/03 | | 20/21 | 20/26 |
| Heywood Road Jn | 11/10 | 11/12 | | 20/16 | 20/21 |
| Westbury | ? | 11/18 [P2] | | - | - |
| Fairwood Jn | 11/23 | 11/20 | | 20/14 | 20/18 |
| Clink Road Jn | 11/29 | 11/28 | | 20/11 | 20/15 |
| Frome | 11w32a ~ 11w44d | 11.30 ~ 11.45 | | - | - |
| Blatchbridge Jn | 11/47 | 11/48 | | 20/09 | 20/14 |
| East Somerset Jn | 11/52 | 11/53 | | 20/05 | 20/11 |
| Castle Cary | 12/01 [P2] | 12/02 | | 19/57 [P1] | 20/04 |
| Somerton GF | 12/12 | 12/09 | | 19/49½ | 19/56 |
| Athelney LC | 12/21 | 12/18 | | 19/43 | 19/49 |
| Cogload Jn | 12/25 | 12/21 | | 19/40 | 19/43 |
| Taunton | 12.33a ~ 12.36d [P2] [DR] | 12.27 ~ 12.32 [P2] [DR] | | 19.32a ~ 19.34d [P2] | 19.26 ~ 19.35 [P2] |
| Norton Fitzwarren | 12/40 | 12/37 | | 19/25 [DR] | ? |
| Bishops Lydeard | 12L50a ~ 13L20d | 12L46 ~ 13L20 [P2] | | 18L35a ~ 19L05d | 18L35 ~ 19L05 |
| Crowcombe Heathfield | 13.33 ~ 13.35 | ? | | 18/12 | ? |
| Williton | 13.55 ~ 14.05 | ? | | 17/55 | ? |
| Blue Anchor | 14/23 | ? | | 17.28 ~ 17.35 | ? |
| Dunster | ? | ? | | ? | ? |
| Minehead | 14.40a [P1] | ? | | 17.15d [P1] | ? |


Associated E.C.S. Workings
5Z45 : (45699 with 47580 on rear) : Southall to Greenford East Jn
5Z45 : (47580 with 45699 on rear) : Greenford East Jn to London Paddington
| | |
| --- | --- |
| Location | Booked |
| Southall Depot | 06.30d |
| Southall Yard | 06.40 ~ 06.50 |
| Southall East Jn | 06/51 |
| Hanwell | 06/53 |
| Drayton Green | 07/05 |
| Greenford South Jn | 07/13 |
| Greenford East Jn | 07.16 ~ 07.26 |
| Greenford South Jn | 07/29 |
| Drayton Green | 07/36 |
| West Ealing | 07/39 |
| Acton West | 07/41 |
| Ladbroke Grove | 07/47 |
| London Paddington | 07.53a [P10] |
5Z69 : (45699 with 80217) : Bishops Lydeard to Southall
| | |
| --- | --- |
| Location | Revised |
| Bishops Lydeard | 14.40d |
| Norton Fitzwarren | 14/55 |
| Taunton | 14.59 ~ 15.10 |
| Cogload Jn | 15/17 |
| Bridgwater | 15/25 |
| Uphill Jn | 15/41 |
| Worle Jn | 15/46 |
| Parson Street | 16/10 |
| Bristol West Jn | 16/12 |
| Bristol Temple Meads | 16.14 ~ 16.15 |
| Bristol East Jn | 16/17 |
| North Somerset Jn | 16/18 |
| Bath Spa | 16/30 |
| Bathampton Jn | 16/33 |
| Thingley East Jn | 16/42 |
| Chippenham | 16/44 |
| Wootton Bassett Jn | 16/55 |
| Swindon | 17/01 |
| Uffington | 17/12 |
| Challow | 17/15 |
| Wantage Road | 17w20 ~ 17w44 |
| Didcot Parkway | 17/55 |
| Goring & Streatley | 18/07 |
| Reading West Jn | 18/18 |
| Reading | 18.21 ~ 18.23 |
| Kennet Bridge Jn | 18/27 |
| Twyford | 18/31 |
| Maidenhead | 18/38 |
| Slough | 18/49 |
| Heathrow Airport Jn | 19/04 |
| Hayes & Harlington Loop | 19*10 ~ 19*25 |
| Southall West Jn | 19/26 |
| Southall Yard | 19.27 ~ 19.37 |
| Southall Depot | 19.47a |
5Z48 : (????? with 47580 on rear?) : London Paddington to Southall
| | |
| --- | --- |
| Location | Revised |
| London Paddington | 22.29d [P1] |
| Ladbroke Grove | 22/32 |
| Acton West | 22/36 |
| West Ealing | ? |
| Southall East Jn | 22/40 |
| Southall Yard | 22.43 ~ 22.53 |
| Southall Depot | 23.03a |