15th July 2016
Steam Dreams
The Cathedrals Express
| | |
| --- | --- |
| Locos Used | 37685 'Loch Arkaig', 47746 'Chris Fudge' & steam: 34046 'Braunton' (3) |
| Stock Used (4) | (35451)+5200+9104+13440+99352+13320+1666+5236+5249+5237+99127 |
Route :
1Z34 : London Victoria to Bristol Temple Meads
1Z36 : Bristol Temple Meads to London Victoria
| | |
| --- | --- |
| Loco(s) | Route |
| 37685 (1) | London Victoria - Grosvenor Bridge Jn - Stewarts Lane Jn - Longhedge Jn - Clapham Junction - Barnes - Brentford - Hounslow - Feltham - Staines - Virginia Water - Ascot - Wokingham - Reading - Southcote Jn - Newbury - Heywood Road Jn - Hawkeridge Jn - Trowbridge - Bathampton Jn - Bath Spa - Bristol Temple Meads |
| 34046 (2) | Bristol Temple Meads - Bath Spa - Bathampton Jn - Chippenham - Swindon - Didcot Parkway - Reading - (reverse of outward route) - London Victoria |
Notes :
(1) 47746 on rear.
(2) 37685 on rear.
(3) 34046 running numbered / named as 34052 'Lord Dowding'.
(4) 35451 was only in the consist when 34046 was on the train.
(5) The outward leg of this tour was diesel hauled due to the failure of the G.S.M.R. (cab radio) on 34046.
(5) Guy Vincent comments: The locos also carried a 'B.S.R.I.A. Diamond Express' headboard for B.S.R.I.A. Ltd of Old Bracknell Lane West, Bracknell (Research and Consultancy Services / Test Instruments for the Building and Construction Industry). They had a block booking on this train to celebrate their Diamond Jubilee 1955-2015 (slightly late!).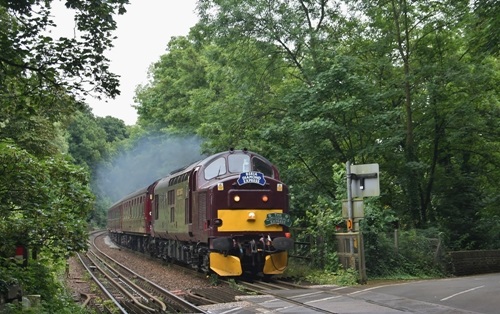 37685 passing Greenland Mill crossing, Bradford-on-Avon on the outward
leg of the tour (photo: Guy Vincent)
Source : Guy Vincent



Timings (Booked & Actual)
(from Realtime Trains)
| | | | | | |
| --- | --- | --- | --- | --- | --- |
| Location | Booked | Actual | | Booked | Actual |
| London Victoria | 08.43d [P2] | 08.44 | | 22.01a [P2] | ? |
| Grosvenor Bridge Jn | 08/47 [FL] | ? | | 21/58 [SL] | ? |
| Stewarts Lane Jn | 08/53 [RVL] | ? | | 21/51 [RVL] | ? |
| Longhedge Jn | 09/04 | ? | | 21/42 | ? |
| Clapham Junction | 09/08 [P5] [DF] | 09/13 | | 21/38 [P3] | 21/36 |
| Barnes | 09/16 [P3] | 09/19 | | 21/30 [P1] [US] | 21/22 |
| Brentford | 09/26 [P2] | 09/30 | | 21/14 [P1] | 21/12 |
| Hounslow | 09.34a ~ 09.40d [P2] | 09.38 ~ 09.41 | | 21.05a ~ 21.09d [P1] | 21.02 ~ 21.03 |
| Feltham Jn | 09/46 | 09/48 | | 20/58 | 20/57 |
| Feltham | 09/50 [P2] | 09/52 | | 20/56 [P1] | 20/54 |
| Staines | 10/01 [P2] | 10/00 | | 20/49 [P1] | 20/47 |
| Egham | 10.07a ~ 10.10d [P2] | 10.06 ~ 10.11 | | 20.38a ~ 20.42d [P1] | 20.37 ~ 20.40 |
| Virginia Water | 10/17 [P2] | 10/15 | | 20/32 [P1] | 20/33 |
| Ascot | 10/25 [P2] | 10/23 | | 20/23 [P1] | 20/26 |
| Bracknell | 10.31a ~ 10.34d [P2] | 10.30 ~ 10.34 | | 20.15a ~ 20.18d [P1] | 20.16 ~ 20.22 |
| Wokingham | 10/41 [P2] | 10/40 | | 20/08 [P1] | 20/09 |
| Earley | 10/46 | 10/46 | | 20/02 | 20/04 |
| Reading Spur Jn | 10/49 | 10/49 | | 19/58 | 20/01 |
| Reading New Jn | 10/57 [DM] | 10/56 | | - | - |
| Reading Southern Jn | - | - | | 19/56 | 20/00 |
| Reading | 10.59a ~ 11.02d [P7] [WL] | 10.57 ~ 11.02 | | 19.51a ~ 19.54d [P15] | 19.54 ~ 19.58 |
| Oxford Road Jn | 11/05 | 11/04 | | - | - |
| Southcote Jn | 11/07½ | 11/07 | | - | - |
| Theale | 11/13 | ? | | - | - |
| Newbury Racecourse | 11/31½ | ? | | - | - |
| Newbury | 11.33a ~ 11.50d [P1] | 11.27 ~ 11.49 [P1] | | - | - |
| Bedwyn | 12/10 [P1] | 12/06 | | - | - |
| Woodborough | 12/22 | 12/18 | | - | - |
| Lavington | 12/29 | 12/24 | | - | - |
| Heywood Road Jn | 12/39 | 12/35 | | - | - |
| Hawkeridge Jn | 12/42 | 12/38 | | - | - |
| Trowbridge | 12/48½ [P1] | 12/44 | | - | - |
| Bradford Jn | 12/51 | 12/45 | | - | - |
| Reading West Jn | - | - | | 19/48 [UR] | 19/50 |
| Goring & Streatley | - | - | | 19/39 [UR] | 19/42 [UM] |
| Didcot East Jn | - | - | | 19/30 [UR] | 19/33 |
| Didcot Parkway | - | - | | 19/29 [P4] | 19/33 [P3] |
| Foxhall Jn | - | - | | 19/26 | 19/26 |
| Milton Jn | - | - | | 19w03 ~ 19w22 | ? ~ 19.23 |
| Steventon | - | - | | 18/59 [RL] | 19/00 |
| Wantage Road | - | - | | 18/55 | 18/55 |
| Challow | - | - | | 18/47 [UR] | 18/49 |
| Uffington | - | - | | 18/44 | 18/46 |
| Swindon | - | - | | 18/33 [UM] | 18/37 |
| Wootton Bassett Jn | - | - | | 18/25 | 18/28 |
| Chippenham | - | - | | 18/13 | 18/11 |
| Thingley East Jn | - | - | | 18/12 | 18/10 |
| Bathampton Jn | 13/04 | 12/57 | | 18/01 | 18/00 |
| Bath Spa | 13.07a ~ 13.12d [P1] | 13.03 ~ 13.08 | | 17.53a ~ 17.56d [P2] | 17.52 ~ 17.56 [P2] |
| North Somerset Jn | 13/26 | 13/21 | | 17/39 | 17/40 |
| Bristol East Jn | 13/28 [DM] | 13/27 | | 17/38 [UM] | 17/39 |
| Bristol Temple Meads | 13.30a [P12] | 13.29 | | 17.36d [P11] | 17.37 [P11] |


Associated E.C.S. & Light Engine Moves
5Z34 : (47746 with 37685 on rear) : Southall to London Victoria
5Z37 : (37685 with 34046 on rear) : London Victoria to Willesden No.7 Jn
5Z37 : (34046 with 37685 on rear) : Willesden No.7 Jn to Southall
| | | |
| --- | --- | --- |
| Location | Booked (out) | Booked (rtn) |
| Southall Depot | 06.05d | 00.43a |
| Southall Yard | 06.15 ~ 06.30 | 00.18 ~ 00.33 |
| Southall East Jn | 06/31 | 00/16 |
| West Ealing | 06/34 | 00/07 |
| Acton West | 06/39 | 00/01 |
| Acton Main Line | 06/42 | 23/56 |
| Acton Wells Jn | 06/47 | 23/53 |
| Willesden SW Sidings | 06.51 ~ 07.33 | - |
| Acton Canal Wharf | - | 23/48 |
| Willesden No.7 Jn | - | 23.35 ~ 23.45 |
| Willesden West London Jn | - | 23/32 |
| Mitre Bridge Jn | 07/38 | 23/29 |
| North Pole Jn | 07/40 | 23/27 |
| Kensington Olympia | 07.46 ~ 07.48 | 23.20 ~ 23.22 |
| West Brompton | 07/50 | 23/16 |
| Latchmere Jn | 07/54 | 23/12 |
| Longhedge Jn | 07/57 | 23/08 |
| Stewarts Lane Jn | 08/03 | 22/52 |
| Grosvenor Bridge Jn | 08/09 | 22/48 |
| London Victoria | 08.13a [P2] | 22.44d [P2] |
5Z?? : (34046 with 35451) Southall to Bristol Temple Meads
| | | |
| --- | --- | --- |
| Location | Revised | Actual |
| Southall Depot | ?d | ? |
| Didcot Parkway | ? | [P3] |
| Bristol Temple Meads | ?a | ? |
5Z35 : (37685 with 47746 on rear) Bristol Temple Meads to Bristol West Jn
5Z36 : (34046 with 37685 on rear) Bristol West Jn to Bristol Temple Meads
| | | |
| --- | --- | --- |
| Location | Booked (out) | Booked (rtn) |
| Bristol Temple Meads | 13.36d [P12] | 17.24a [P11] |
| Bristol West Jn | 13.39a | 17.21d |
5Z44 : (34046) Bristol West Jn -North Somerset Jn - Lawrence Hill - Bristol West Jn
(loco turning trip)
| | |
| --- | --- |
| Location | Booked |
| Bristol West Jn | 14.14d |
| Bristol Temple Meads | 14/16 [DT] |
| Bristol East Jn | 14/18 |
| North Somerset Jn | 14.20 ~ 14.24 |
| Bristol Kingsland Road | 14.29 ~ 16.11 |
| North Somerset Jn | 16.15 ~ 16.17 |
| Dr Day's Jn | 16/19 |
| Lawrence Hill | 16.21 ~ 16.23 |
| Dr Day's Jn | 16/25 |
| Bristol East Jn | 16/27 |
| Bristol Temple Meads | 16.29 ~ 16.36 [P8] |
| Bristol West Jn | 16.39a |