19th June 2016
GB Railfreight
The Crystal Maze - Part 1
| | |
| --- | --- |
| Locos Used | 66763 'Severn Valley Railway' & 73962 'Dick Mabbut' |
| Stock Used | 3120+1691+3123+3097+3149+3147+1651+3121+3098+21269 |
Route : 1Z65 throughout
| | |
| --- | --- |
| Loco(s) | Route |
| 73962 + 66763 | Tonbridge - Paddock Wood - Maidstone West - Cuxton - Strood - Hoo Junction - Gravesend - Springhead Jn - Dartford - Crayford - Sidcup - Lee - Hither Green - Parks Bridge Jn - Lewisham - Nunhead - Peckham Rye - Denmark Hill - Voltaire Road Jn - Factory Jn - Longhedge Jn - Clapham Junction - Barnes - Brentford - Hounslow - Feltham - Staines - Virginia Water - Addlestone Jn - Byfleet & New Haw - Woking - Farnborough Main - Basingstoke - Worting Jn - Andover - Laverstock North Jn - Laverstock South Jn - Dean - Romsey - Chandlers Ford - Eastleigh - St Denys - Northam Jn - Southampton Central |
Notes :
(1) John Clifford comments: GBRf had run a staff outing from Ashford to Weston-super-Mare and back on the previous day using this stock, which was berthed at Tonbridge afterwards. This train was used as a charity trip to raise money on what would otherwise be an E.C.S. working back to Eastleigh. It is believed that this was the first time that a Class 66 and a 73/9 had been used in multiple on a passenger train.
The train carried a headboard 'Tonbridge Trailblazers'.
As can be seen from the timings the schedule on the first part was slack. In fact we passed Lee over 24 minutes early. Since there was a pick-up stop at Clapham Junction we were held at Peckham Rye in order to lose some time.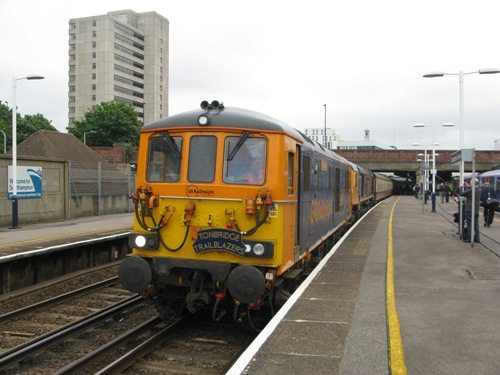 73962+66763 on arrival at Southampton Central (photo: Nick Bartlett)
Source : John Clifford & Nick Bartlett (both on the tour)



Timings (Booked & Actual)
(from John Clifford)
| | | |
| --- | --- | --- |
| Location | Booked | Actual |
| Tonbridge | 11.04d [P2] | 11.04 [P2] |
| Paddock Wood | 11/10½ [P2] | 11/11 [P2] |
| Maidstone West | 11/30 | 11/26 [UM] |
| Cuxton | 11/46½ | 11/37 [P1] |
| Strood | 11/52 [P2] | 11/42 [P2] |
| Hoo Junction | 12/00 | 11/47 |
| Gravesend | 12/07 [P1] | 11/51½ [P1] |
| Springhead Jn | 12/10 | 12/00 |
| Dartford | 12/22½ [P2] [UM] | 12/06½ [P2] [UM] |
| Dartford Jn | 12/23½ | 12/08 |
| Crayford Spur 'B' | 12/26 | 12/08½ |
| Crayford | 12/28 | 12/10 [P1] |
| Sidcup | 12/38 | 12/15 [P1] |
| Lee | 12/45½ | 12/21 [P1] |
| Hither Green | 12.47 ~ 12.54 [P5] [US] | 12.24 ~ 12.39 [P5] [US] |
| Parks Bridge Jn | 12/57½ [SL] | 12/42 [SL] |
| Lewisham | 13/00 [P1] | 12/44 [P1] |
| Lewisham Vale Jn | 13/01 | 12/45 |
| Signal VS452 | - | 12.48½ ~ 12.52 |
| Nunhead | 13/08 [P1] | 12/53½ [P1] |
| Peckham Rye | 13/10 | 12.56 ~ 13.07 [P3] |
| Crofton Road Jn | 13/11 [AL] | 13/09½ [AL] |
| Denmark Hill | 13/13 [P1] | 13/11 [P1] [AL] |
| Voltaire Road Jn | 13/19 | 13/17½ [AL] |
| Factory Jn | 13/20½ | 13/19 |
| Longhedge Jn | 13/24 | 13/20 |
| Clapham Junction | 13.28a ~ 13.31d [P5] [DF] | 13.25 ~ 13.31 [P5] [DF] |
| Barnes | 13/36 [P3] | 13/37 [P3] |
| Brentford | 13/41 | 13/43 [P2] |
| Hounslow | 13/44½ | 13/48½ [P2] |
| Feltham Jn | 13/46½ | 13/52 |
| Feltham | 13/48 [P2] | 13/54 [P2] |
| Staines | 13/53 [P2] | 13/59 [P2] |
| Virginia Water | 14/03 [P4] | 14/07½ [P4] |
| Chertsey | 14/08½ | 14/12 [P1] |
| Addlestone Jn | 14/14 | 14/16½ |
| Byfleet & New Haw | 14/17 [DS] | 14/18 [P2] [DS] |
| Woking | 14/23 [P5] | 14/22 [P5] [DS] |
| Woking Jn | 14/24 | 14/22½ [DS] |
| Pirbright Jn | 14/32 | 14/27 [DS] |
| Farnborough Main | 14/37½ [P2] | 14/31 [P2] [DS] |
| Fleet | 14/41½ | 14/34 [P2] [DS] |
| Basingstoke Sig.BE155 | - | 14.47½ ~ 14.51½ |
| Basingstoke | 14.54a ~ 14.57d [P1] [DS] | 14.54 ~ 14.57 [P1] [DS] |
| Worting Jn | 15/01½ | 15/00½ |
| Andover | 15/14½ [P2] | 15/15 [P2] |
| Laverstock North Jn | 15/27 | 15/31 |
| Laverstock South Jn | 15/29 | 15/32 |
| Dean | 15/38 | 15/40 [P1] |
| Romsey | 15/44½ [P1] | 15/47 [P1] |
| Chandlers Ford | 15/57 | 15/53 |
| Eastleigh East Jn | 16/01½ | 15/55½ |
| Eastleigh | 16/02½ [DF] | 15/58½ [DF] |
| St Denys | 16/07½ [P2] | 16/08 [P2] |
| Northam Jn | 16/09½ [DF] | 16/09½ [DF] |
| Southampton Central | 16.13a [P2] | 16.13 [P2] |


Associated E.C.S. Workings
5Z65 : (73962 + 66763) : Tonbridge West Yard to Tonbridge
| | | |
| --- | --- | --- |
| Location | Booked | Actual |
| Tonbridge West Yard | 10.55d | ? |
| Tonbridge | 10.57a | 10.55 [P2] |
5Z66 : (73962 + 66763) : Southampton Central to Southampton [Up Goods Loop]
5Z66 : (73962 with 66763 on rear?) : Southampton [Up Goods Loop] to Eastleigh
5Z66 : (66763 with 73962 on rear?) : Eastleigh to Eastleigh T&RSMD
| | | |
| --- | --- | --- |
| Location | Booked | Actual |
| Southampton Central | 16.27d [P2] | [P2] |
| Southampton [Up Goods Loop] | 16.29 ~ 17.16 | |
| Southampton Central | 17.18 ~ 17.22 | |
| Northam Jn | 17/25 | |
| St Denys | 17/32 | |
| Southampton Airport Parkway | 17/35 | |
| Eastleigh | 17.38 ~ 17.44 | |
| Eastleigh South Jn | 17.46 ~ 17.47 | |
| Eastleigh T&RSMD | 17.53a | |
0Z66 : (66763 + 73962) : Eastleigh T&RSMD to Eastleigh Yard
| | |
| --- | --- |
| Location | Booked |
| Eastleigh T&RSMD | 18.49d |
| Eastleigh South Jn | 18.55 ~ 18.56 |
| Eastleigh | 18/58 |
| Eastleigh East Yard | 19.02a |