10th June 2016
Belmond (British Pullman)
The Brighton Belle Experience
| | |
| --- | --- |
| Loco Used | 67010 |
| Stock Used | 99545+99543+99530+99534+99537+99535+99531+99532+99546+99539+99541+6313 |
Route : 1Y91 throughout
| | |
| --- | --- |
| Loco | Route |
| 67010 | London Victoria - Grosvenor Bridge Jn - Voltaire Road Jn - Brixton - Herne Hill - Tulse Hill - Streatham - Wimbledon - Surbiton - Woking - Farnborough Main - Basingstoke - Worting Jn - Winchester - Eastleigh - Botley - Fareham - Cosham - Farlington Jn - Havant - Chichester - Barnham - Angmering - Worthing Central - Hove - Preston Park - Haywards Heath - Three Bridge - Gatwick Airport - Earlswood - [via Quarry Lines] - Purley - East Croydon - Selhurst - Balham - Clapham Junction - Pouparts Jn - Longhedge Jn - Stewarts Lane Jn - Grosvenor Bridge Jn - London Victoria |
Notes :
(1) Despite the tour name, this tour did not run via Brighton, it ran via Hove 'actually'.
(2) The consist included Pullman Cars 'Audrey', 'Gwen' and 'Vera', which were used in the original electric 'Brighton Belle'.
(3) The tour was delayed due to a proceeding Waterloo to Salisbury train hitting a farm animal on the down fast line, between Hook and Basingstoke.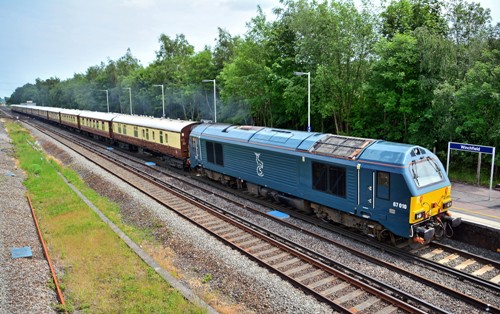 67010 at Winchfield (photo: Mark V. Pike)
Source : Nick Bartlett



Timings (Booked & Actual)
(from Realtime Trains)
| | | |
| --- | --- | --- |
| Location | Booked | Actual |
| London Victoria | 11.42d [P2] | 11.42 |
| Grosvenor Bridge Jn | 11/45 | ? |
| Voltaire Road Jn | 11/47½ | 11/48 |
| Brixton | 11/51 | 11/51 |
| Herne Hill | 11/52 [P3] | 11/54 |
| Tulse Hill | 11/56 [P2] | 11/58 |
| Streatham | 11/59 [P1] | 12/01 |
| Streatham South Jn | 12/00½ | 12/02 |
| Wimbledon | 12*06 ~ 12*07 [P9] | 12.07 ~ ? |
| Wimbledon West Jn | 12/09 [DS] | ? |
| Raynes Park | 12/11 | 12/11 |
| New Malden | 12/13½ [DF] | 12/12 |
| Surbiton | 12/15½ [DF] | 12/16 |
| Hampton Court Jn | 12/16½ | 12/17 |
| Byfleet & New Haw | 12/23½ | 12/23 |
| Woking | 12/27 [P4] [DS] | 12/28 |
| Woking Jn | 12/28½ | 12/31 |
| Brookwood | 12/33 | 12/34 |
| Pirbright Jn | 12/35 | 12/35 |
| Farnborough Main | 12/38½ [P2] | 12/39 |
| Fleet | 12/44½ [P2] | 12/43 |
| Basingstoke | 13/10½ [DS] [P2] | 13/45 |
| Worting Jn | 13/15 | 13/47 |
| Winchester | 13/29 [P2] | 14/02 |
| Shawford Jn | 13/31½ | 14/04 |
| Eastleigh | 13.36 ~ 13.38 [P2] | 14/13 |
| Eastleigh South Jn | 13/41 | ? |
| Botley | 13*46 ~ 14*00 | 14/21 |
| Fareham North Jn | 14/06½ | ? |
| Fareham | 14/07½ [P3] | 14/29 |
| Cosham | 14/16 [P2] | 14/40 |
| Cosham Jn | 14/17 | 14/41 |
| Farlington Jn | 14*19 ~ 14*31 | ? |
| Havant | 14/36 [P1] | 14/46 |
| Chichester | 14/46 [P1] | 14/58 |
| Barnham | 14/53 [P3] | 15/08 [P3] |
| Ford | 14/57 [P1] | ? |
| Arundel Jn | 14/59 | 15/14 |
| Angmering | 15/04½ | 15/19 |
| West Worthing | 15/12½ | ? |
| Worthing Central | 15/15½ [P1] | 15/23 |
| Shoreham-by-Sea | 15/20 [P1] | 15/31 |
| Hove | 15*27 ~ 15*47 [P1] | 15.44 ~ 15.45 |
| Preston Park | 15.50 ~ 15.53 [P1] | 16.09 ~ 16.11 |
| Burgess Hill | 16/00½ [P1] | 16/22 |
| Keymer Jn | 16/01½ | 16/23 |
| Haywards Heath | 16/04½ [P3] | 16/29 |
| Copyhold Jn | 16/05 | 16/30 |
| Balcombe Tunnel Jn | 16/09½ [UF] | 16/38 |
| Three Bridges | 16/15 [P4] | 16/43 |
| Gatwick Airport | 16/18 [P4] | 16/49 |
| Earlswood | 16/23 [QL] | 16/53 |
| Stoats Nest Jn | 16/32½ [UF] | 17/00 |
| Purley | 16/33½ [P1] | 17/01 |
| East Croydon | 16/37 [P1] | 17/05 |
| Windmill Bridge Jn | 16/38 | 17/06 |
| Selhurst | 16/39 [P4] | 17/07 |
| Streatham Common | 16/42 | ? |
| Streatham North Jn | 16/42½ | ? |
| Balham | 16/44 [P4] [UF] | 17/11 |
| Clapham Junction | 16/47½ [P12] [UF] | 17/13 |
| Pouparts Jn | 16/49½ | 17/15 |
| Longhedge Jn | 16/58 | ? |
| Stewarts Lane Jn | 17/06 [RVL] | ? |
| Grosvenor Bridge Jn | 17/14 [SL] | ? |
| London Victoria | 17.18a [P2] | 17.27 |